Comprehensive Network Transparency
Inventory, Network Devices, Energy Management
baramundi Inventory, Network Devices & Energy Management
You can only protect and manage what you can see. You also need to know what is installed on your devices to understand which elements are missing. With the baramundi Inventory & Network Devices modules, you always have the up-to-date and accurate information you need for IT decision-making.
Flexible hardware and software inventory via custom rules
Fast and automatic scanning of all network devices and endpoints
Actionable, automated reporting
Transparency through visual mapping of network topology
Detect and manage endpoint energy consumption including monitors and other attached devices
Energy profiles enable automated optimization and reduction of energy costs
What's inside?
Inventory, Network Devices & Energy Management

baramundi Inventory
Windows 10 is installed, but which version?
With baramundi Inventory, you can identify all outdated Windows 10 installations for in-place upgrades with just a few clicks.
Our Inventory module provides the essential foundation for all IT management, planning and security. It automatically detects and documents in real-time the details of all installed network hardware or software including unauthorized "shadow IT" or other components that were neither deployed nor managed with the baramundi Management Suite.

baramundi Network Devices
How can I quickly and clearly capture network devices?
baramundi Network Devices automatically detects routers, switches, printers and other devices via SNMP and displays their properties and topology in a network map. You can also scan for devices via Address Resolution Protocol (ARP) or use Secure Shell Protocol (SSH) to detect and capture LINUX-based and other systems. For added flexibility, you can manually create a device, integrate multiple devices by importing device data, and define custom properties such as endpoint location or purchase date. User-defined commands enable you to execute commands directly on network devices or industrial control devices.

baramundi Energy Management
Do you want to manage network energy usage?
You can document and manage energy consumption of network devices.
The Energy Management module generates clear reports on network endpoint electrical consumption and enables centralized configuration and management of energy conservation and cost-saving measures.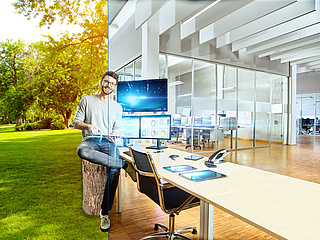 baramundi Energy Management is free of charge!
We must all take steps large and small to help reduce the effects of climate change. That's why we are providing our baramundi Energy Management module free of charge.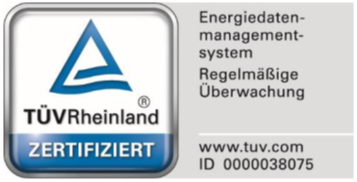 TÜV Rheinland has tested baramundi Energy Management and confirmed significant energy savings compared to Windows Energy Profiles.
Features of Inventory, Network Devices & Energy Management
Hierarchical representation of over 1,000 values
Detect and manage installed software, services, and processes
Registry- and file-based detection methods
Windows Management Instrumentation Inventory
Capture all SNMP-compatible network devices
Includes a catalog of pre-built scanning rules
Standard rule set helps define devices
Control set can be adjusted and expanded at any time
Inventory, Network Devices and Energy Management in Detail
Inventory of hardware and software
baramundi Inventory enables the inventory of all hardware and software components of each network endpoint. Within a few seconds and without disturbing the user, baramundi Inventory automatically detects and lists the software installed on desktop clients, notebooks, and servers. All collected data is stored in the baramundi database.
The module provides extensive options for customization and control. Integrated procedures can be supplemented by user-defined criteria and time-controlled for each target system. You also can enter data via input masks or other databases, save it in the baramundi database and make it available to other applications.
Capture via SNMP, ARP and SSH
The baramundi Network Devices module automatically scans the network for devices that support SNMP versions 1, 2c or 3 based on defined IP ranges and SNMP rule sets. For non-SNMP endpoints, you scan via ARP to identify devices by IP and MAC address regardless of type or type and compare target and actual status. SSH also makes it possible to include LINUX-based and other systems in the inventory.
Inventory reporting gives you a detailed overview of all system data in your baramundi database. Standard hardware and software reports are included and you can create custom reports as needed.
Detection rules logic determines how each network device is detected and which values are imported into the database. Rules can be nested using operators, comparisons, and checks to accurately identify individual devices and capture additional values. A standard rule set for the most common network devices is available for download in the baramundi Management Suite. It can be supplemented with additional rules and values as needed. Custom rules can be defined using a PowerShell script.
Visualization and mapping
Detected network devices are clearly displayed and can be organized into subgroups. They can also be displayed in an IT/network map showing device connections and details. Views can be exported for reporting flexibility.
Capturing energy consumption
baramundi Energy Management records the type and power state of each device (powered up/down, in standby, etc.). Consumption values are assigned and determined by device. Clear reports show the energy usage of computers, displays and connected peripherals. You also can create reports for groups of devices or individual endpoints. You decide where and how to define energy consumption guidelines. You can automatically implement conservation and cost-saving measures on all applicable devices without impeding network performance.
Customize device details and commands
With baramundi Network Devices, you can define and assign custom device properties such as physical location, purchase date, cost center and other details for IT asset tracking and reporting. User-definable client commands make it easy to complete actions on network devices or industrial control devices directly and enable immediate responses to support requests. For example, printer connection problems can be analyzed and device-specific data such as toner cartridge serial numbers can be displayed.
You can easily customize which data baramundi Inventory & Network Devices collect to protect data and user privacy. The baramundi Inventory module complies with EU GDPR requirements.
Module Insights
360° INVENTORY
Display all installed software including version status in one overview.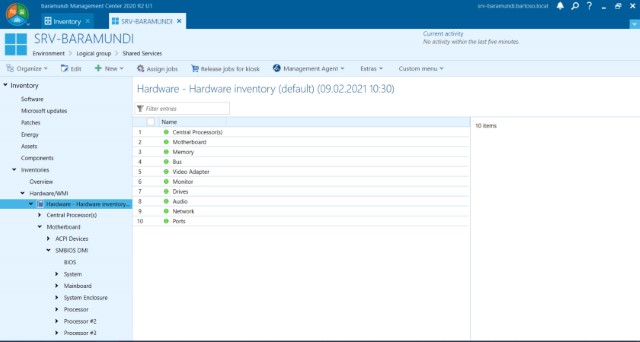 WINDOWS ENDPOINTS AT A GLANCE
Collective overview of all Windows endpoints incl. display of software distribution.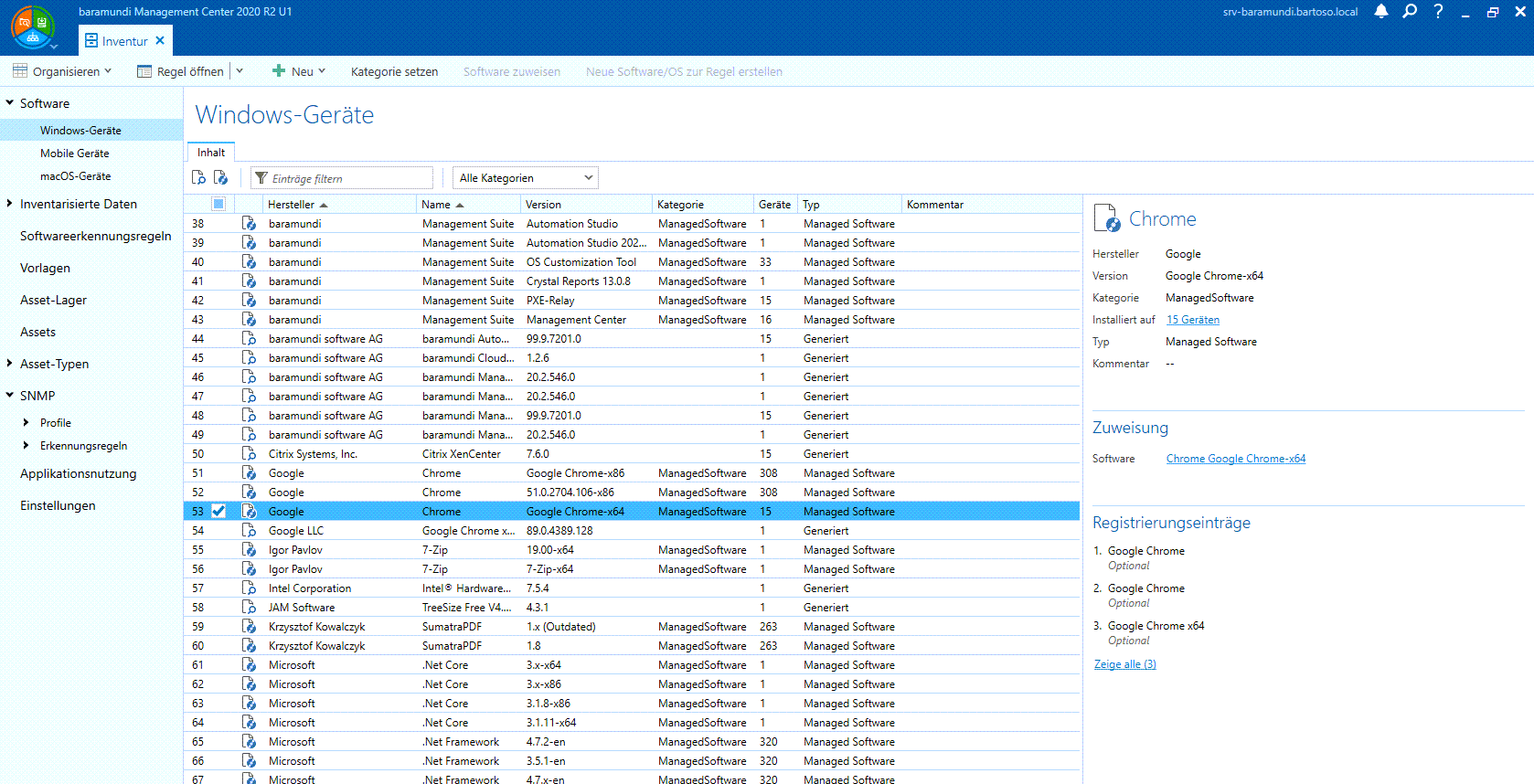 LIVE & COMPACT
The most important endpoint data in real time.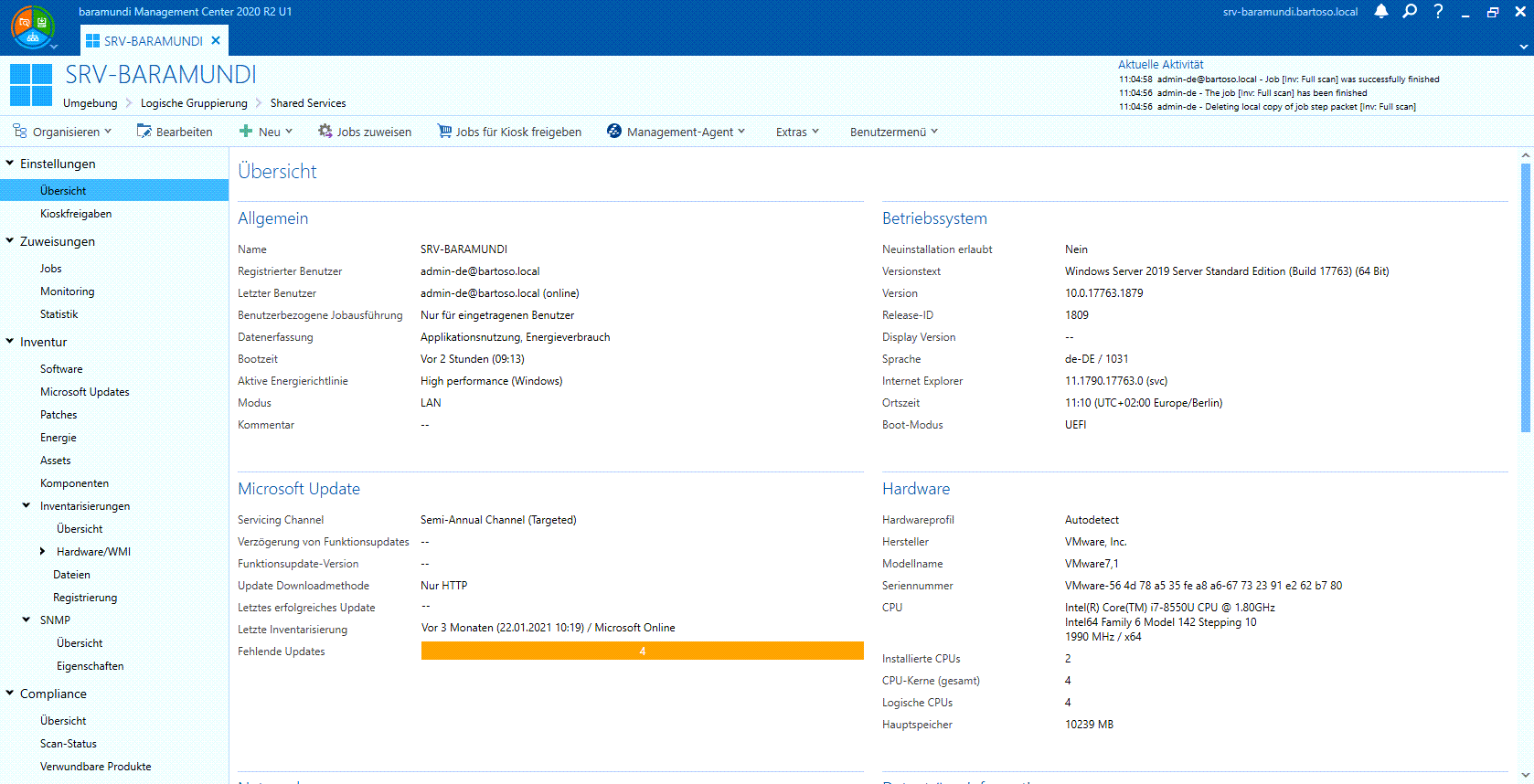 HARDWARE INVENTORY
All specific inventory data at a glance.
EVERYTHING ON ONE CARD
Graphical representation of network components and links provides orientation.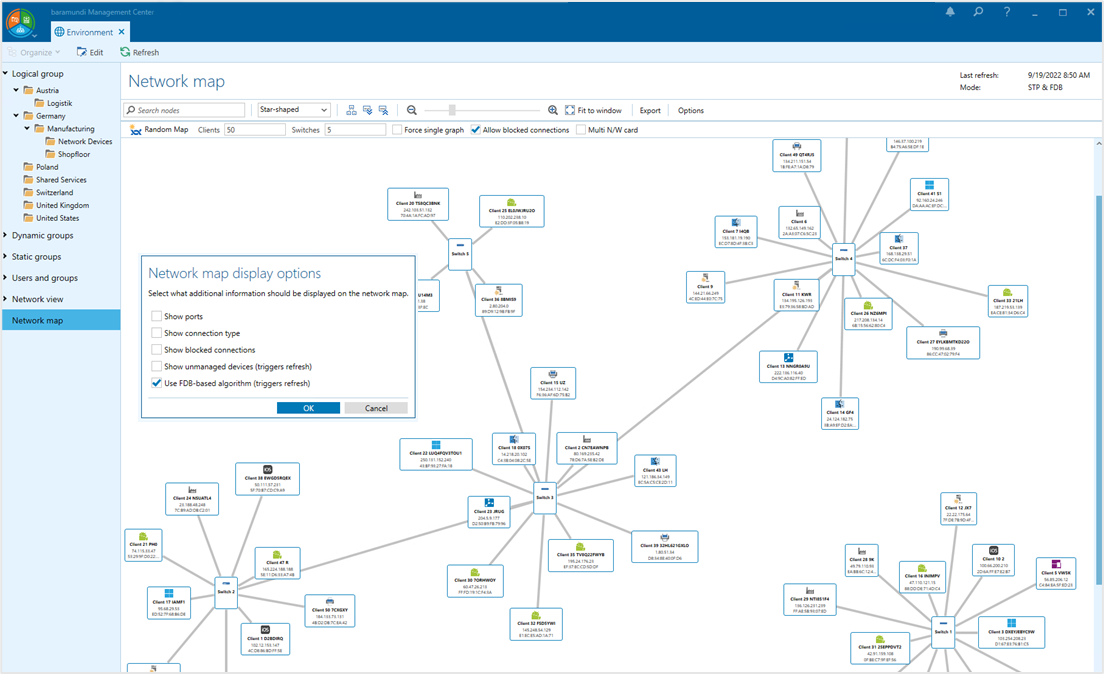 FIND INSTEAD OF SEARCH
Automatic creation of SNMP device list - filterable and sortable.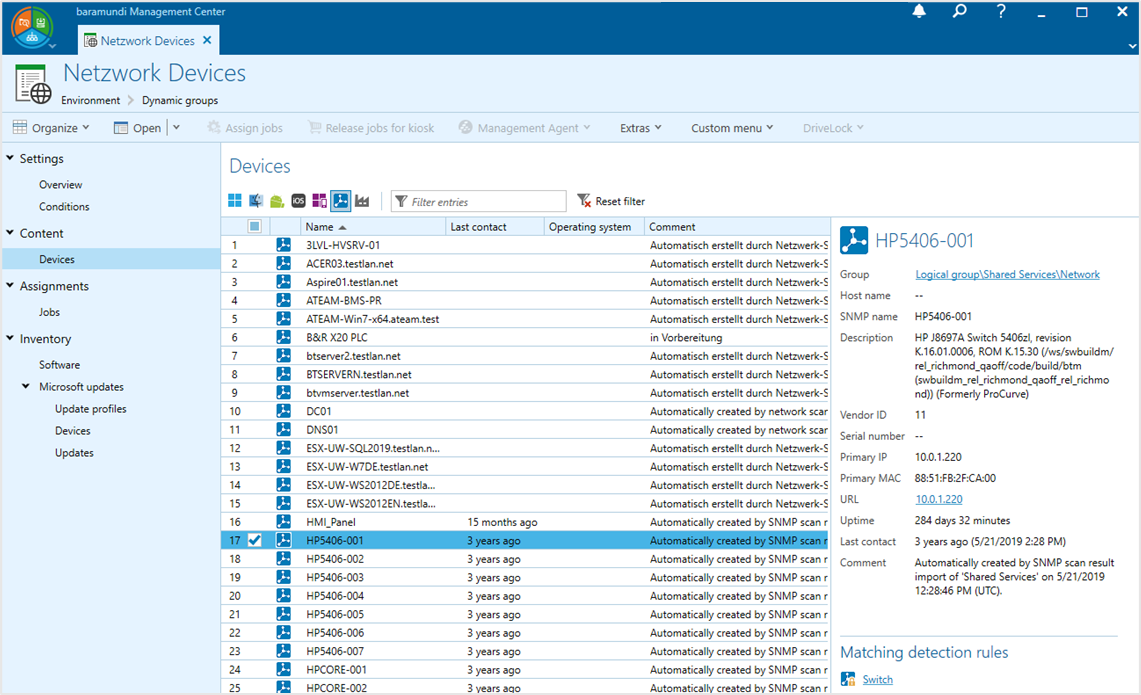 CUSTOM COMMANDS
Direct execution of individual commands on network devices.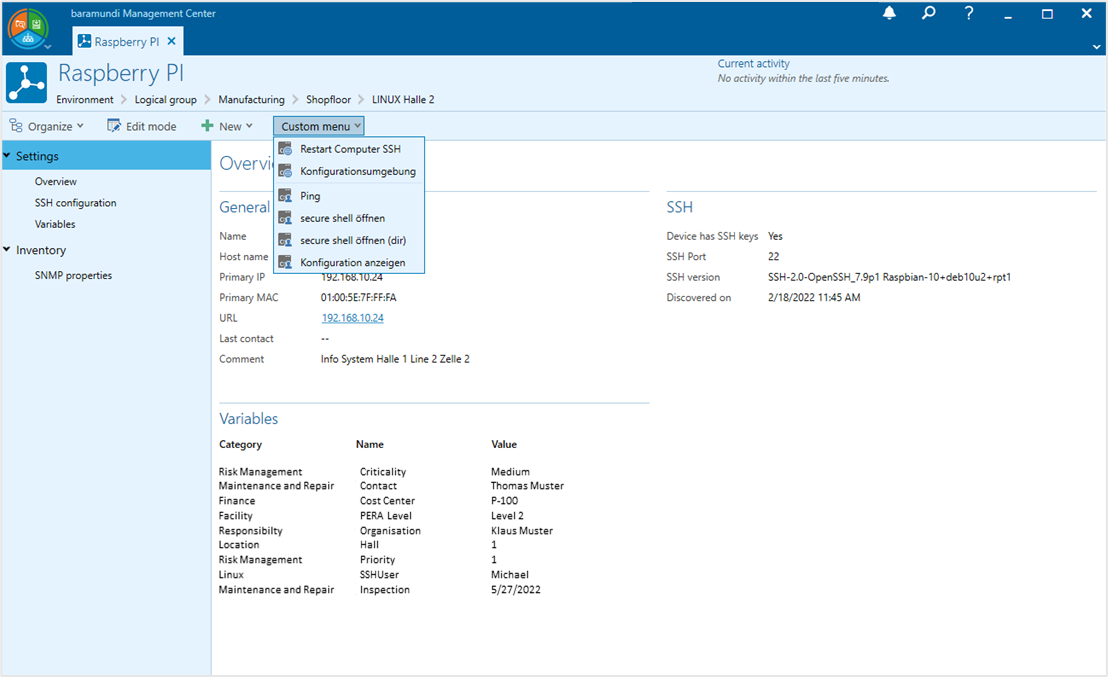 MANAGE EFFICIENCY
Inventory and evaluation of energy consumers through automatic monitor assets.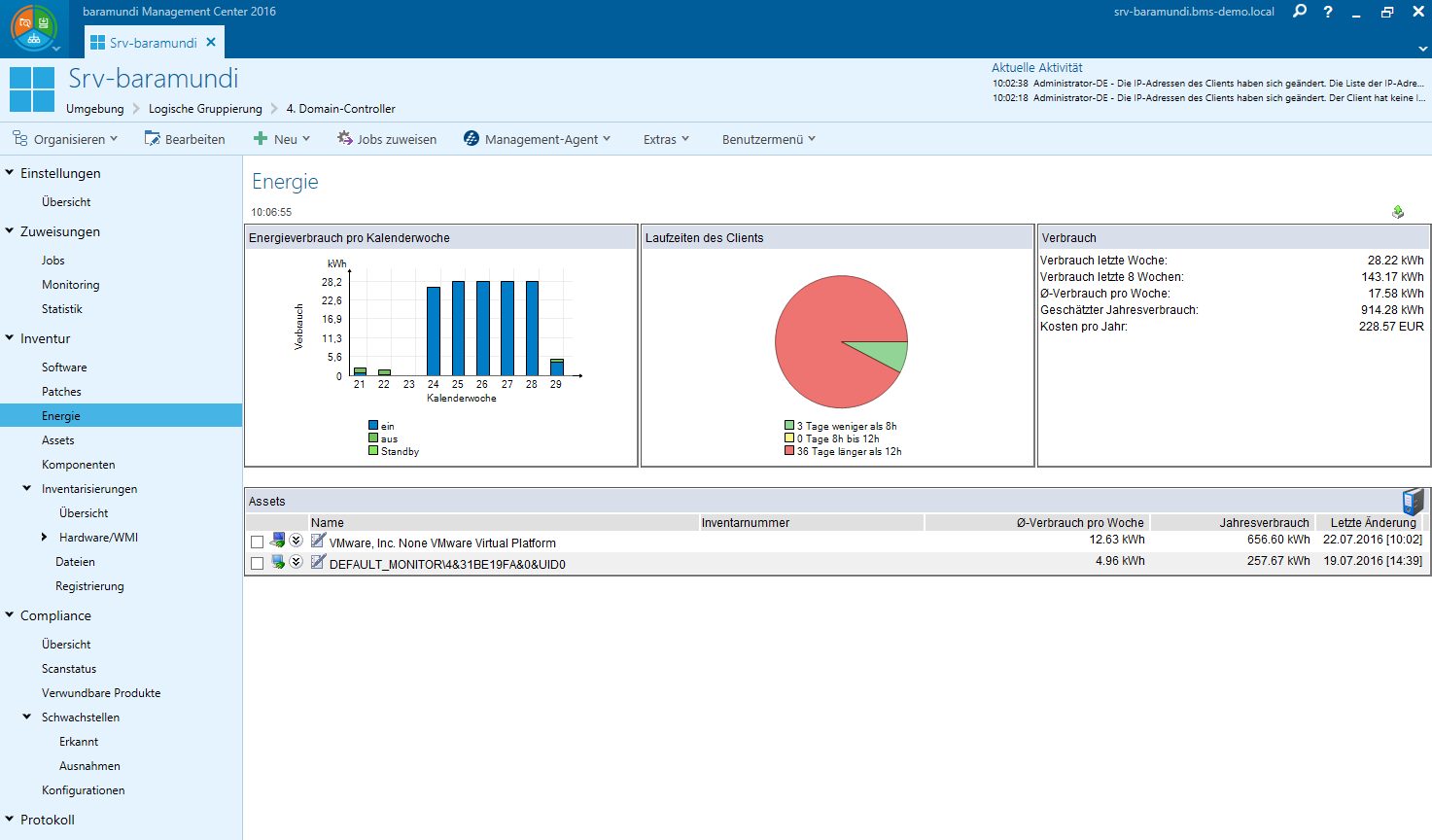 ASSIGN ENERGY GUIDELINES
Easily distribute and retrieve energy profiles on endpoints.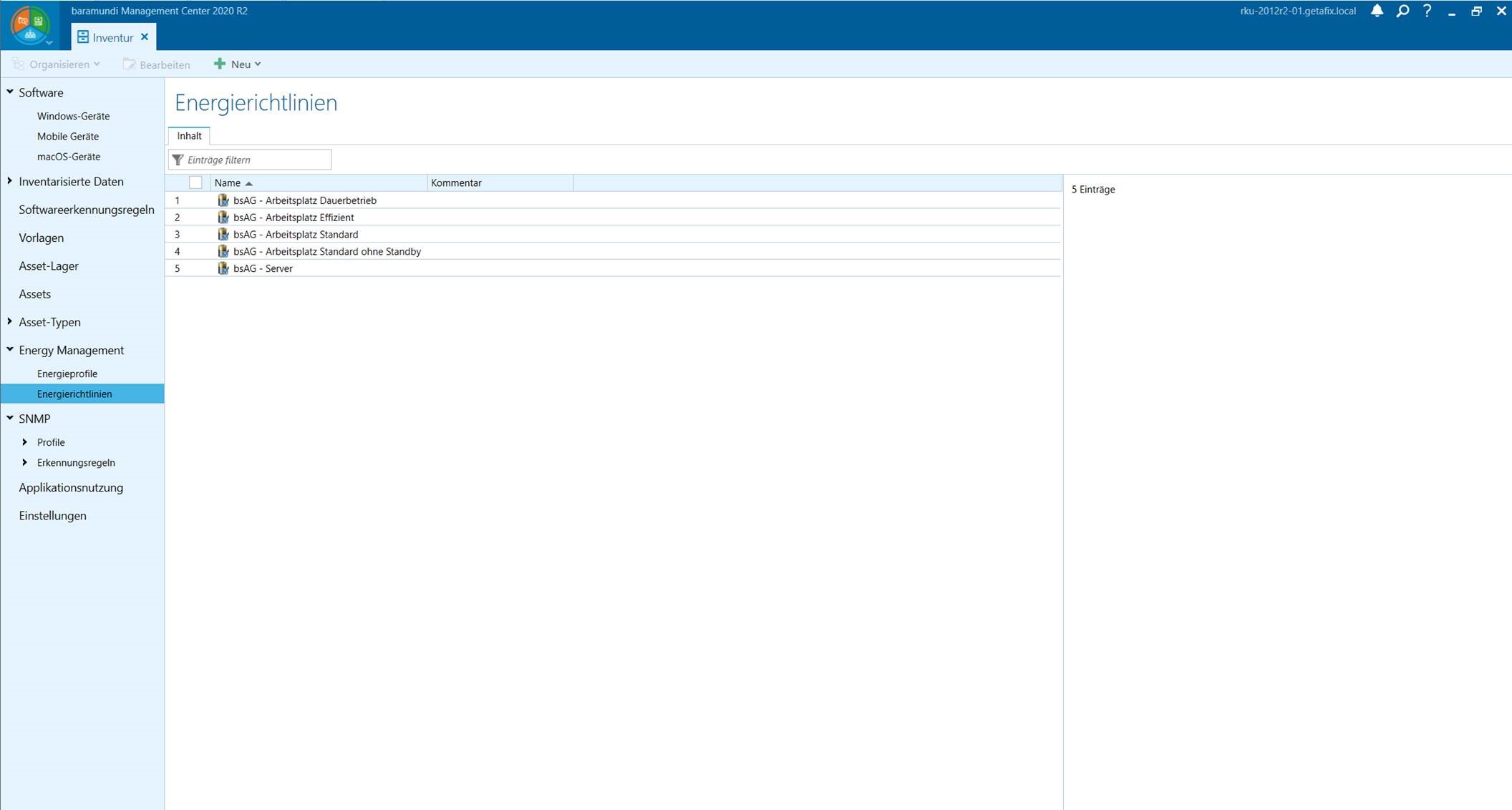 SUITABLE ENERGY PROFILES
Centrally configure custom energy policies for all endpoints.
TO THE MINUTE
Assign standby duration, shutdowns & co. individually.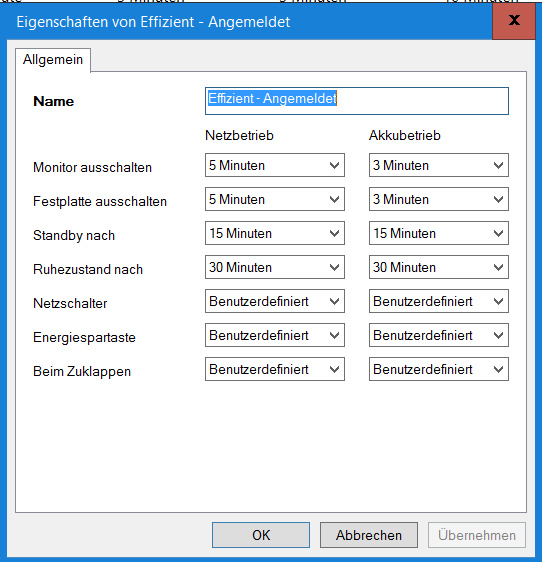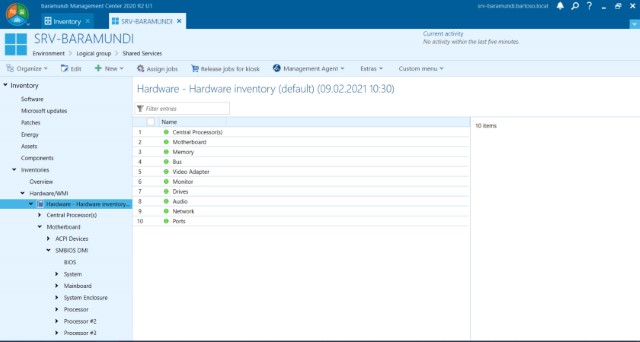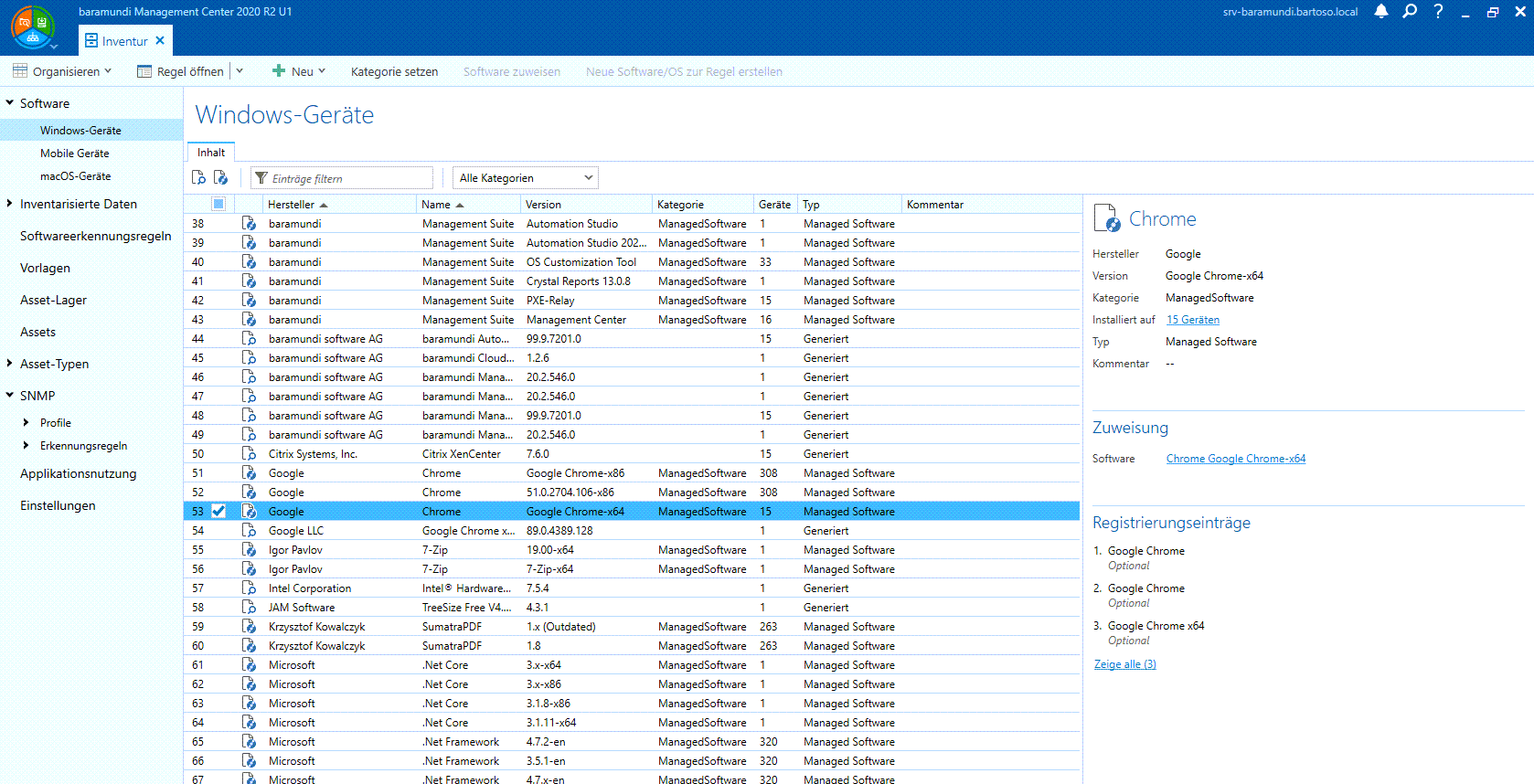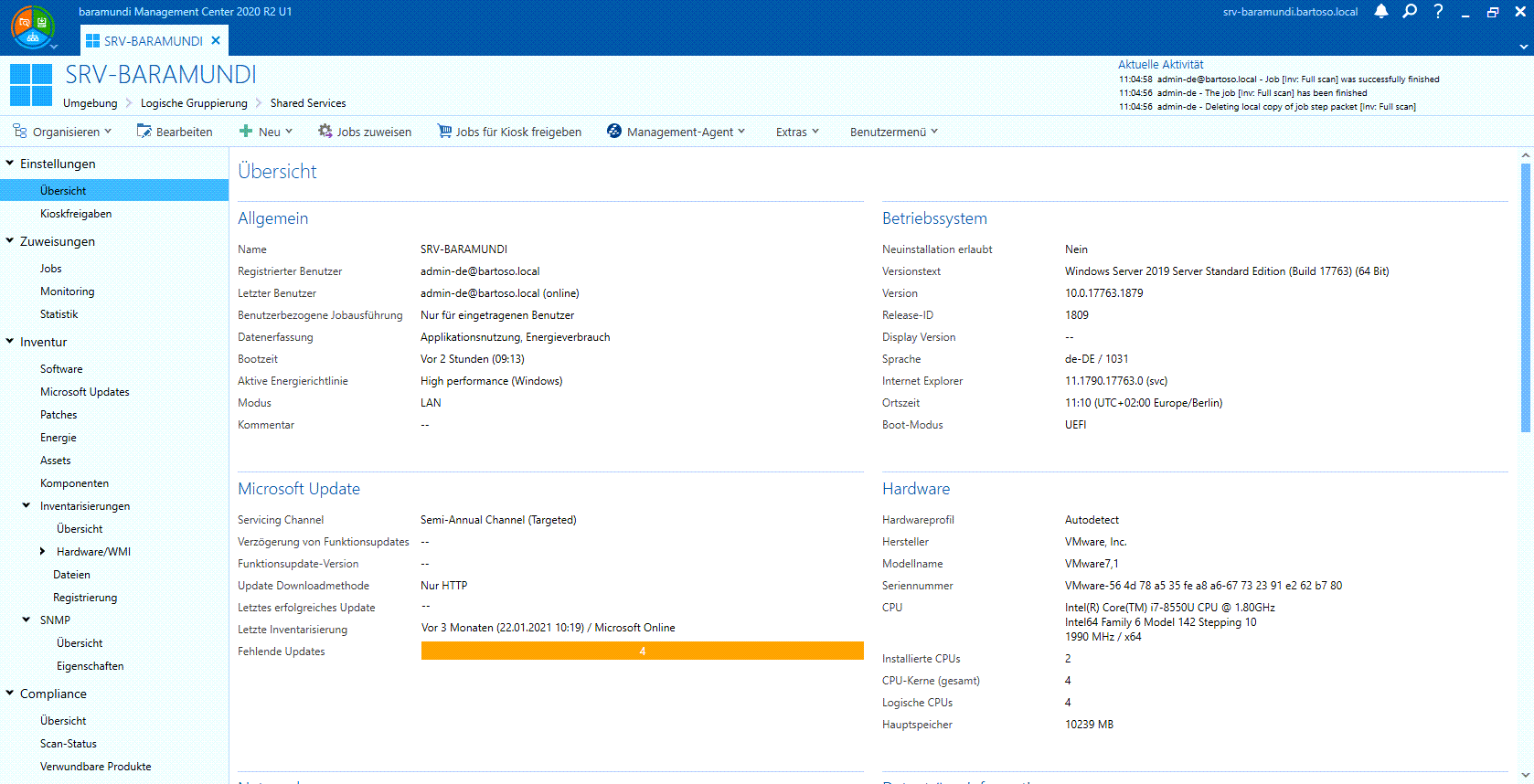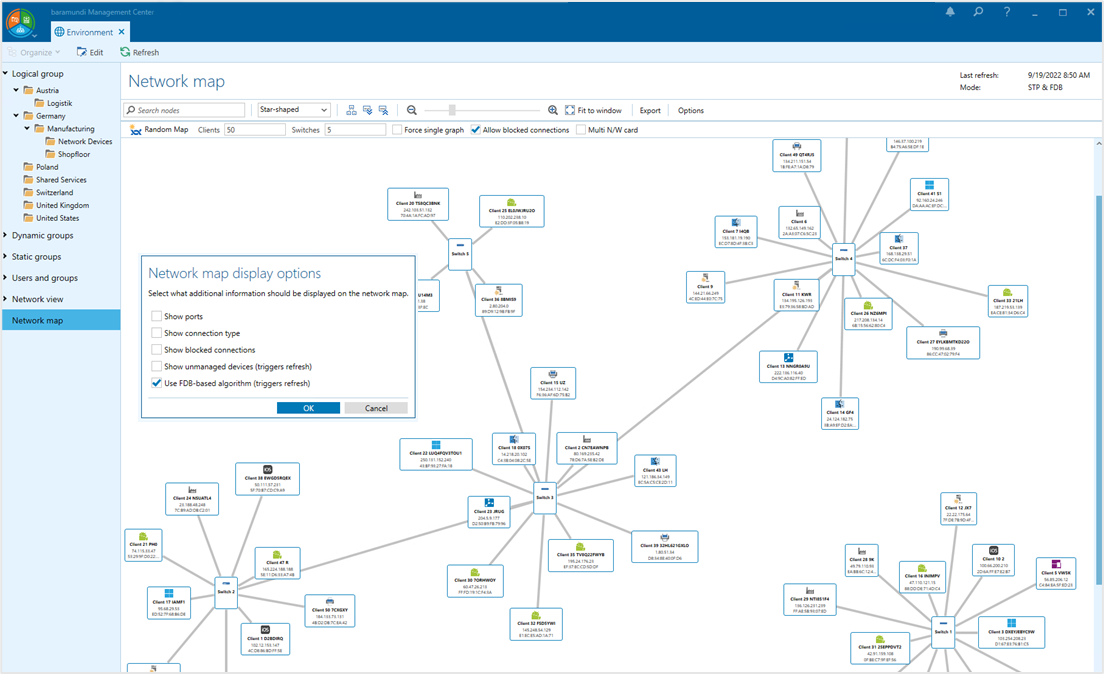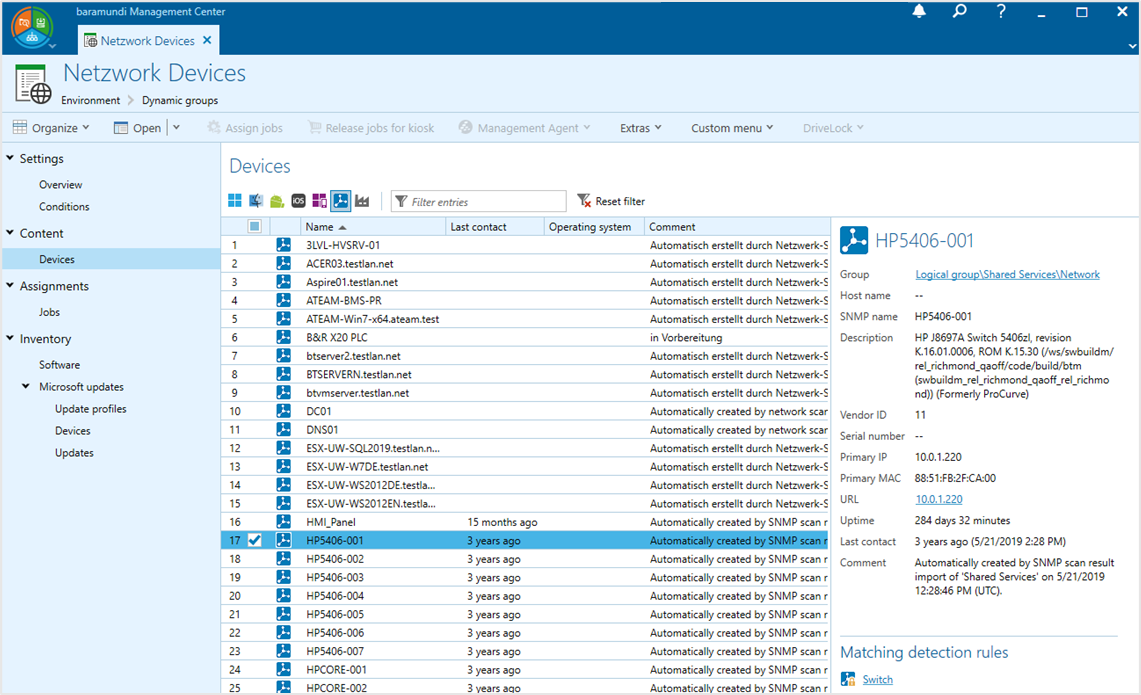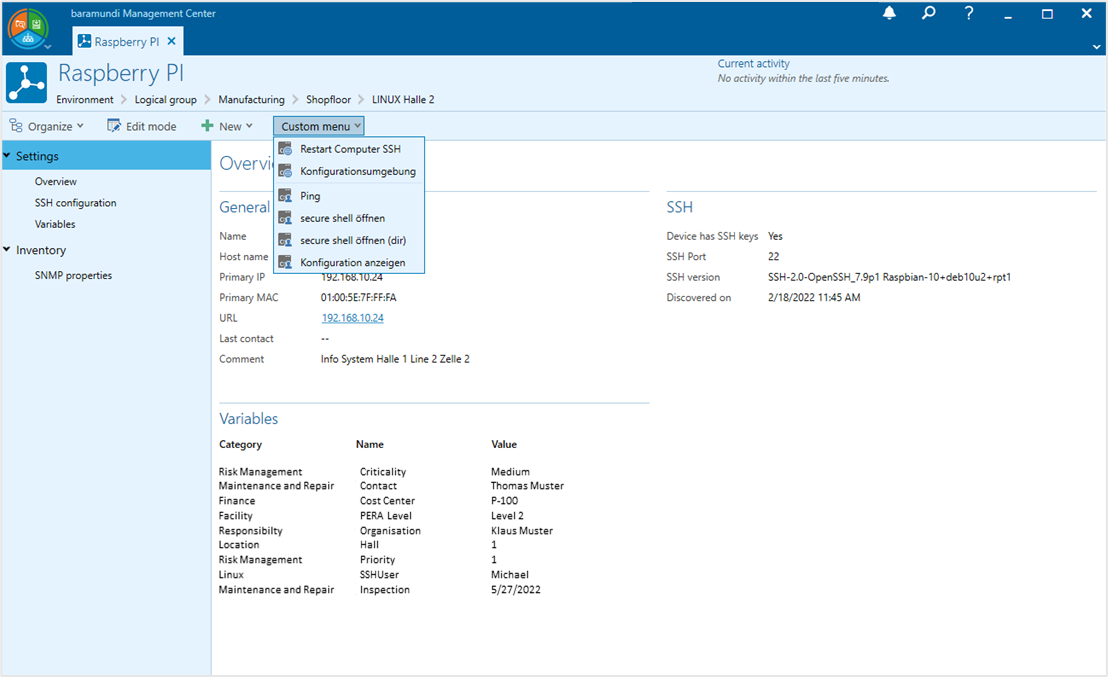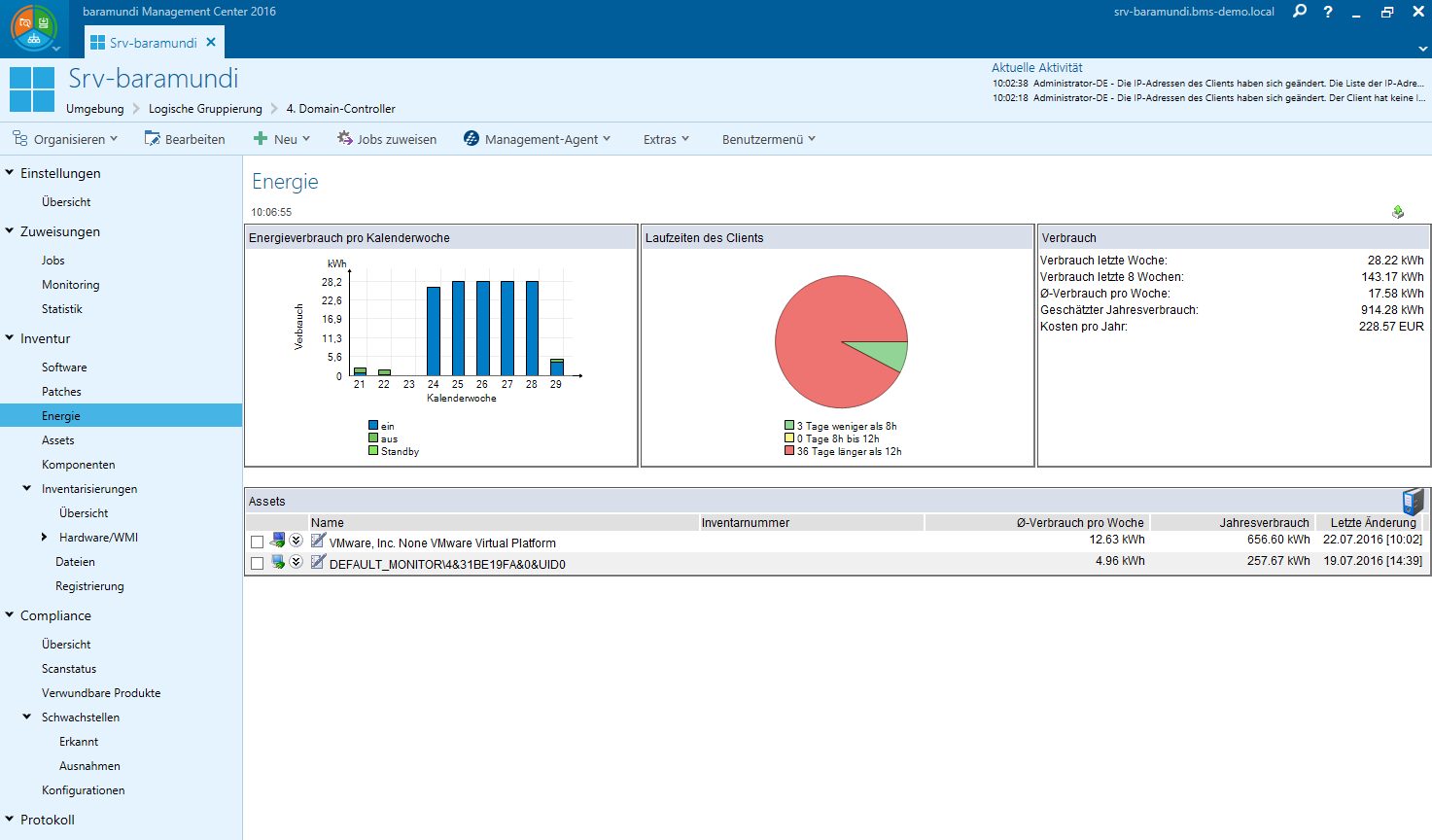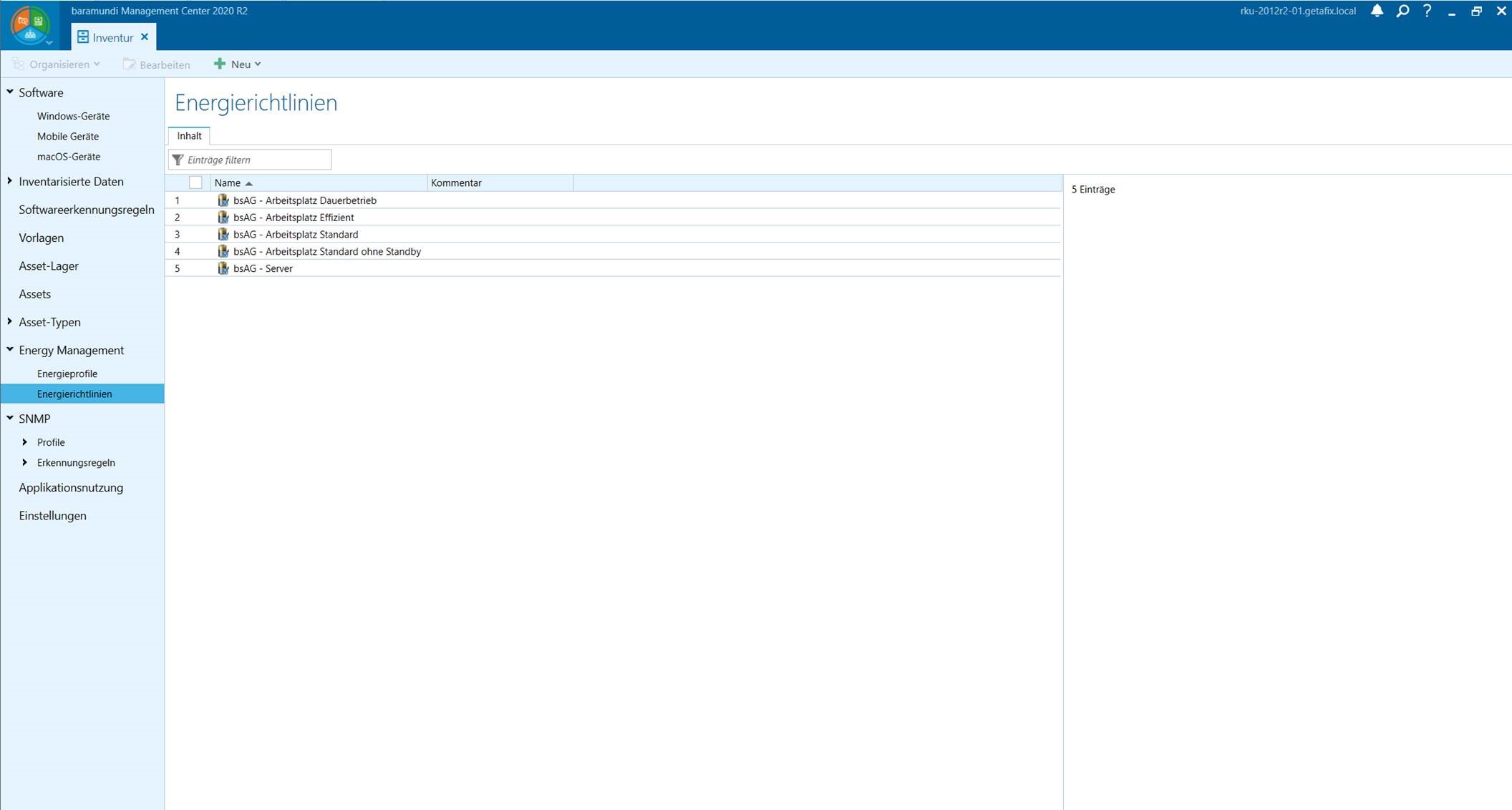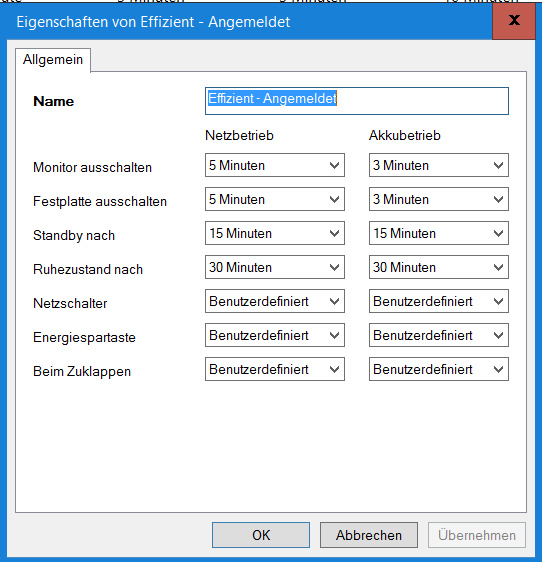 Like all modules of the baramundi Management Suite, this module is licensed per managed workstation. Servers are also licensed like a normal workstation. For more details, please contact our sales staff.