Features
WORK SUCCESSFULLY AND EFFICIENTLY WITH THE BARAMUNDI MANAGEMENT SUITE
What the Management Suite Does for You
IT Process Optimization Made Easy
We create the foundation for your successful and efficient day-to-day work. This is why the baramundi Management Suite also has numerous features that you can use to further optimize your IT processes. Our software solution automates time- consuming routine tasks in lifecycle management in a way that is comprehensive, reliable, and tailored to your individual requirements. The baramundi Management Suite delivers an integral element for your company's success. Manage your IT in future by making optimal use of resources.
Overview of Features
The baramundi Management Suite
As management assignments are split into jobs, the baramundi Management Suite gives you full control over all tasks at all times.
Catalogs computers and your network environment
Enables the automated installation and updating of operating systems
Provides your system with the software you need
Installs all the required patches for Microsoft products
Prepares standard software updates and patches for distribution
Performs data backup and ensures data security
Can be easily integrated into any IT structure
Shares inventory data with any third-party applications via interfaces
Provides precise information about the status of the entire network and individual endpoints
Manages devices located externally, e.g. in hotels or in home offices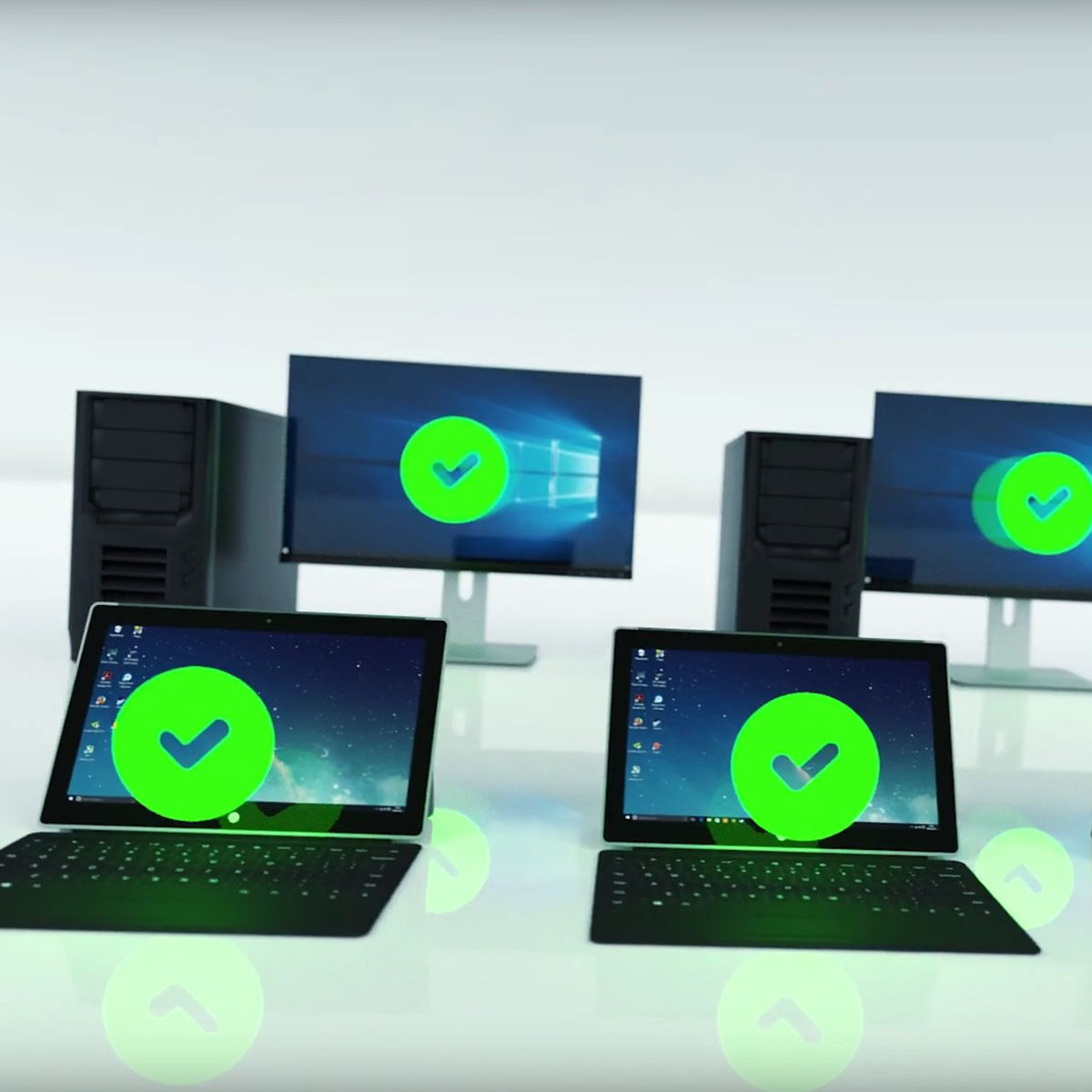 The Principle of baramundi Jobs
The control and monitoring of all management tasks through jobs is the central principle of the baramundi Management Suite. Jobs allow you to control what you wish to distribute where and how.
You can therefore avoid disturbing your employees while they are working and also keep track of complex configurations at all times.
Everything in View at All Times
Do you wish to adjust and optimize workflows to match your own environment? The baramundi Management Suite enables you to do this simply and easily. You can define and control distribution, for example, by allocating to endpoints and endpoint groups. This can be one-off helpdesk support, a phased or target-group-focused activity, or even a complete rollout. In this process, you will see the current status of each individual device and each job: you will be able to track what software is installed on which endpoint, whether any installations have failed, and which applications still have to be installed. If errors occur, you will be able to see what caused them. Sequences and configurations that you define once via the menu can be used again and again, saving you valuable time, as the process always runs automatically in the same way. You can start it when you wish simply by clicking the mouse or setting a timer – just as carefully and individually as when you manage projects by hand.
Operating system
Application
Patch
Action
Information
Immediately
Timed
Triggered by the status of the endpoint (e.g. "when shutting down")
Involvement of the user is possible
Prioritized
Fully automated
Controllable load distribution
Bandwidth-dependent
Organizational units
Logical groups
Dynamic groups
Endpoints
Users
Via import to any endpoint lists
Manage Endpoints with baramundi - No Matter Where They Are
Nowadays, endpoints are not just found in your company network. The baramundi Management Suite enables you to manage any number of devices – no matter wheren they are – via LAN or the Internet. You can, for example, distribute necessary, time- sensitive updates quickly and easily to smartphones, tablets and notebooks outside of the company.
The system can be installed and made ready to use quickly, and is easily scalable thanks to local synchronized repositories. There are also additional baramundi services available to you – for example, to continually provide locally operated management instances with the latest data.