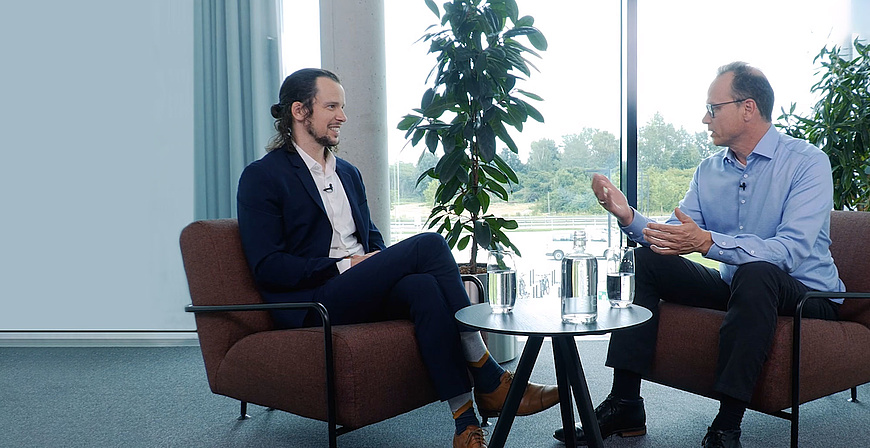 The future of digital workplace
Unified Endpoint Management and End User Experience Management in Focus
IT administrators are constantly dealing with multiple competing demands. Employees increasingly expect a consumer-grade IT experience. This is often at odds with senior executive priorities, which often center around cost, management and security.
In our baramundi on-demand webinar Dr. Lars Lippert, Managing Director (baramundi software GmbH) and guest speaker, Forrester Senior Analyst Andrew Hewitt discuss in 30 minutes how Unified Endpoint Management and Enduser Experience Management can help you to balance those demands and improve overall efficiency within your organization.
Q&A with Forrester Analyst Andrew Hewitt
WHY COMPANIES SHOULD LOOK INTO END USER EXPERIENCE MANAGEMENT IN ADDITION TO UNIFIED ENDPOINT MANAGEMENT
baramundi recently welcomed guest speaker Andrew Hewitt, Analyst of Forrester (UEM). Dr. Lars Lippert, Managing Director (baramundi software GmbH) picked his mind on the upcoming issue of End User Experience Management (EUEM) in relation to Unified Endpoint Management.
What would you consider as the current challenges of IT Administrators?
Today's IT administrators are constantly dealing with multiple competing demands. On the one hand, employees increasingly expect a consumer-grade IT experience. Our research has shown that 66% of global information think it's important to have autonomy in choosing the apps, services, and devices that they use for work. While IT administrators increasingly seek to accommodate choice, it often comes at odds with senior executive priorities, which often center around cost, management, and security. Unfortunately, this also means that IT admins must do more with less—they must effectively manage more devices while reducing costs. This push and pull between experience and other IT priorities is the primary challenge IT administrators deal with today. When their administration platforms don't have enough data or automation to help reduce management complexity, the task becomes even harder. This is one of the primary reasons why organizations are looking to invest in unified endpoint management (UEM) and end-user experience management (EUEM) tools today.
What is EUEM and why is important today?
Forrester defines EUEM as "a set of client-side capabilities that helps operations pros manage the daily technology experience of employees by collecting and analyzing telemetry data from employee devices, apps, networks, identity, and user feedback. These agent-based solutions reside on the endpoint itself and help operations identify and proactively remediate degradation in technology experience."
In many ways, EUEM is becoming the system of record for digital employee experience (DEX). That means that it's responsible for measuring, benchmarking, and driving continuous improvement of DEX. Fundamentally, EUEM collects data from endpoints and translates it into actionable insights to help drive remediation of experience events, inform leaders of experience issues, and benchmark the experience of the organization both internally and externally against peers. EUEM can operate as a standalone third-party tool or as a core capability within an endpoint management platform.
In addition to serving as a foundation for DEX, EUEM can enable customers to reduce technology-related disruptions to employee productivity, track and quantify employee technology experience, and collective qualitative feedback on tech experience. All of these capabilities can enable organizations to drive higher levels of employee engagement by providing a technology environment that enables employees to make progress in their daily work each and every day—a key driver in overall employee retention.

How does EUEM relate to service desk troubleshooting and remediation?
Today, EUEM and enterprise service management (ESM) tools are two separate markets. EUEM is primarily concerned with collecting telemetry and scoring the experience whereas ESM is responsible for opening and closing tickets and reducing incidents. Many service desk customers today will integrate EUEM tools into their existing ESM provider. Most frequently, this is an API-based integration that will conduct auto-ticketing within the ESM platform should the EUEM detect an experience issue. For example, if a particular application keeps crashing every day, open up a service desk ticket.
More advanced forms of integration enable service desk administrators to access EUEM functionality directly within the ESM console, enabling L1 admins to conduct troubleshooting and remediation with a familiar workspace. One large customer we've spoken with has built an L1 help desk ticket checklist within their service management tool that leverages EUEM functionality built directly into the console. This helps speed root cause analysis, reduce mean-time-to-resolution, and speed remediation. Another common example: the ability to see PC process data directly in a service management console via the EUEM tool, enabling L1 administrators to kill processes that are impacting CPU utilization.
How can customers get started with EUEM?
A simple way to get started with EUEM is to look at what data collection capabilities you already have present in your environment. Many Unified Endpoint Management (UEM) providers have some telemetry collection capabilities already built-in to the product, such as application usage, resource utilization, and more. Other third-party monitoring tools for applications and networks have lightweight endpoint monitoring capabilities as well that integrate well with existing management tools.
Once your organization has an agent, the process is fairly simple. Endpoint administrators can push out the agent via an existing UEM tool and start to collect data. Generally, a good data collection process takes about 2-3 months to generate enough historical data to effectively analyze the data and set thresholds for acceptable experience level. Once the organization has an idea of what normal looks like in their environment, they can then define what they'd like to improve, and by how much. For example, if a company sees that they have 10 blue screens of death (BSODs) per month, they might set a goal to decrease that by 50%, to 5 BSODs per month.
How does UEM complement EUEM?
In addition to deploying the EUEM agent, UEM plays a strong role in driving remediation based on experience events triggered within the EUEM console. There are three key areas we see this playing out:
Patch management. Issues with application crashes and hangs are often triggered by OS updates or outdated drivers. UEM can help fix issues with applications by deploying a patch for a troublesome application or even driving a rollback of an operating system update.
Policy management. UEMs can leverage experience data to adjust policy, particularly in security-specific use cases. For example, UEM could quarantine a device if CPU usage suddenly spikes and stays high, an indication of a malware infection.
Low-code orchestration. UEMs are increasingly using low-code to orchestrate multiple endpoint management tasks in response to a trigger. UEMs could use an experience event to trigger multiple events in a low-code engine to drive significant automation. For example, if the UEM receives signal from the EUEM tool that experience is declining rapidly, it could 1) log a help desk ticket, 2) deploy a patch, and 3) prompt the user to restart.
Self-healing. EUEM tools look at the health of every app that's on a device, including the endpoint management agent itself. Through monitoring of the UEM agent, the experience tool could alert IT admins to update the UEM agent when necessary to preserve functionality and compliance.
On-demand Webinar featuring Andrew Hewitt