Powerful, flexible Enterprise Mobility Management
baramundi Mobile Devices & Premium
Smartphones and tablets are essential productivity tools that complement laptops and enable today's mobile and hybrid workforces. They're also an IT management challenge. A diverse range of devices must be deployed, configured and managed throughout their lifecycle using standardized IT processes while meeting business and security requirements for efficient enterprise mobility management (EMM).
In addition, employee use of corporate-owned and BYOD devices for personal purposes makes it difficult to ensure data and network security as well as user privacy. Too often, users' personal apps have access to sensitive company data. Users also worry that their private apps and data could be viewed by IT staff responsible for managing and securing devices on the company network.

Increases corporate network security
Automates standard lifecycle management procedures for mobile devices
Reliably separates company and private data (COPE & BYOD use)
Supports iOS User Enrollment and Android Enterprise Work Profiles
Your Modules for Mobile Device Management with baramundi
baramundi Mobile Devices
gives you essential features to configure, manage and secure in-office and mobile devices effectively and consistently. Lost devices can be reset to factory settings from a central admin console with minimal effort. Replacement devices can be provisioned with needed data and apps within minutes using the company's app store account.
baramundi Mobile Devices Premium
adds features to keep company and user personal apps and data securely separated. For Android devices, it lets you configure and manage native Android Enterprise Work Profiles. For Apple devices, iOS User Enrollment enables you to configure separate virtual spaces for company and user apps and data. Both methods ensure compliance with EU GDPR regulations for data privacy.
How baramundi Mobile Device Management works
Automated mobile device management for Android and iOS
Complete lifecycle covered from enrollment to wipe
Easily configure mobile devices via cross-platform profiles
Reliably enforce compliance rules, protect corporate data and support data privacy regulations
Blocklists and allowlists for apps
Configuration of apps and device features
Easily integrate and secure mobile devices

Mobile Devices Premium für Android
Work and private profile views with easy switching (depending on the Android version used)
Work Profile password protection
Separate installations of identical apps in both profiles
IT only has access to Work Profiles
Mobile Devices Premium für iOS
Enable data separation
Control the transfer of company data to user apps
Control the transfer of private data to company apps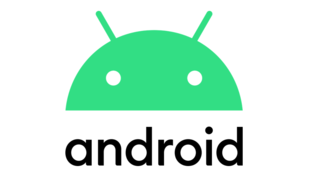 baramundi Mobile Devices and baramundi Mobile Devices Premium supports Android from version 7.0, iOS from version 9.0 and iPadOS from version 13.
baramundi Mobile Devices in detail
Here is an overview of the most important functions of baramundi Mobile Devices & Premium
Cross-platform Configuration
Configuring devices from different mobile platforms is time-consuming and complex. The same parameters must be entered in different ways depending on the device and operating system. baramundi Mobile Devices provides a uniform admin interface with modular building blocks that enable cross-platform device setup to match the specific capabilities of each platform and device type.
Distribute applications and settings
baramundi's EMM solutions make it easy to distribute mobile apps, certificates and settings. You can direct users either to device App Store or your pre-configured company self-service kiosk built into the baramundi Mobile Agent. The clear admin interface also lets you configure and roll out specific enterprise-wide apps and settings.
Inventory and Data Protection
Our EMM solutions enable you to maintain a current inventory of all mobile device hardware, operating system version, IMEI, network data, security settings, SIM information, installed apps, and other information automatically. Personal user data such as contacts, calendar entries, call logs, e-mails, etc., are not included in inventory data to comply with the applicable data protection standards.
Defining and enforcing security rules
Both bMD and bMD Premium let you set requirements for password complexity and minimum length and define app blocklists and allowlists. You also can restrict access to the device app store, camera or other functions. Managing and monitoring compliance with company security rules and detecting a device "jailbreak" or "root" is straightforward using the Compliance Dashboard.
Complete device lifecycle management using standard IT procedures extends from easy enrollment and initial configuration, to ongoing management, to deletion of all company-related data and removal from management. You can unlock devices remotely with a few clicks to help employees who forget the device PIN. Stolen or lost devices are no longer a disaster because you can simply wipe them remotely. Replacement devices are automatically restored with the correct profiles and compliance settings.
Premium: Native Container Approach
baramundi Mobile Device Premium (allows you to create separate Android Enterprise and iOS user profiles without the need for a 3rd party container solution. This ensures maximum OS and app compatibility. User profiles are implemented as an integral part of the operating system and do not hinder the timely deployment of security-related system updates.
Premium: Secure corporate data and guaranteed privacy
Work and private profiles are cleanly separated but remain easily accessible to users with a simple swipe. Apps in the work profile are clearly marked in bMD Premium with small briefcase icons (appearance depending on the device manufacturer). This ensures that the user always knows which environment they are using. The work profile is encrypted and can optionally be password-protected. This prevents accidental intermingling of profiles and prevents access in case the device is lost.
iOS User Enrollment prevents apps in one profile from accessing data in the other, e.g., the user's WhatsApp app cannot access the company's proprietary customer information. Conversely, the user can be sure that IT staff can only access apps and data in the work profile, and that their personal data is untouched when company data is changed or deleted.

Premium: Install the same app twice
On Android Enterprise, separate personal and work instances of the same app can be installed without any configuration conflicts. The user effectively has two separate devices – one managed by the employer and one they use freely for private purposes.
Premium Profile Configuration
Individualize and preconfigure mobile devices thanks to profile modules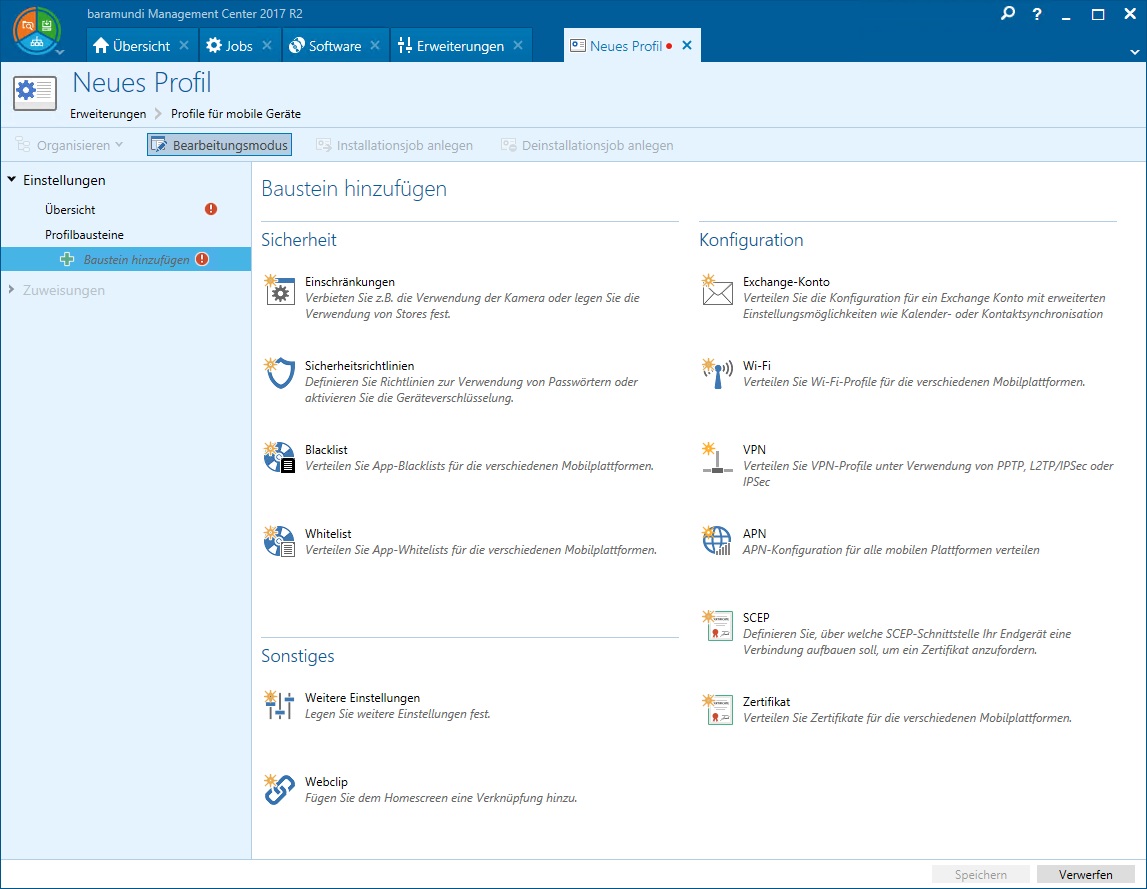 Easy Job Steps
Complete job steps for mobile devices step by step.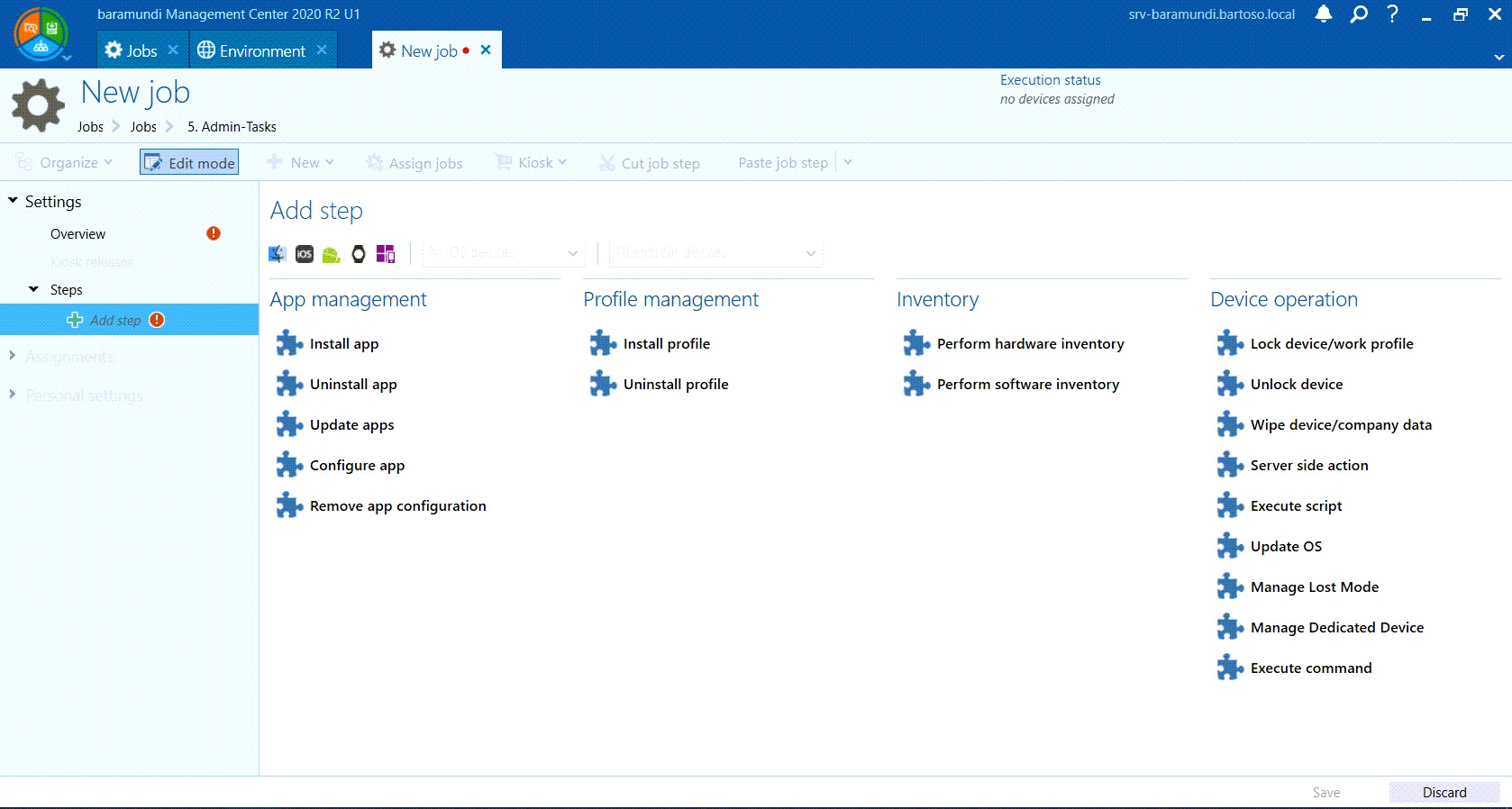 Contactless WIFI Configuration
Set WiFi settings on smartphones via remote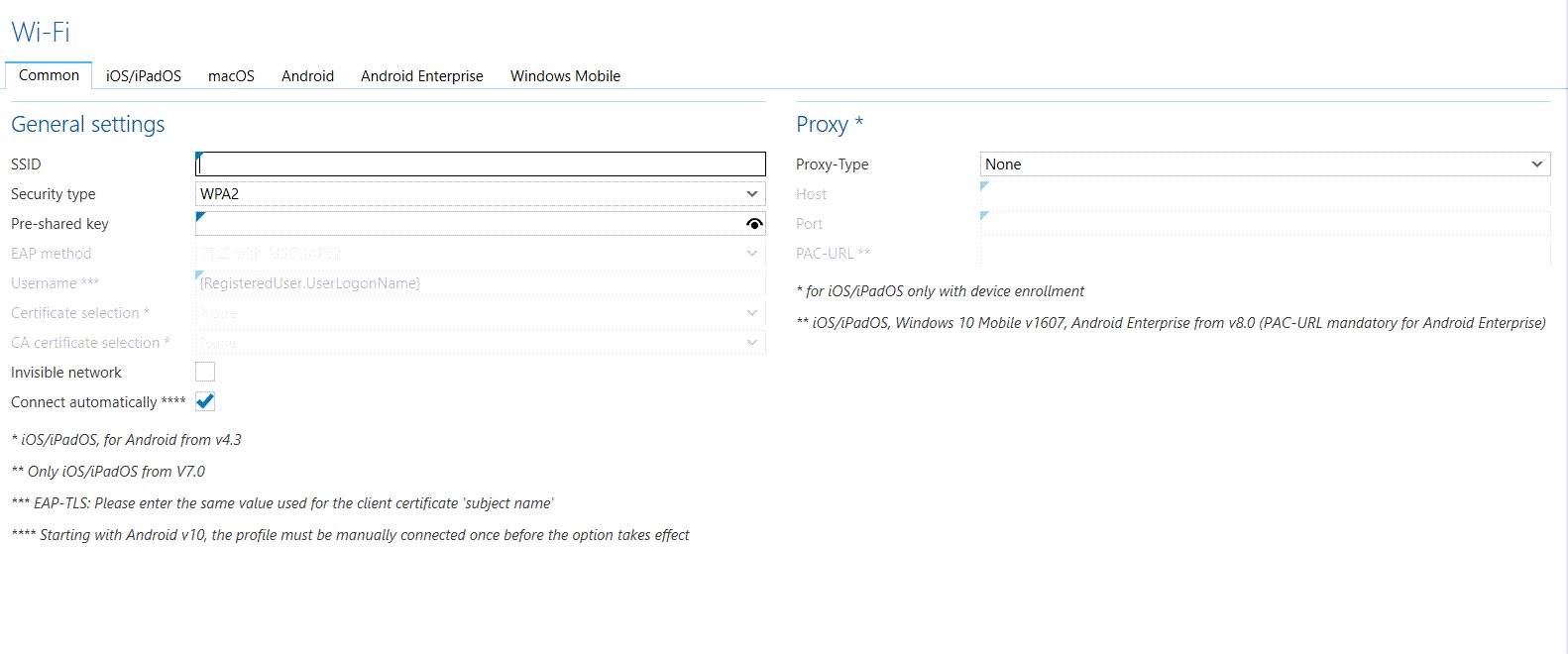 bMD Restrictions
Large restriction selection through standard and premium features.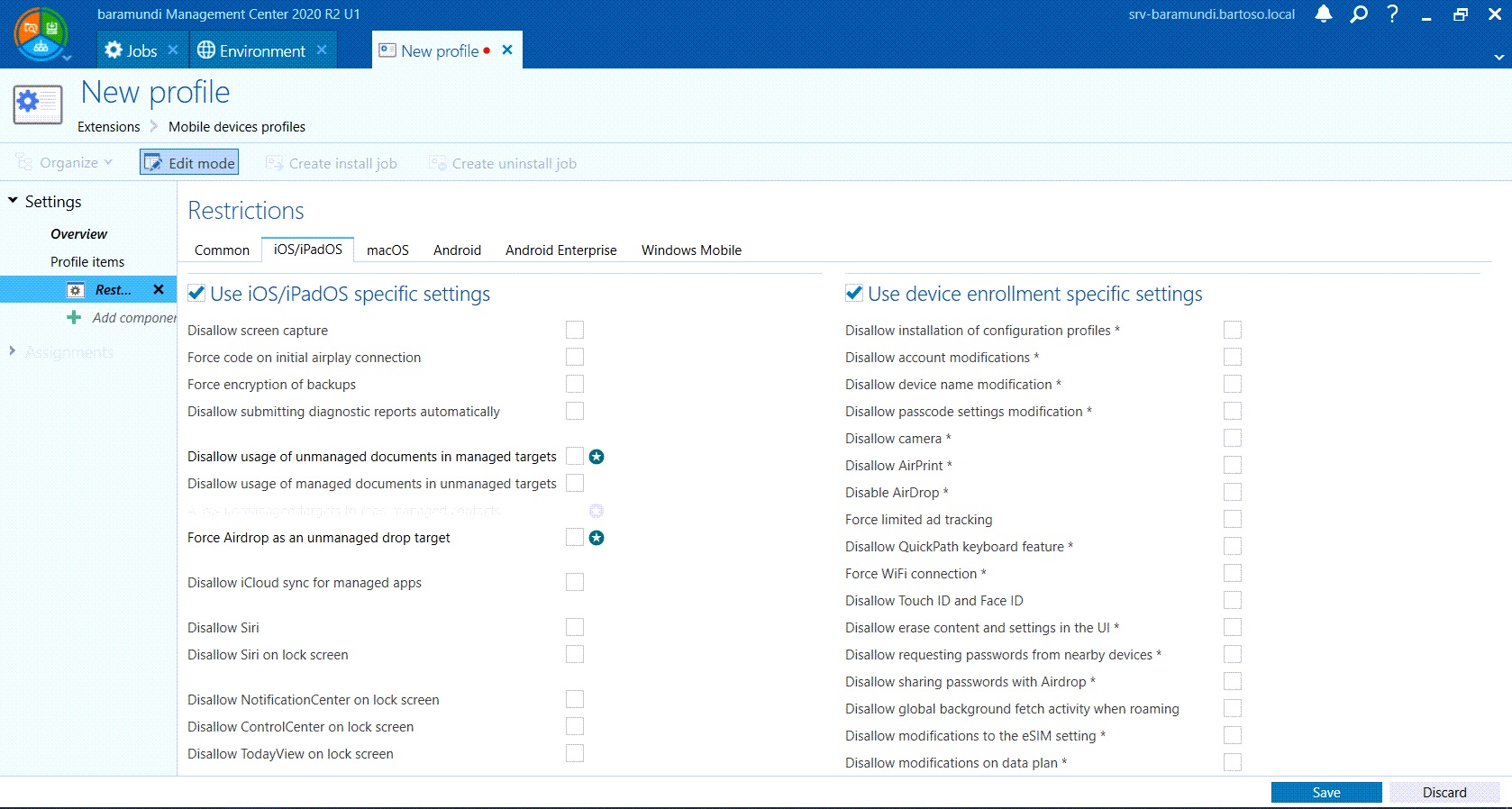 Android Enterprise Restrictions (Premium)
Special Settings for Special Devices (e. g. Android Barcode Scanner).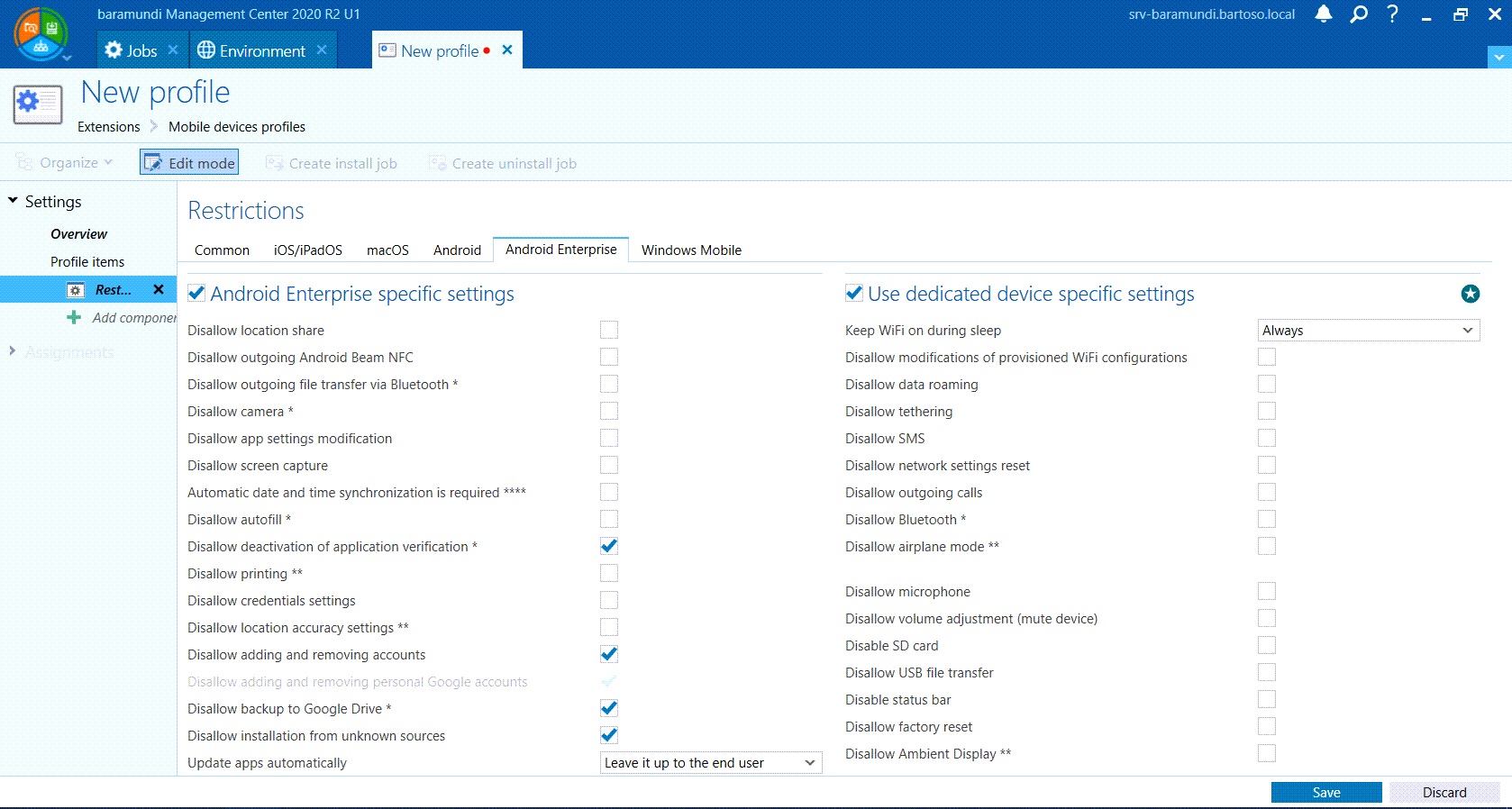 Security settings for iOS
Wide range of standard and premium security settings for iOS devices.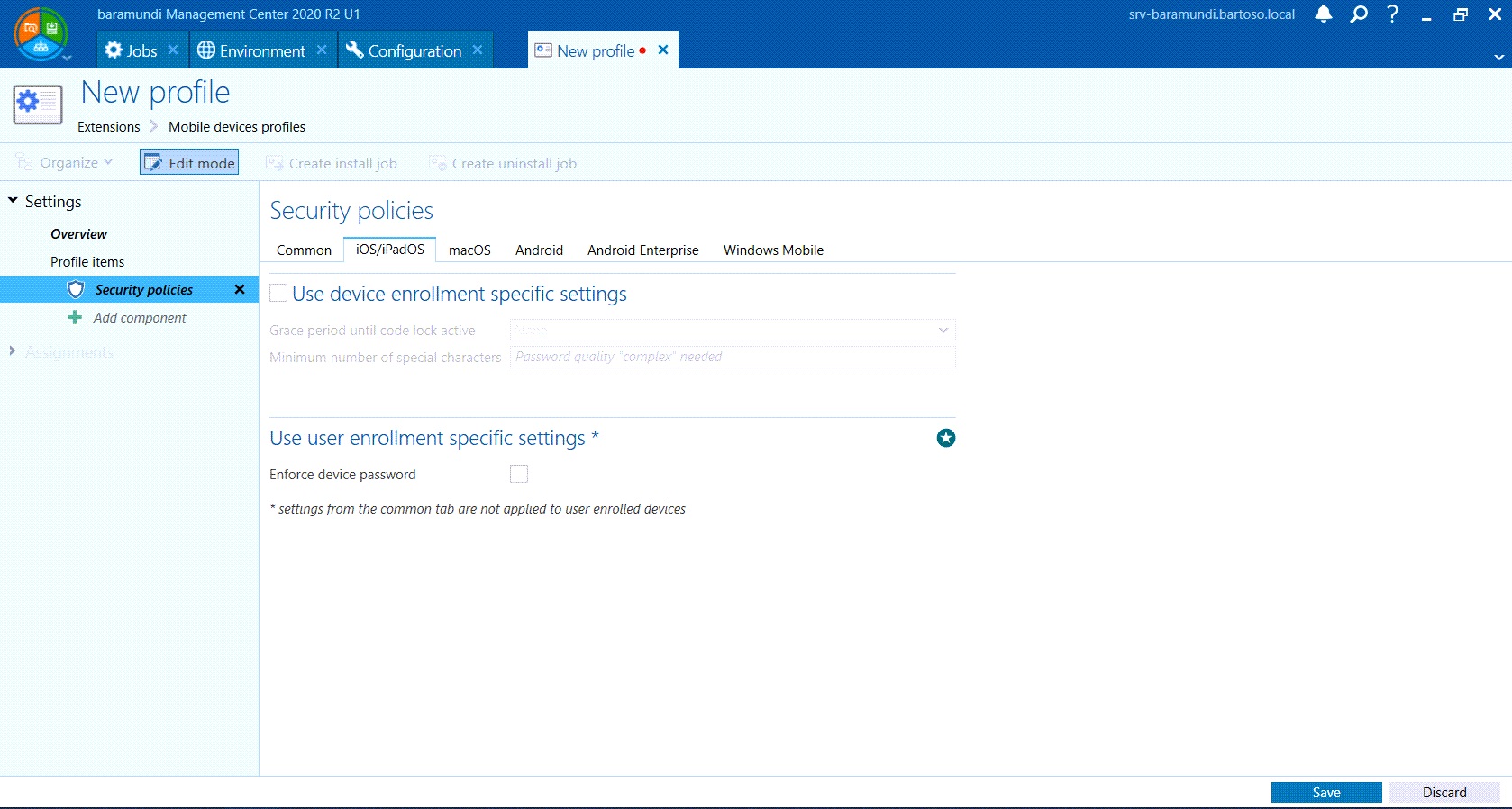 Android Enterprise Security
Maximum mobile security thanks to various standard and premium settings.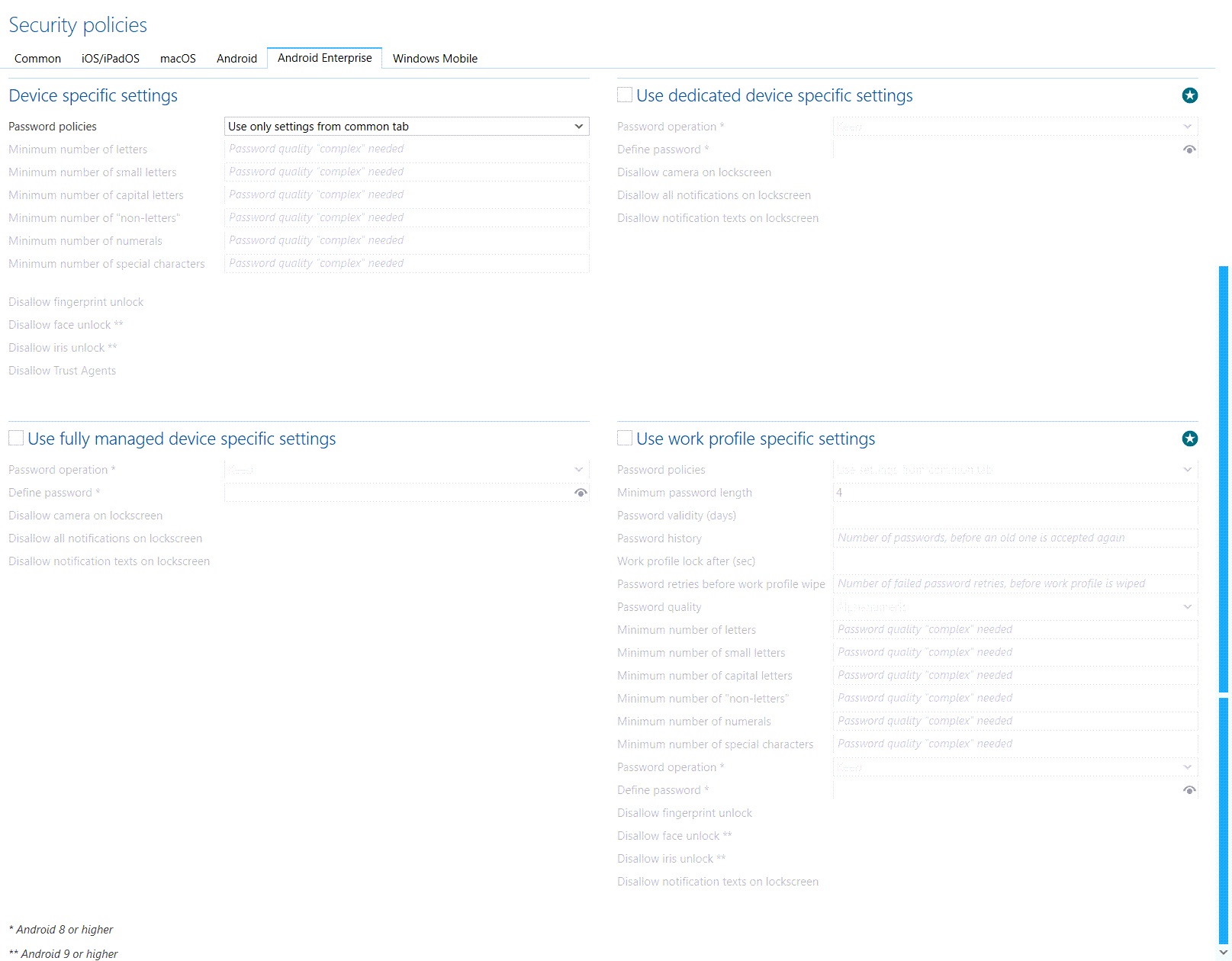 Separation of personal and business apps
Separate private and professional apps (Android) easily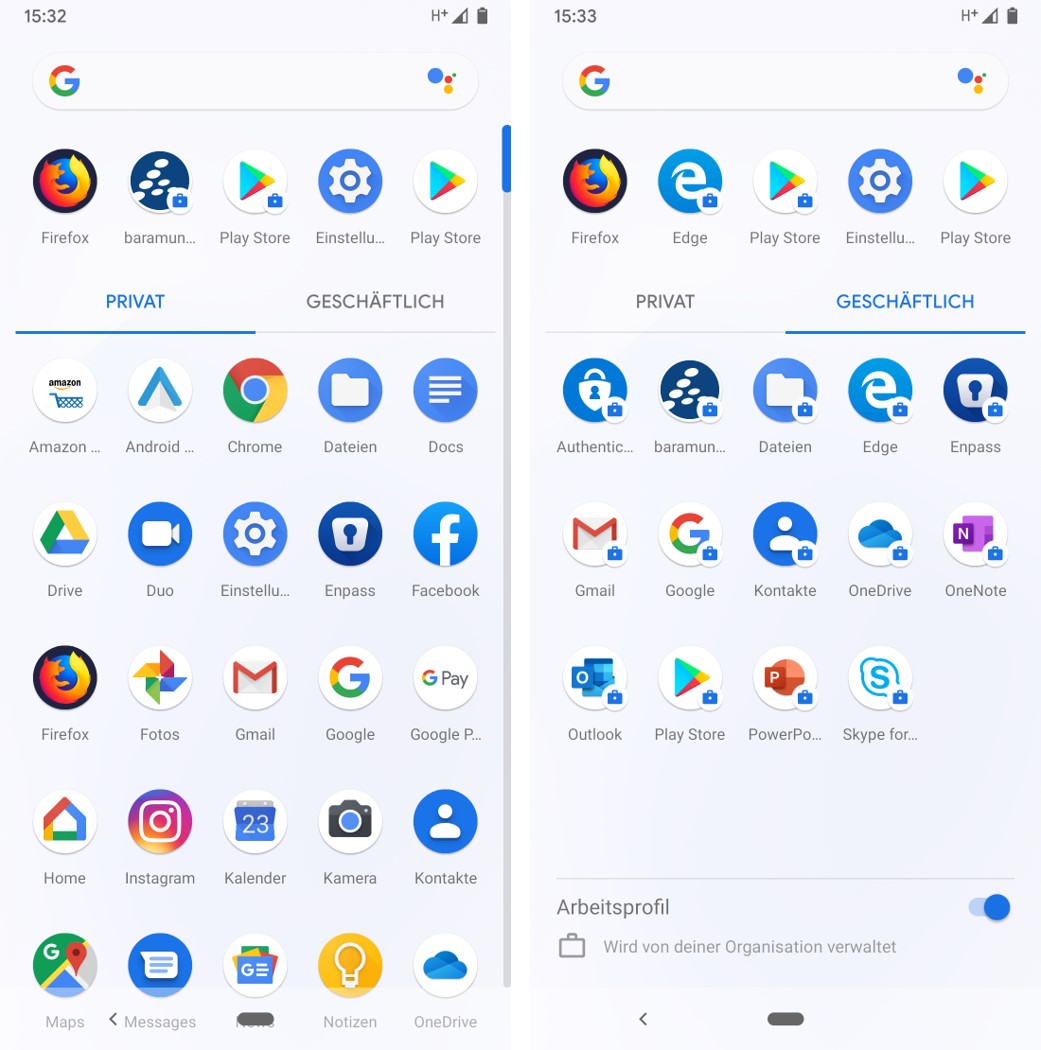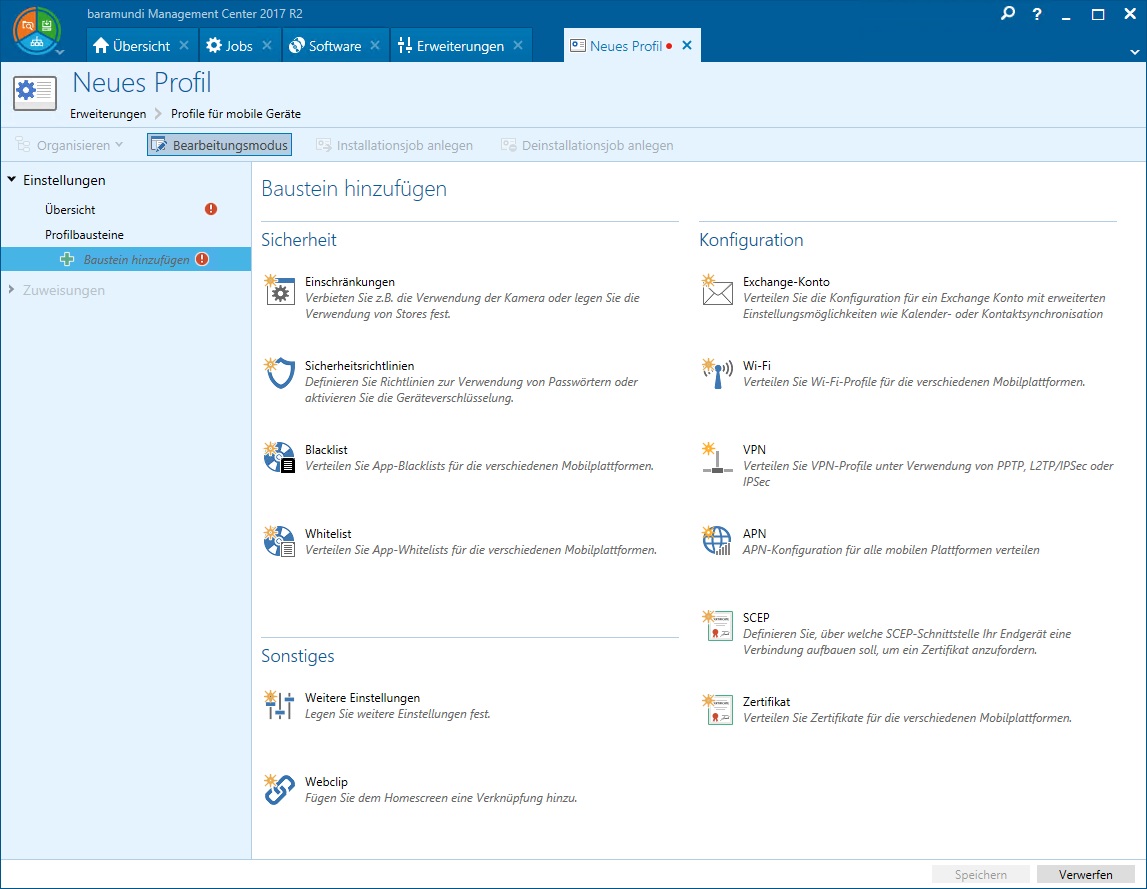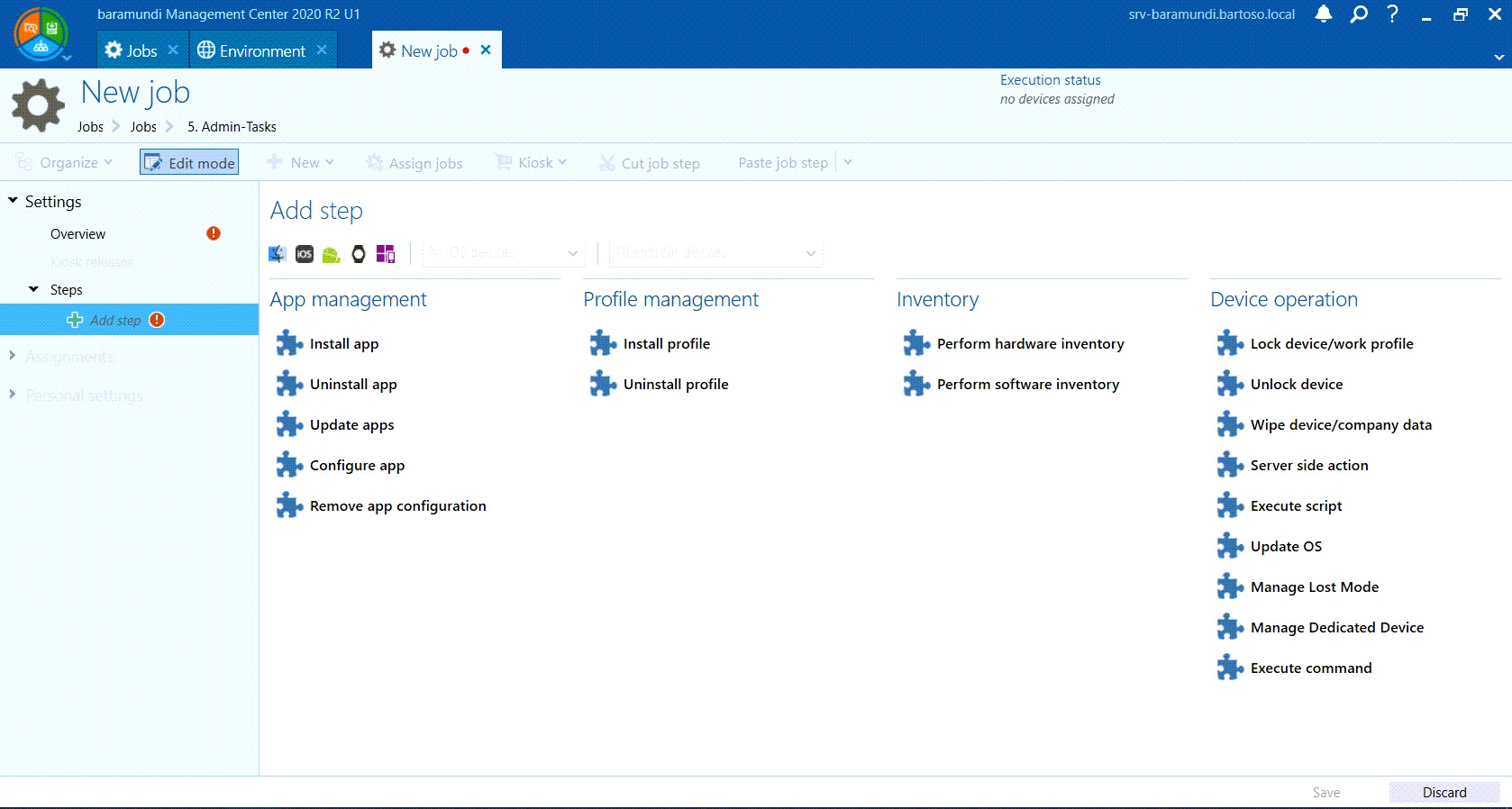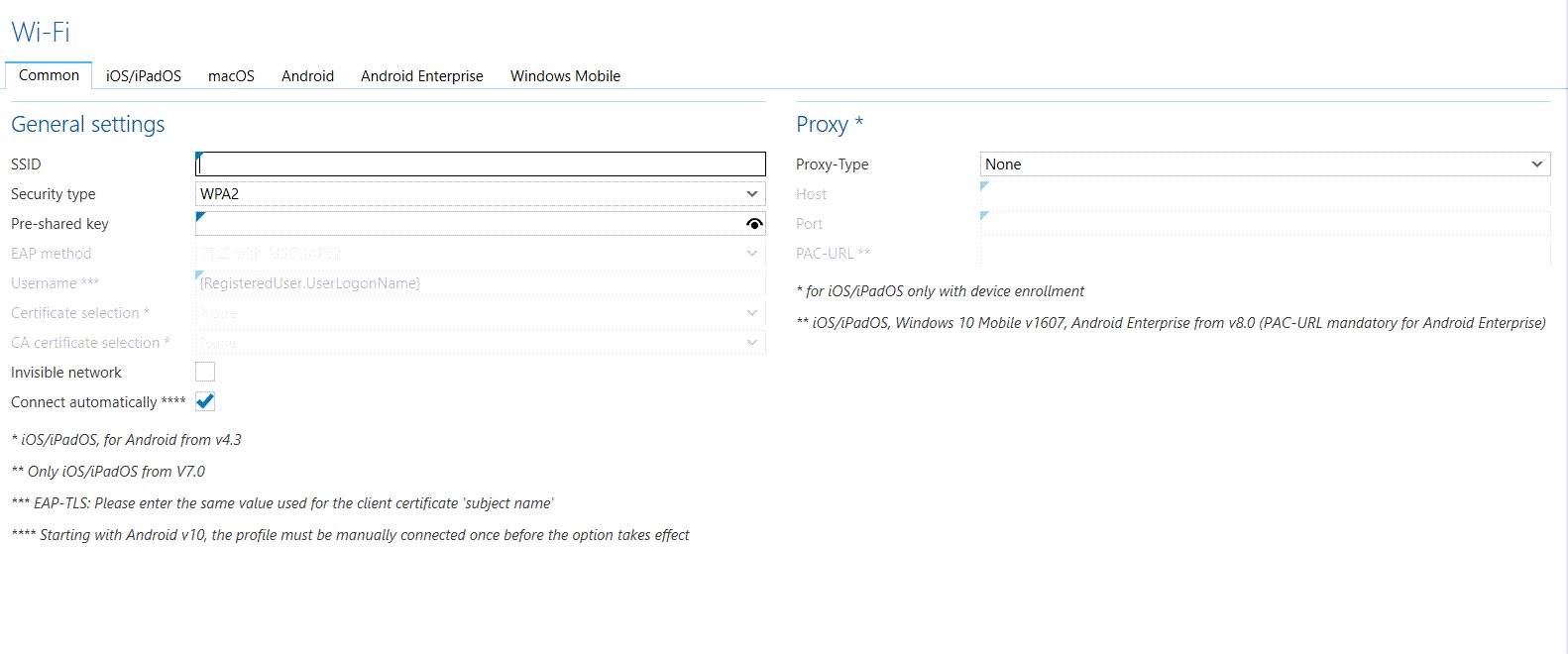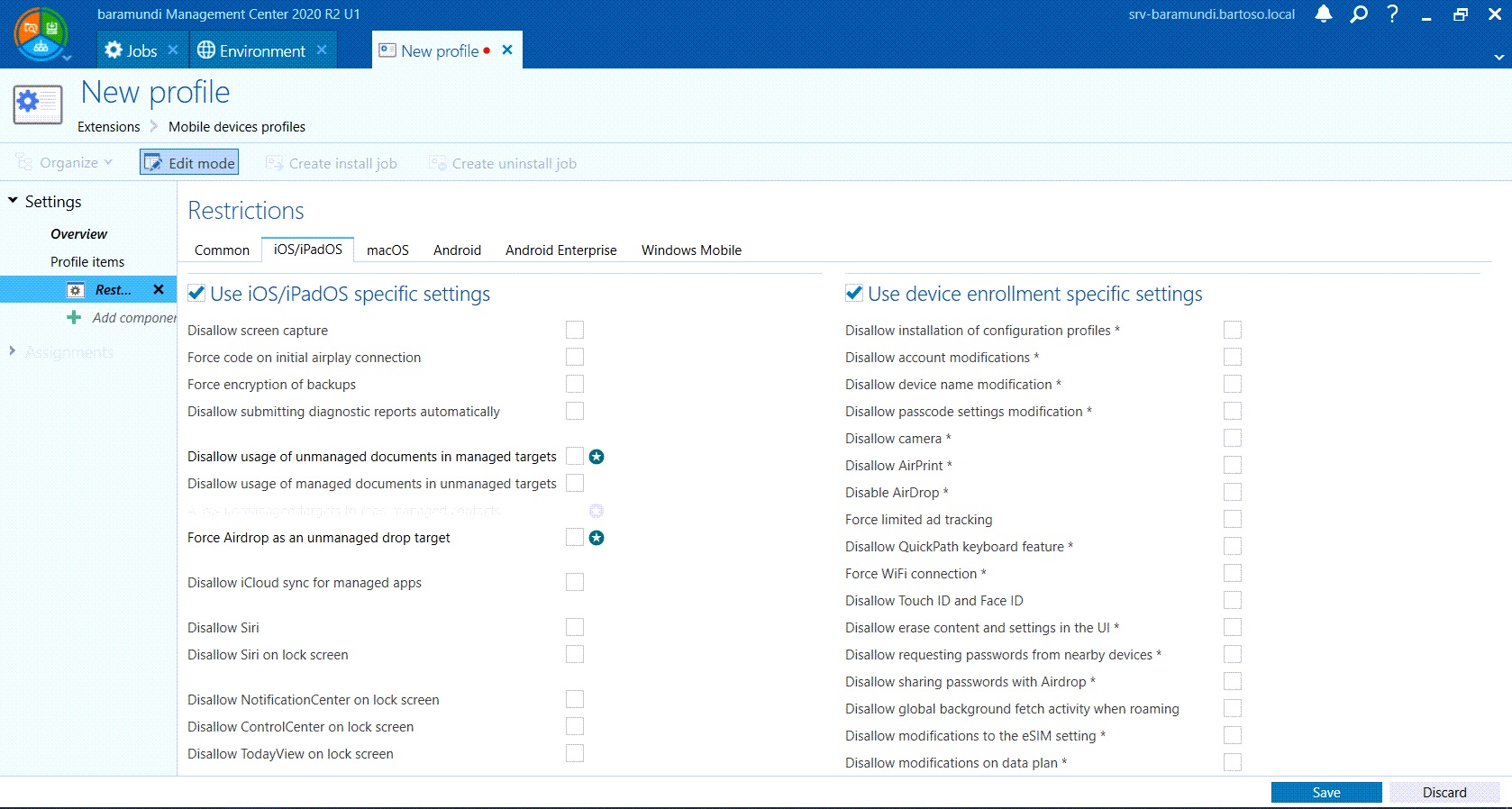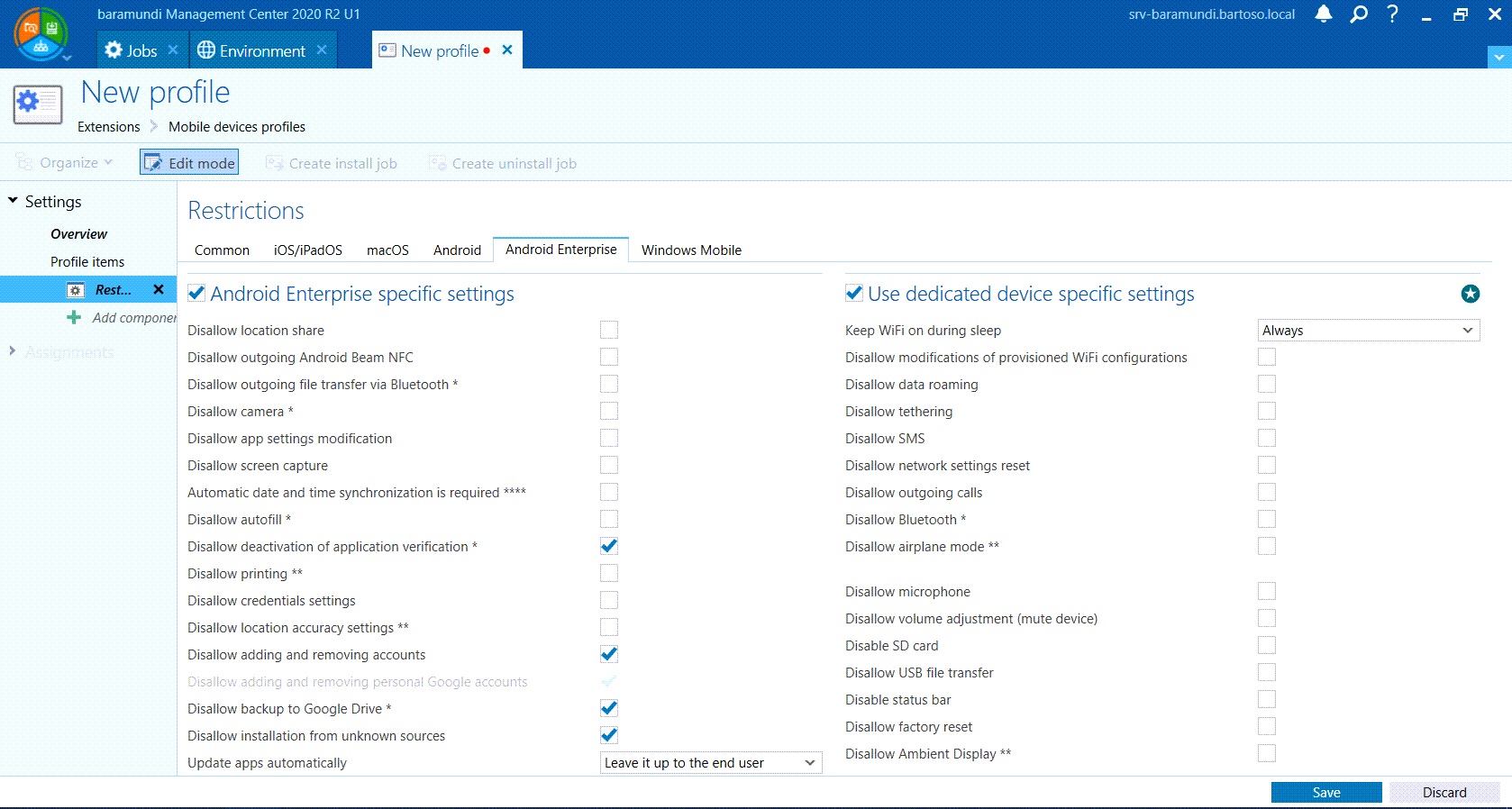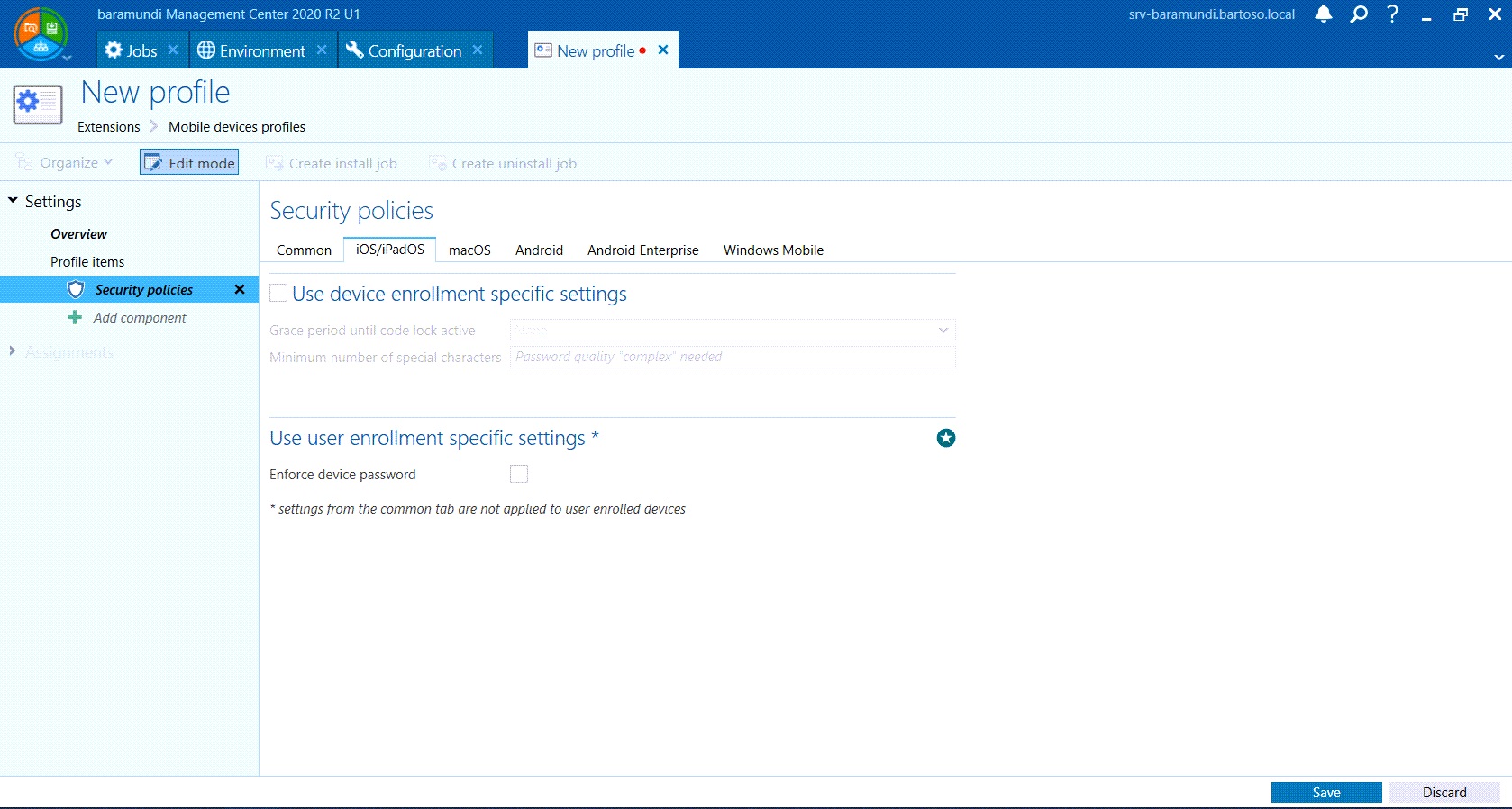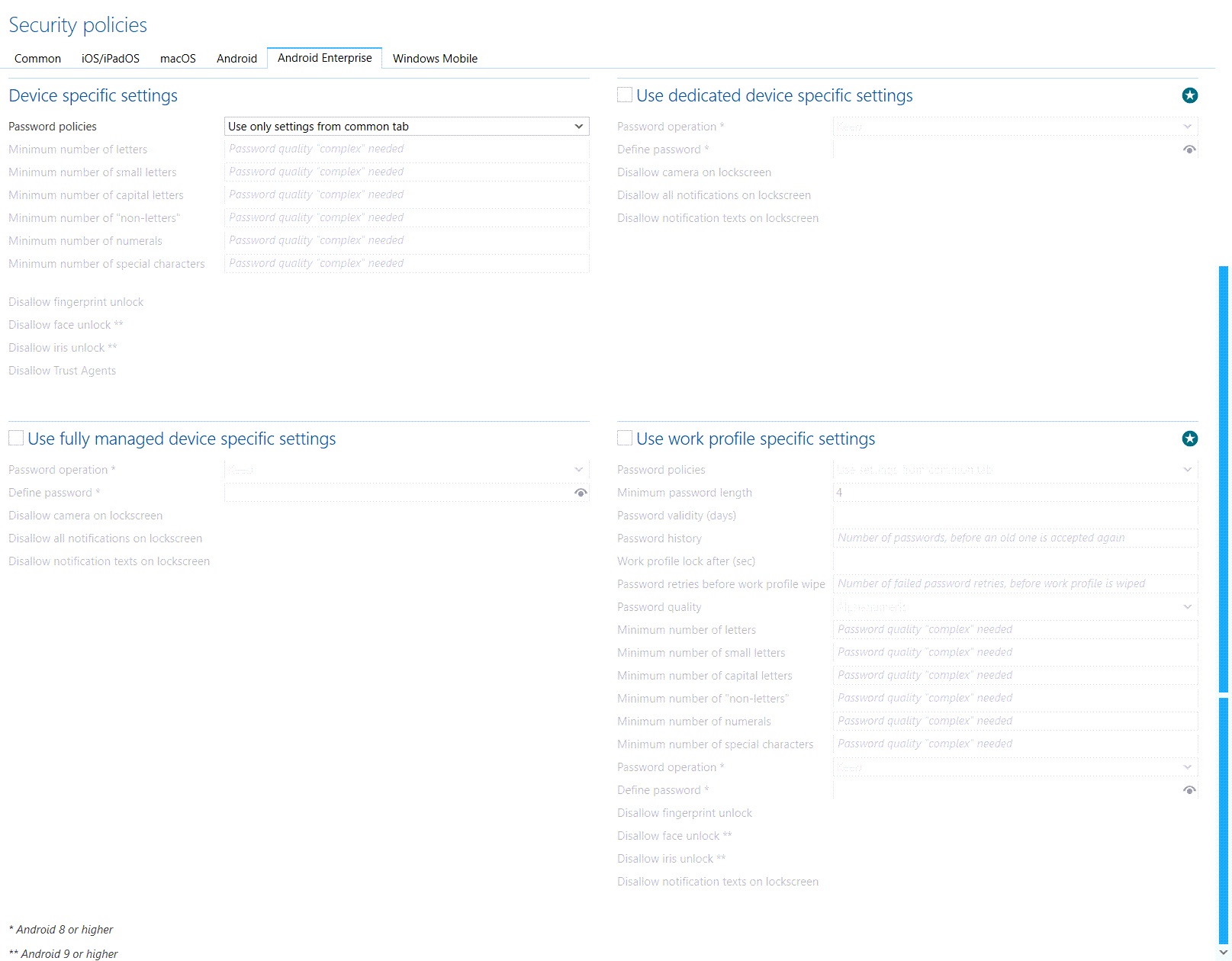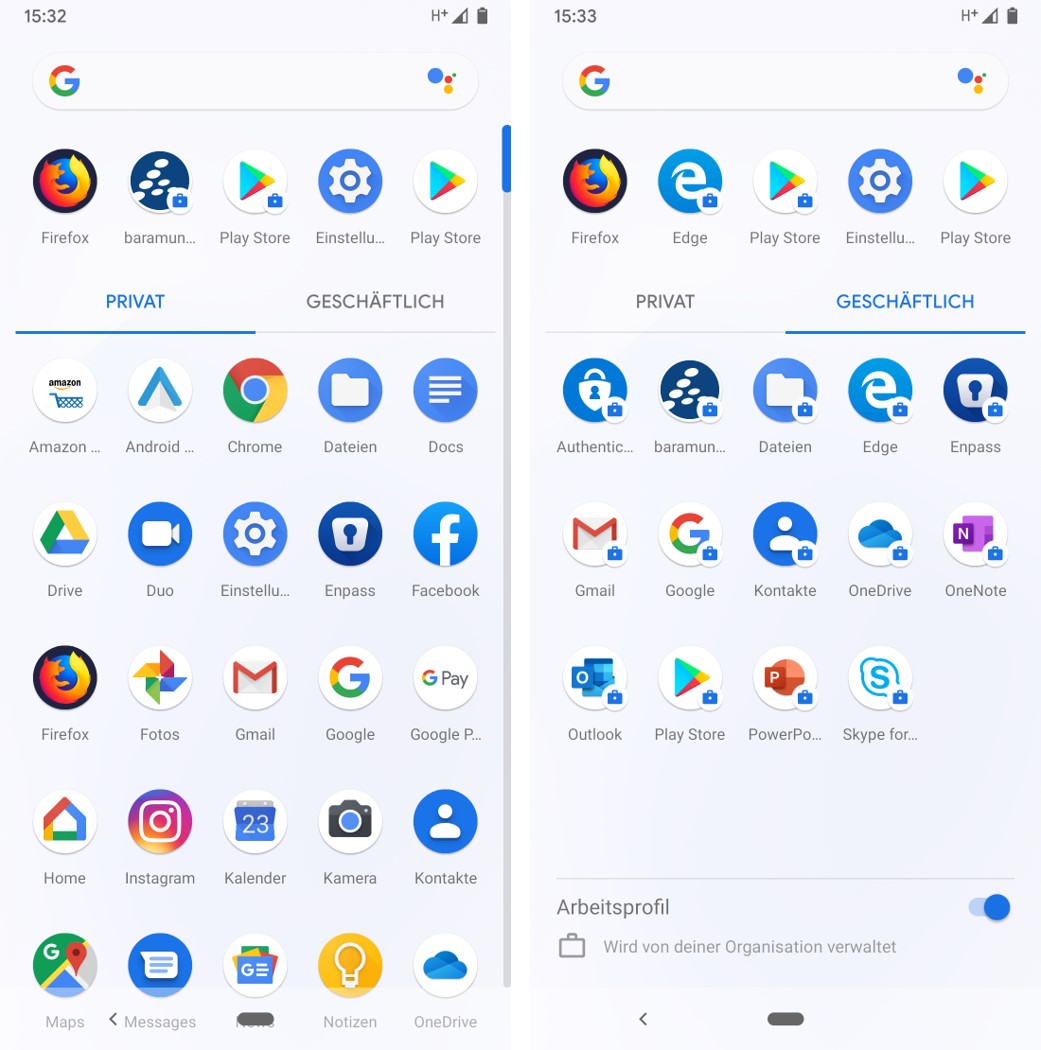 Like all modules of the baramundi Management Suite, this module is licensed per managed workstation. Servers are also licensed like a normal workstation. For more details, please contact our sales staff.