Management Center, Kiosk und bCenter App
Standard features of the baramundi Management Suite
Management Center, Kiosk und bCenter App
No matter which modules you have licensed, the baramundi Management Suite automatically includes the following useful features:
Management Center
INTUITIVE, POWERFUL AND EFFICIENT
The baramundi Management Center makes it easy to use and expand the power of modern Unified Endpoint Management.
Its intuitive and logical design gives you full control over all the functions and modules of the baramundi Management Suite. All module functions are fully integrated in a single and consistent interface. With just a clicks you can view endpoint status, complete priority tasks and automate routine jobs across diverse servers, desktops, laptops or mobile devices.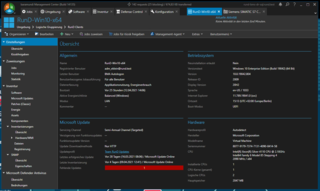 Benefits of the Management Center
Quicklinks to key features
User-definable filters and views
Logical workflow
Self-explanatory navigation
Kiosk
SECURE 24/7 USER SELF-SERVICE
There's no need to make your mobile, home office in-office users wait for IT to install needed apps or burden IT admins with repetitive and time-consuming software installations on multiple devices.
The baramundi Kiosk is an elegant self-service solution that boosts productivity, improves user experiences and frees IT staff for priority tasks:
A user-centric view shows the user all software available for them pre-configured and ready to install and use on their assigned devices. For example, a user can install needed Windows and mobile apps from their desktop or laptop.
A device-centric view displays all software available for each of their devices.

Easy to deploy self-service options
Empowers users and frees IT staff time
Ready-to-use apps reduce the risk of shadow IT
Combines usability and security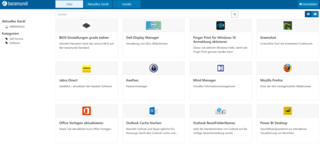 bCenter App
ENDPOINT MANAGEMENT IN YOUR POCKET
The baramundi bCenter mobile app gives IT staff the power and flexibility to view system status and manage endpoints securely anywhere, anytime from their smartphone or tablet.
The bCenter app lets you browse and navigate your managed infrastructure, assign and monitor jobs, and check the status of the entire network, specific groups of endpoints or individual systems.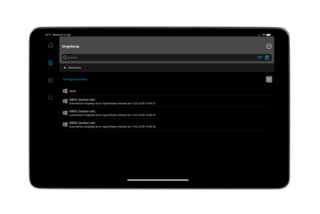 Benefits of the bCenter app
IT admin access to all existing jobs
Consistent multiplatform interface
Biometrically secured admin login
Fast navigation with favorite views