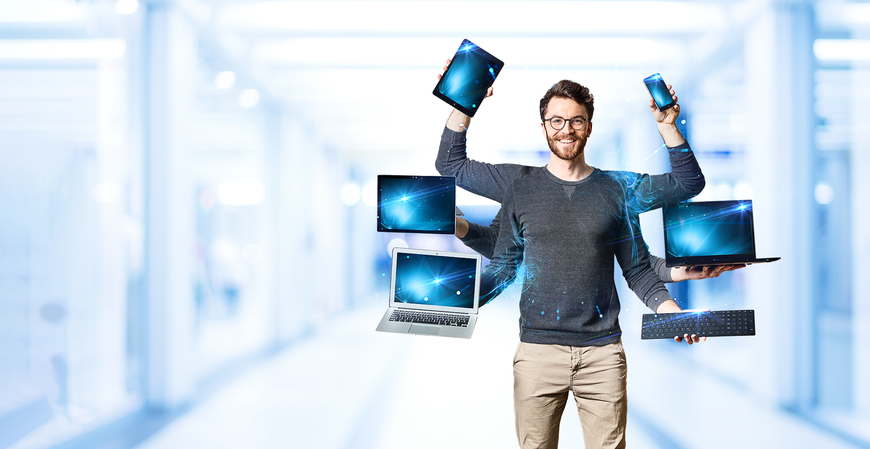 Operating System Installation
Operating System Installation
Automated Operating System Installation: Reduce Time and Costs
The more IT devices that are used in the company, the higher the costs for commissioning, maintenance and decommissioning, which could be caused by:
Employees have to spend their valuable time on routine, tedious tasks
Error rates increase
The level of transparency in complex infrastructures decreases
Hundreds of drivers and technical properties have to be considered when an operating system is installed
Employees have to keep up with multiple, high-priority tasks such as the installation of patches
The Solution
Automated Installation and Maintenance of Operating Systems
Choose baramundi OS-Install or baramundi OS-Cloning to install operating systems. The difference? With baramundi OS-Cloning you copy an image to the computer.
This process is particularly well suited for installations on computers with identical purposes – e.g. cash register systems – or to reset training computers to a defined start point. Despite image-based distribution, it is possible to make adjustments to drivers and to customize the installation.
With baramundi OS-Install, you set up each computer individually, as if you had installed the operating system manually. Thanks to baramundi Inventory, baramundi OS-Install knows all components and installs the required drivers. As the installation is automated, you can set multiple computers to run simultaneously, or simply leave the process to run overnight as an unattended installation.
Applications are installed on the computer with baramundi Deploy. You can determine which software installations are to take place for each computer, and can also define a required installation sequence if necessary.
Work can then start once the operating system and the necessary applications have been installed.
Both the operating system and the installed applications must be supplied with patches and updates regularly and in good time, but selecting and installing them manually requires a great deal of time, manpower and money. You can save all this in future by allowing baramundi Patch Management to patch your Microsoft software. Patching of third party applications like Adobe Acrobat Reader is performed by baramundi Managed Software.
Automating these processes permits you to use resources more effectively and efficiently and keep track of them. Instead of trying to tackle each task with time, tools and willpower, you can combine the strengths of the baramundi modules to install your operating systems:
baramundi modules enable you to automate recurring processes such as
Setting up new notebooks and PCs
Installating multiple systems in one go
Resetting training computers
Distributing software
Managing patches for operating systems and third party applications
You can combine the individual tasks into jobs, and launch new operating system installations and maintenance tasks straight away with a mouseclick or automatically. You also take users into consideration in this process – if you wish, users can reschedule automated tasks to run at another time, or freely select and launch installations.
Free your IT team from routine jobs and gain more time for productive tasks.
Which modules fit your company?
We will be happy to advise you on the ideal module combination for your company.
Exactly what you need –
no more and no less!