Efficient patch management for improved security
baramundi Patch Management & Managed Software
Keeping on top of patches and updates for software applications is essential for ensuring network security and providing users with new and improved features. But the volume of patches, shorter update cycles and constantly increasing cybersecurity threats make that important task a major challenge for IT administrators.
With baramundi Patch Management, you can distribute Windows updates and patches for most third-party applications reliably, quickly and efficiently. In contrast to WSUS, you can complete push updates exactly when and where needed with prompt and accurate reporting of results.
The Managed Software module automatically indicates the status of patches available for all endpoint applications. You receive all updates and patches as tested, ready-to-deploy packages from baramundi on a daily basis. That eliminates the time-consuming process of searching, packaging/parameterizing and testing patches and updates and increases IT security without disturbing users.
Easy to use with brief training
Faster identification and elimination of security risks
Updates are tested and packaged by baramundi experts
Automatic updates for immediate deployment
Easily manage installation/uninstallation and security patches
Comprehensive transparency of endpoint patch status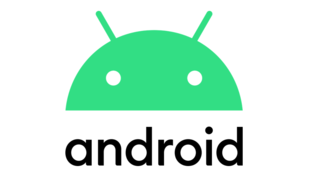 Key features
Ready-to-distribute software packages for updates and patches
Powerful patch management for Microsoft security and feature updates
Rule-based release capabilities
Immediate job status capture
Support for rollout of cumulative (security) updates from Microsoft
Simple remote control of Windows Server Update Service (WSUS), if available
baramundi Patch Management in detail
Find out more details about baramundi Patch Management & Managed Software
Fast patch distribution without user disruption or intervention
baramundi Patch Management automates the installation of Microsoft patches to maintain IT security. It checks endpoints for necessary updates and installs security-related hotfixes securely and reliably based on IT-defined rules. baramundi Patch Management also enables efficient distribution of Microsoft cumulative (security) updates. Users can continue to work undisturbed while the installations run in the background. Necessary reboots are combined to reduce installation time. Patches can be installed from multiple file servers to minimize network traffic.
Simple and flexible operation
baramundi Patch Management combines automation with full IT control. You define what is installed automatically and when you want to be asked beforehand. You can also customize patch file distribution. Operation is simple and requires only brief training.
baramundi Patch Management provides a real-time overview of endpoint patch status. You can install patches on individual computers, groups of systems, entire domains or locations. If you use Microsoft Windows Server Update Services (WSUS), baramundi Patch Management gives you the option to remotely control update and patch distribution in a targeted manner.

Close security gaps with automation that you control
You define in detail how, when and where baramundi Patch Management works. You specify whether systems are only checked for missing patches or if patches are installed immediately. You can release patches automatically or manually based on rules you define.
Managed Software for 3rd-party software updates
baramundi experts continuously monitor the availability of updates and security patches for numerous non-Microsoft applications and provide them as tested, ready-to-distribute software packages. Security-related updates are provided promptly, fully tested and ready for rollout.
Packages are suitable for initial and update installations, patching and uninstallation on all affected platforms. The Managed Software module is perfectly integrated with the baramundi Inventory module so you have a clear, real-time display of all packages available for your installed software. You can also track application usage and enter your own data for custom or in-house applications.
The range of applications that can be automatically updated with baramundi Managed Software is constantly being expanded. You can view the current list here:
UPGRADE FOR YOUR UPDATE
Overview of all missing, available and already installed updates on the client.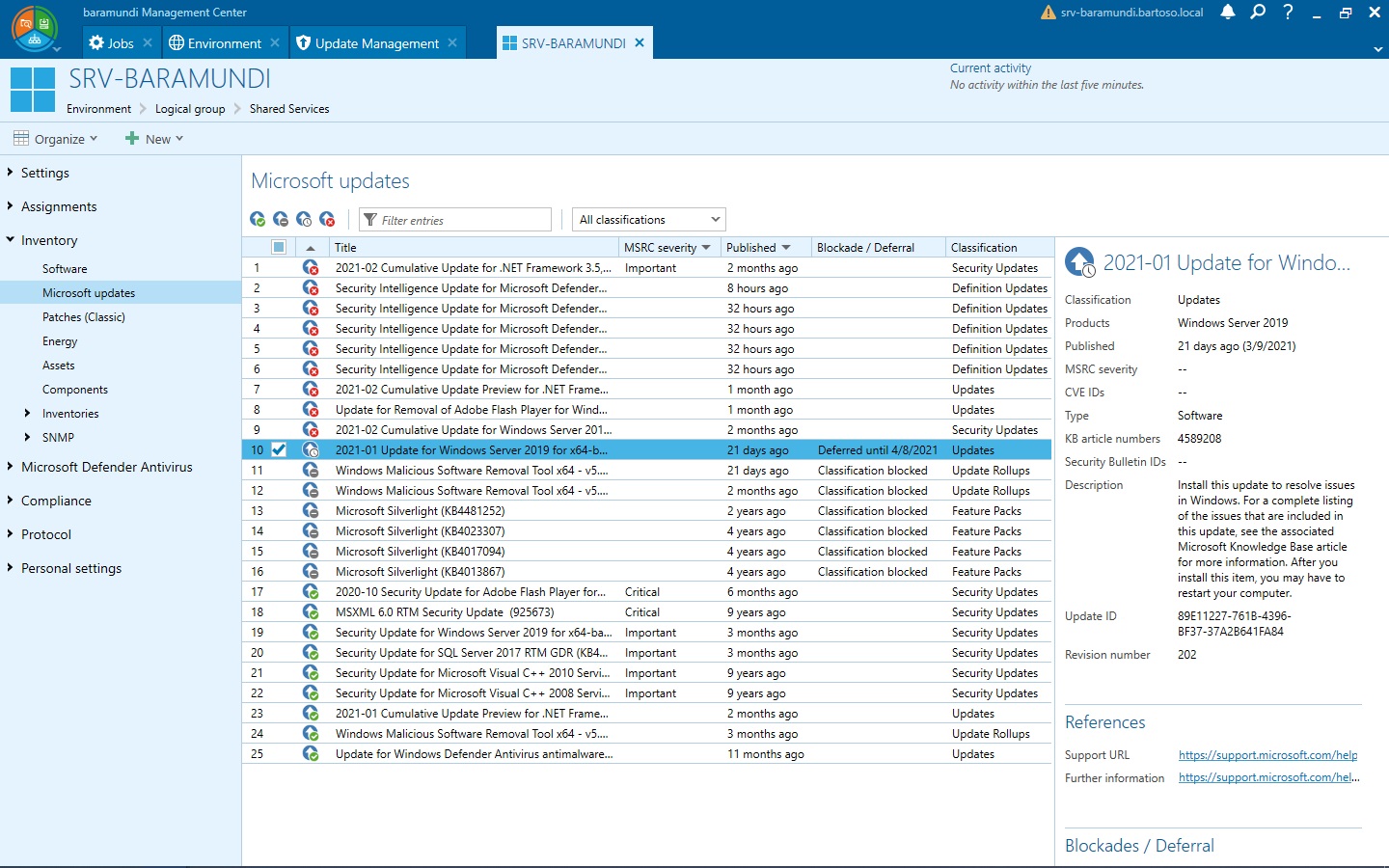 HIGH PRIORITY
Define and modify update order based on Microsoft classifications.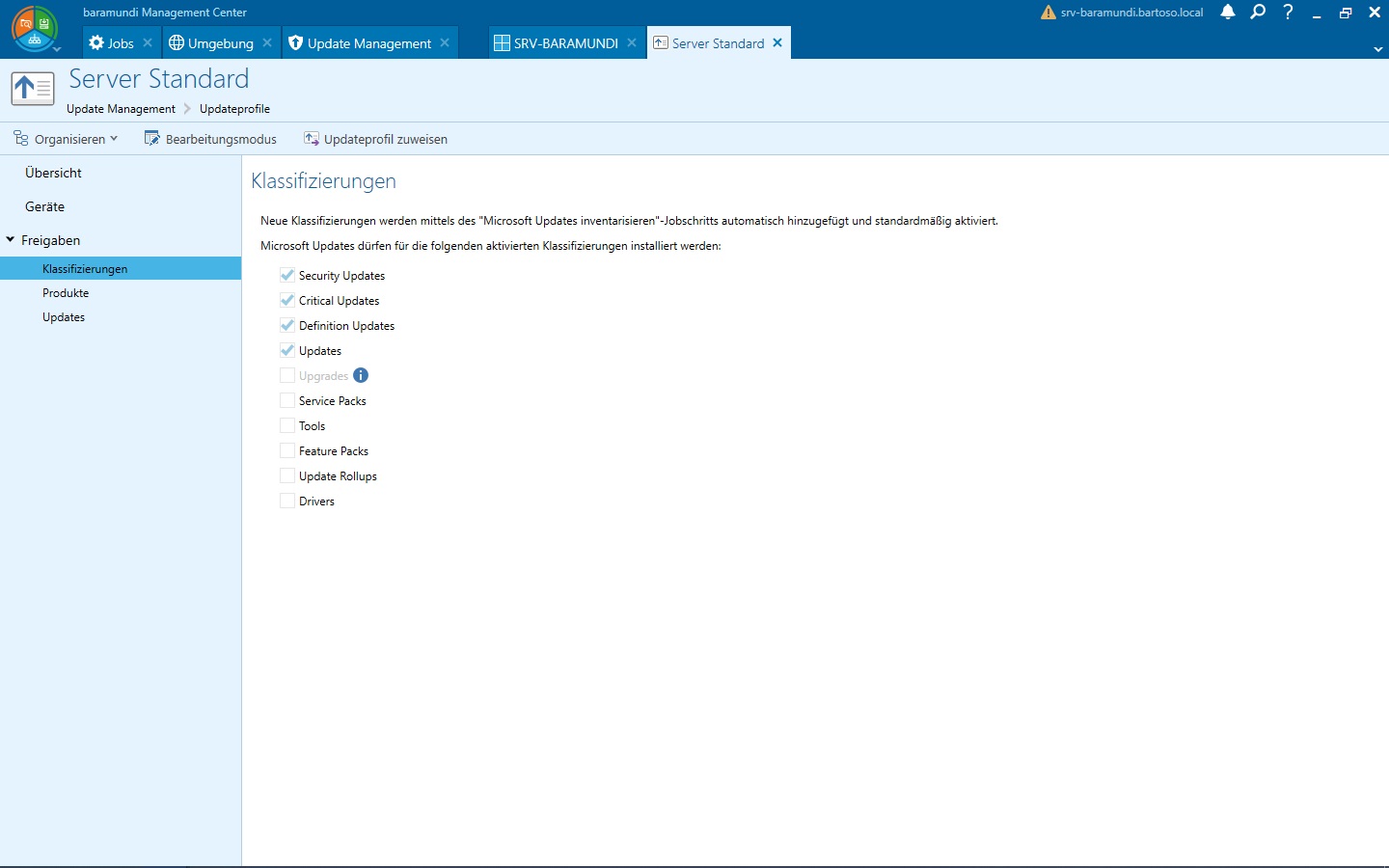 MANAGE SOFTWARE VERSIONS
Release or block each version separately, without manual packaging.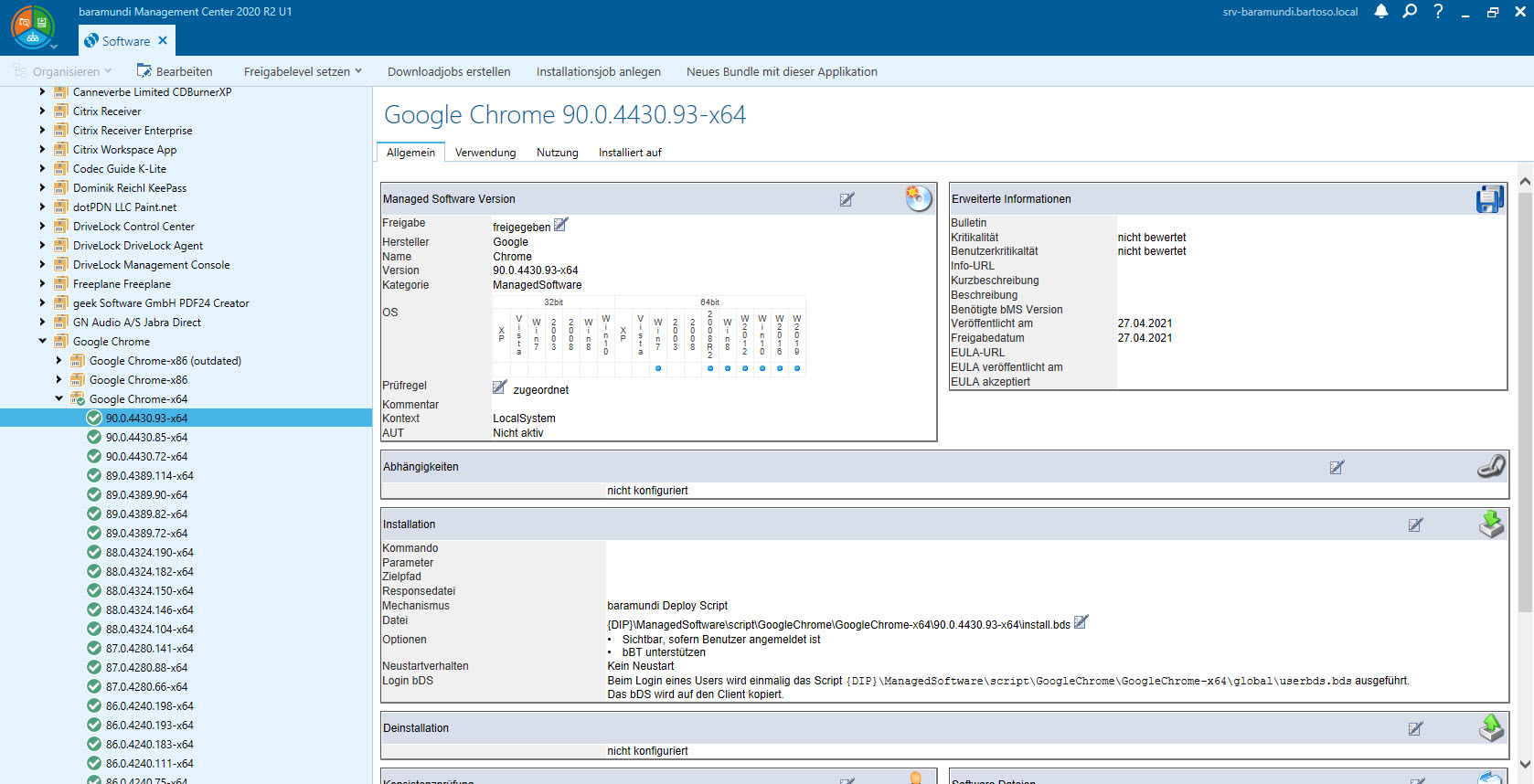 GLOBALE SETTINGS
Easily save frequently used MSW settings in the Management Center and apply them as needed.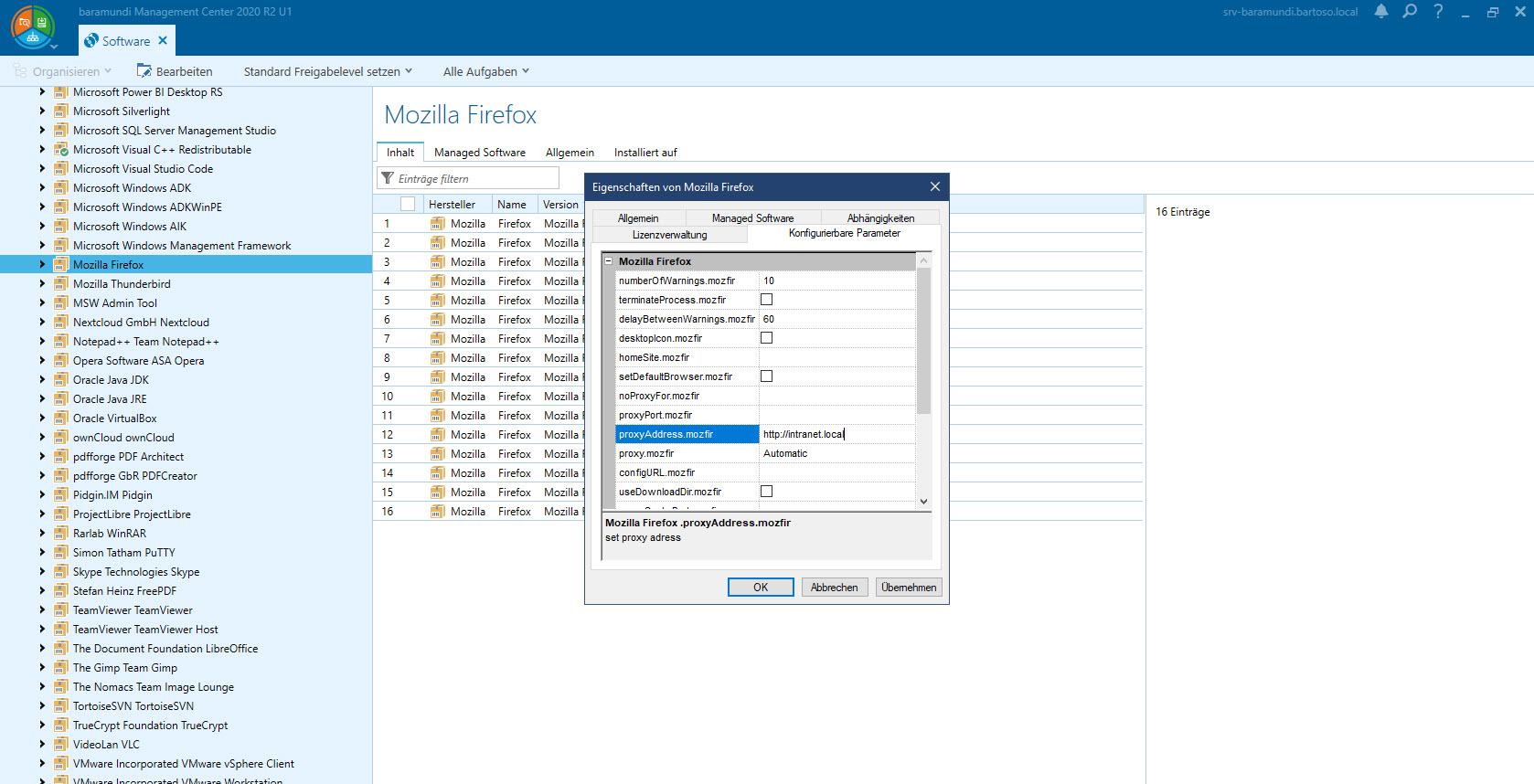 AUTOMATIC & ON DEMAND
MSW Update job target with multiple job steps, demand determination and dynamic execution.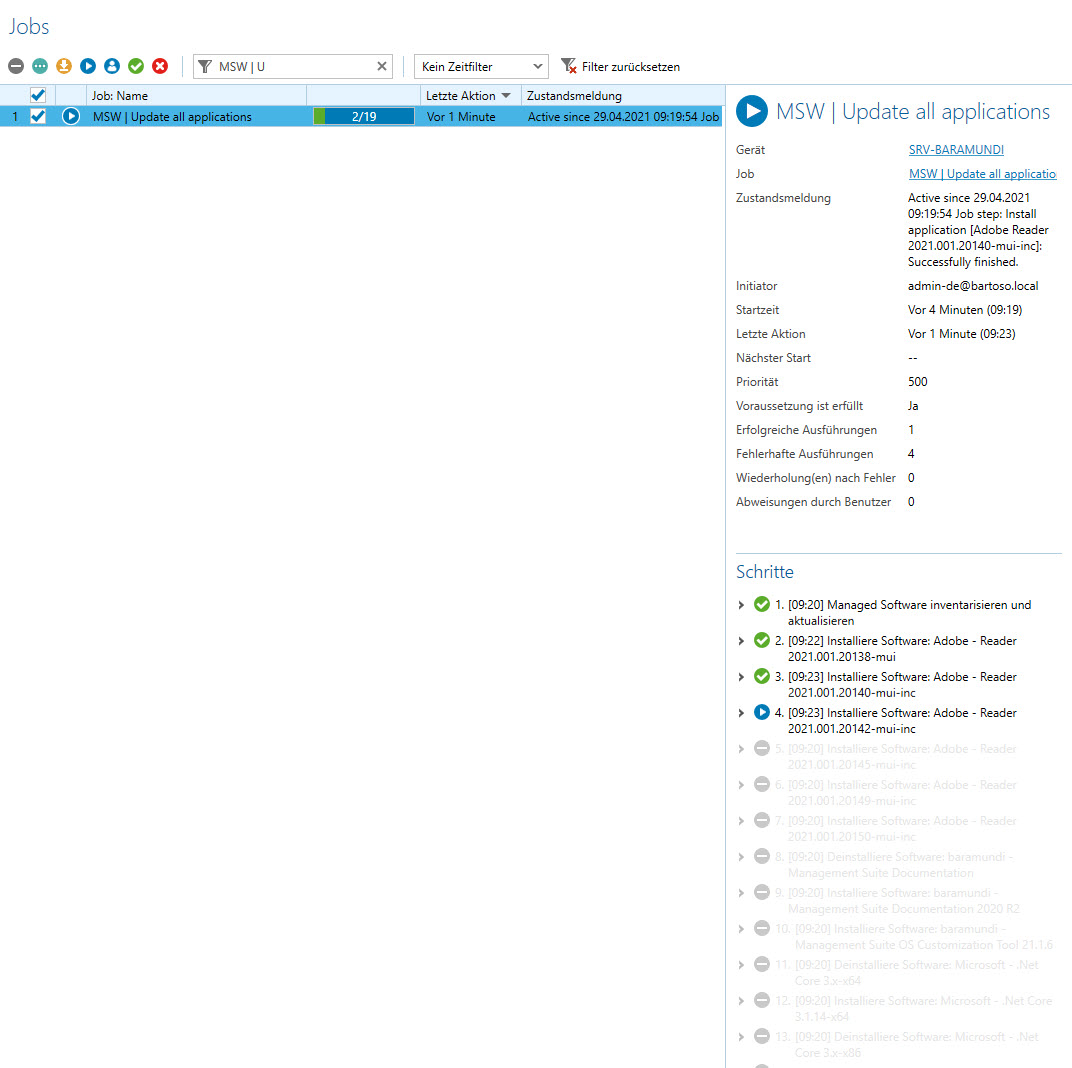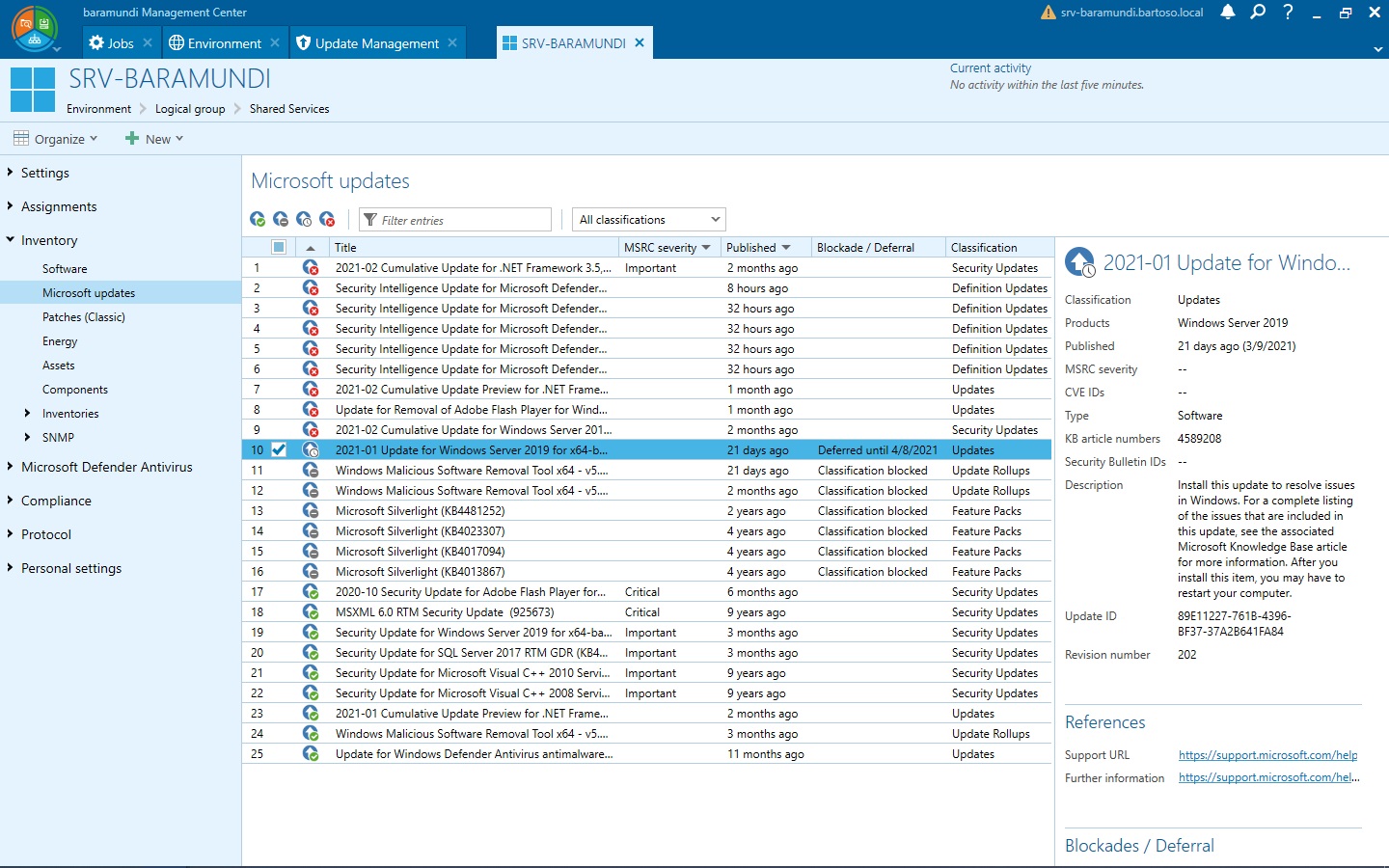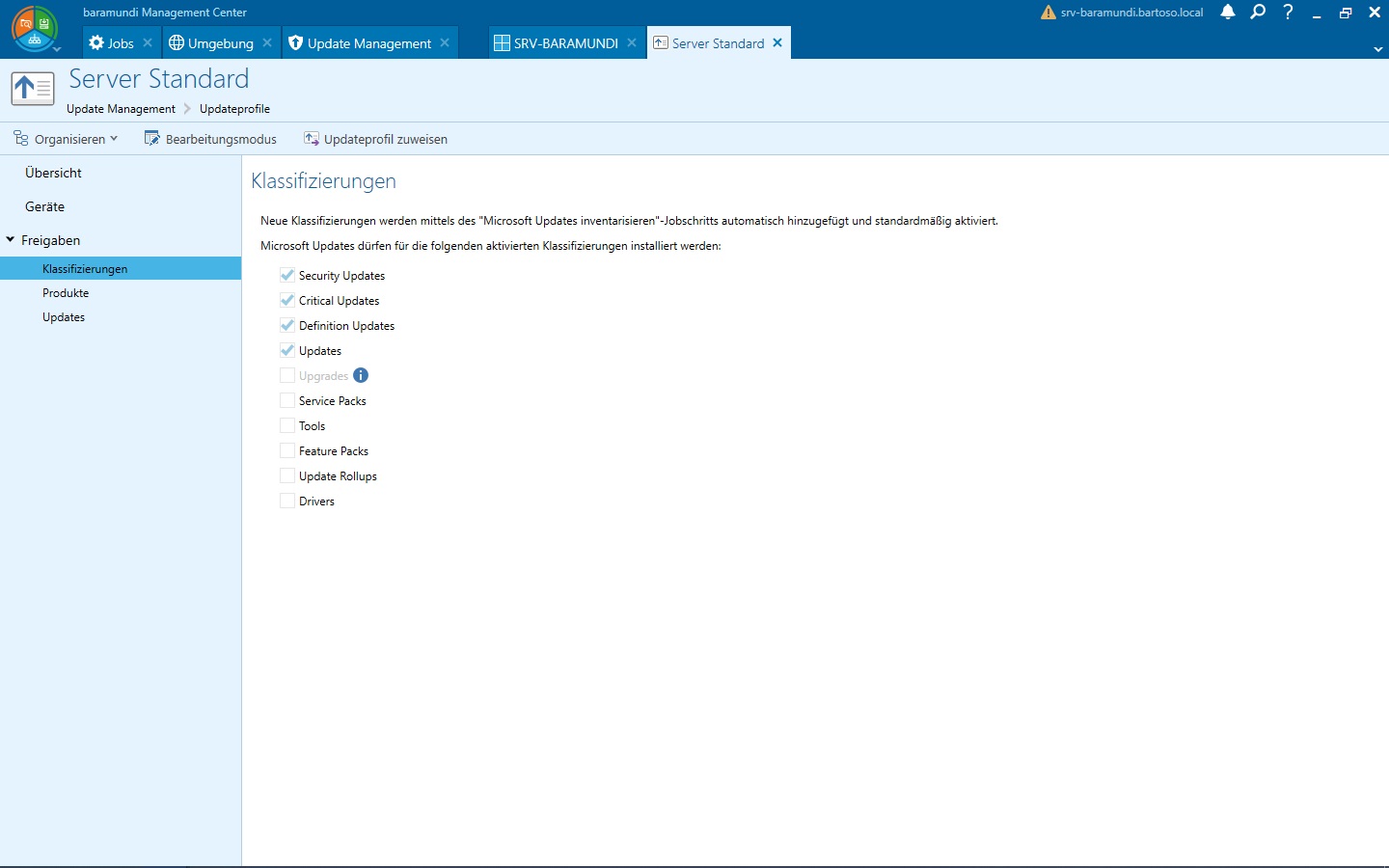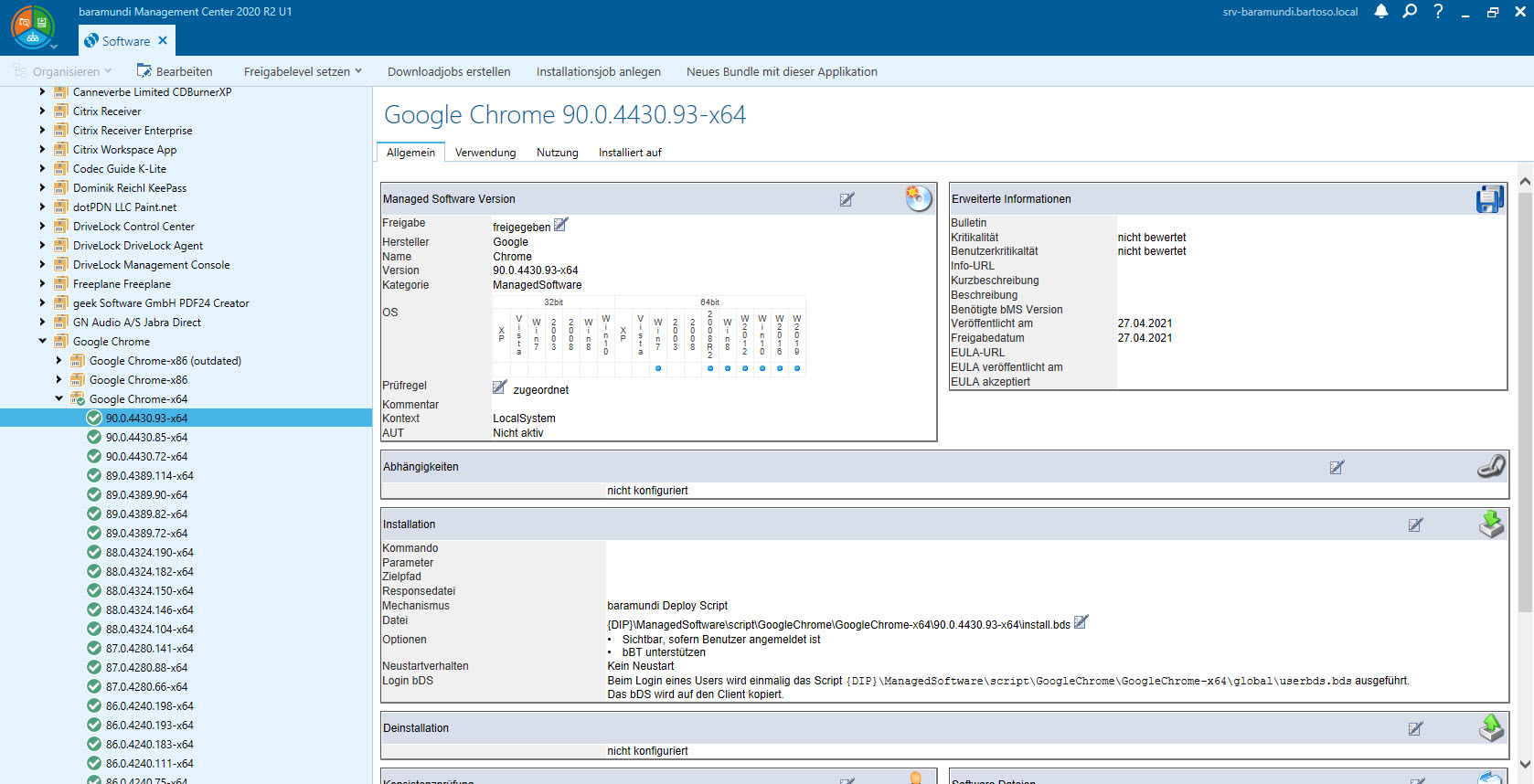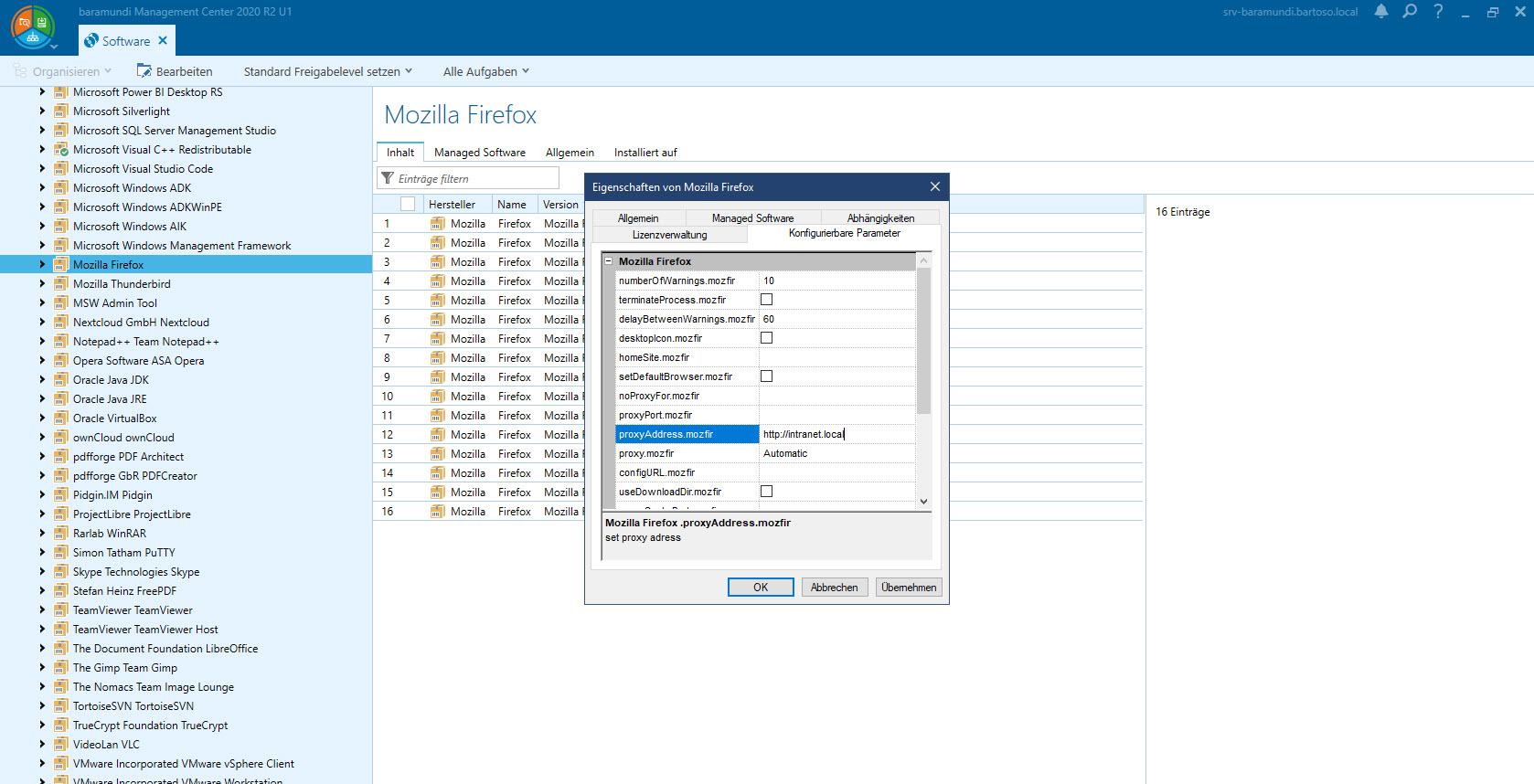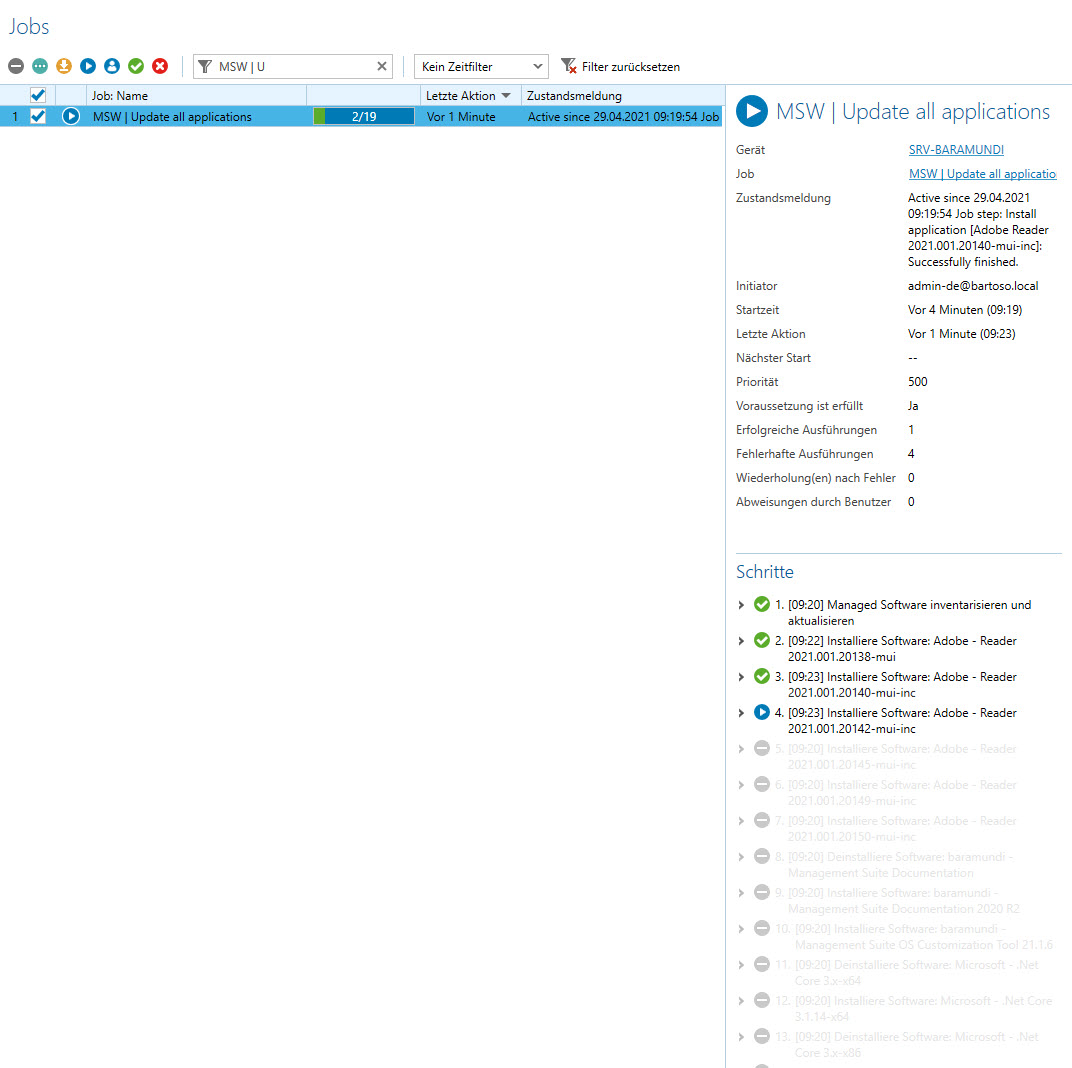 Like all modules of the baramundi Management Suite, this module is licensed per managed workstation. Servers are also licensed like a normal workstation. For more details, please contact our sales staff.