Optimize license costs, usage and compliance
baramundi License Management & AUT
Eliminate cumbersome lists and spreadsheets and automate tracking of software license costs, usage and compliance with baramundi License Management and Application Usage Tracking (AUT) modules.
baramundi License Management automatically documents all installed software and compares the results with stored license information.
Clear and simple reports help you quickly identify over- or under-coverage to optimize software costs, ensure compliance and document status in the event of an audit. The License Management module also improves security by identifying unauthorized, user-installed "shadow IT" software.
baramundi Application Usage Tracking (AUT) lets you determine how applications are being used, and which are seldom used or unused. That can reduce costs for unneeded licenses or support additional and volume purchases of heavily used packages. It also can document user adoption of newly deployed software.
Provides reliable and compliant license management
Fast, transparent detection of over- or under-licensing
Optimize license costs through evaluation of application usage
What's inside?
baramundi License Management & Application Usage Tracking
baramundi License Management
records all installations in your company network and automatically compares them with the stored license information. The simple and clear reporting quickly reveals possible over- or under-coverage.
baramundi Application Usage Tracking
With baramundi Application Usage Tracking (AUT), you can also track applications that are not used or are rarely used. This reliably tells you which licenses make sense and how well newly introduced software is accepted.
Easy data entry for products, licenses and contracts
Custom individual reporting views
Flexible web interface for users without access to baramundi Management Center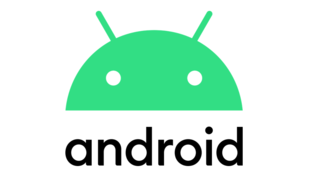 baramundi License Management & Application Usage Tracking in detail
Software license fees account for the lion's share of IT costs. That can make over-licensing almost as expensive as under-licensing discovered during a software audit. Cost control and compliance begins with documenting and comparing data from existing software installations with available licenses and contract terms.
Automated and complete software inventory
baramundi License Management obtains software license data from the baramundi Inventory module by compiling the number, types and versions of installed applications and operating systems. You also can add data for software on devices not managed with the baramundi Management System. IT managers also can use the data to detect and respond to unauthorized "shadow IT" software and devices.
Structured entry of license information
baramundi License Management makes it easy to enter all relevant license data and contract terms including upgrade or downgrade rights and other details. Document scans and related files can be linked to ensure accurate records and simplify audit reporting.
Easy-to-understand reporting
Customizable reporting features provide easy-to-understand reports to quickly spot over- or under-licensing and inform appropriate action.
Web access without baramundi Management Center
A flexible web browser interface gives authorized managers outside the IT department access to License Management data and management tools. For example, reports can be defined for purchasing managers, for departmental budget planning, to support requests for new or upgraded software, and other purposes.
Document software utilization
baramundi AUT automatically logs the execution of monitored programs or processes on all configured target systems in the background, enabling IT managers to determine if and how software is being used as well as its location on the network. Surplus or unused installations can be removed or redeployed as needed using baramundi Deploy to eliminate the need for additional licenses. baramundi AUT also calculates potential savings based on current costs.
Comprehensive data and user protection
baramundi AUT complies with European GDPR data privacy regulations. No data is collected that could expose individual user work behaviors, especially in sensitive and regulated environments such as security or healthcare. A sophisticated rights system prevents unauthorized access to collected data.
Application Usage Tracking
Overall view of the application usage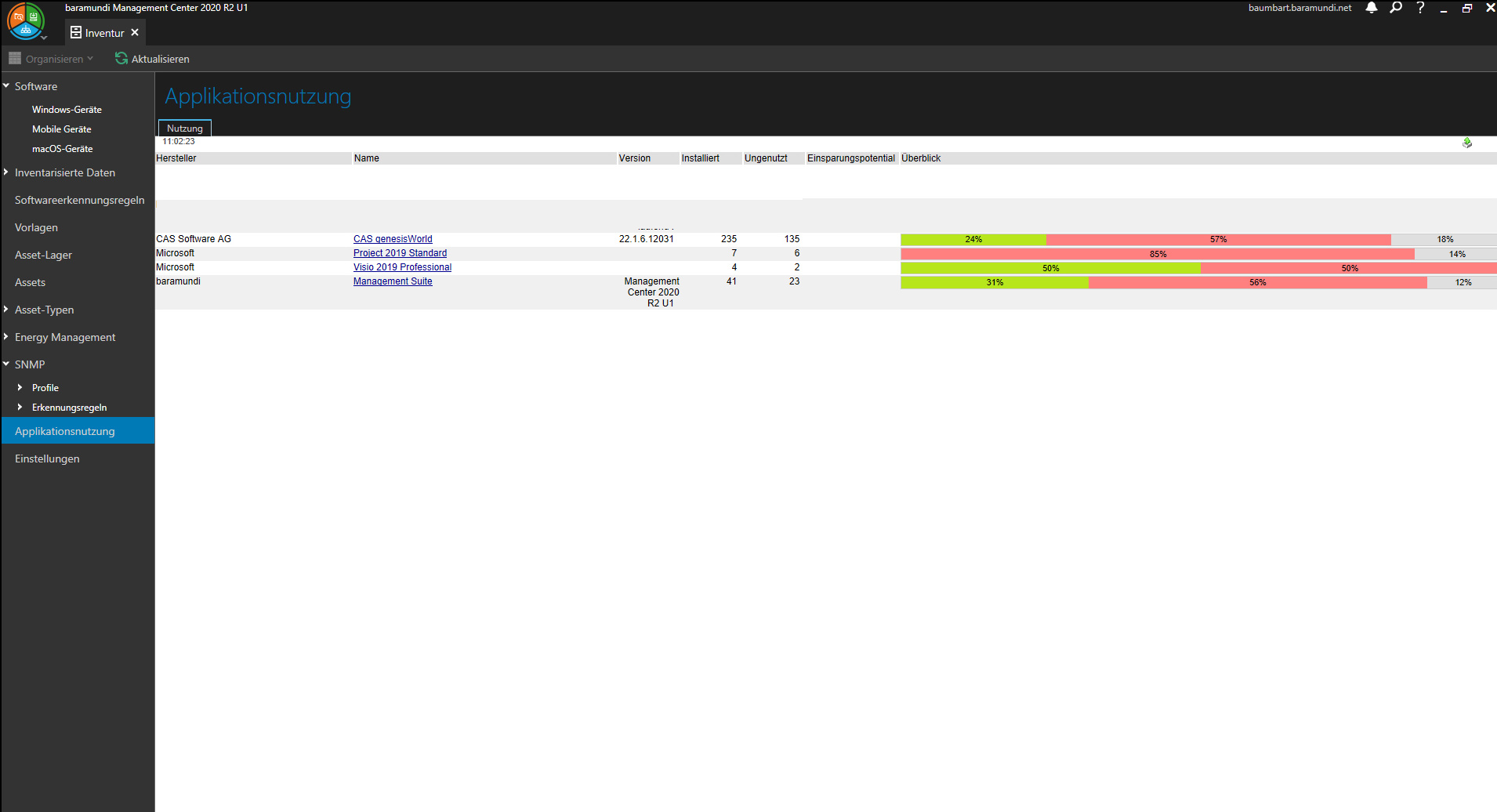 Application Usage Tracking
Configuration options with AUT for individual licenses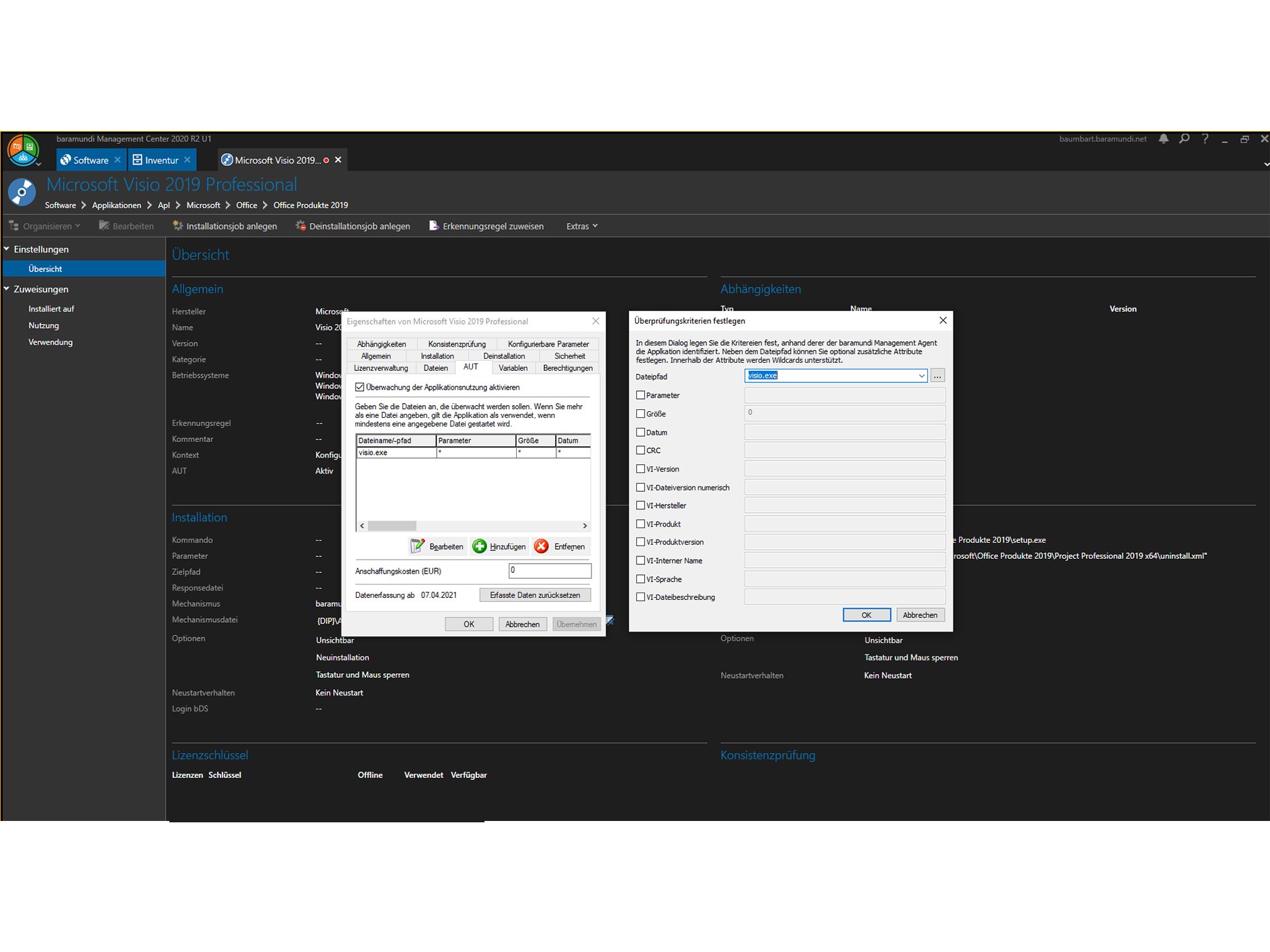 Application Usage Tracking
View of applications with AUT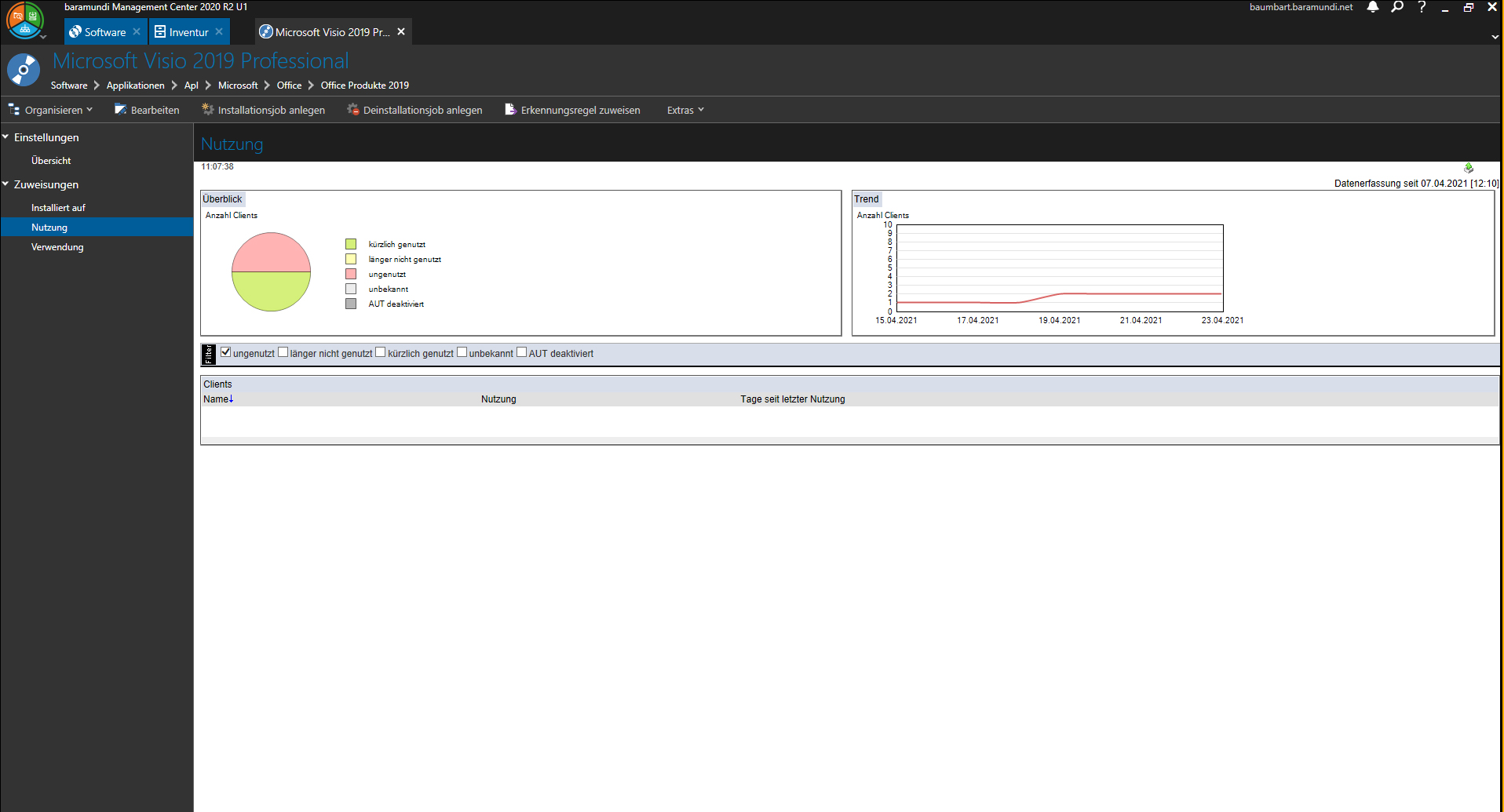 License Management
Overview of the current license balance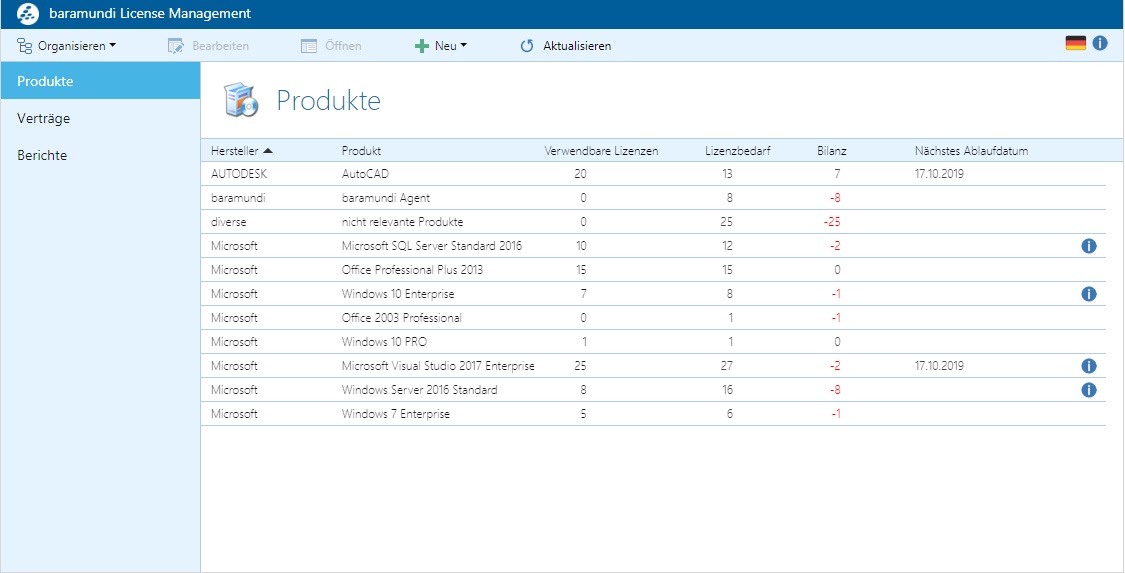 License Management
Manage all licenses directly via Windows 10 Enterprise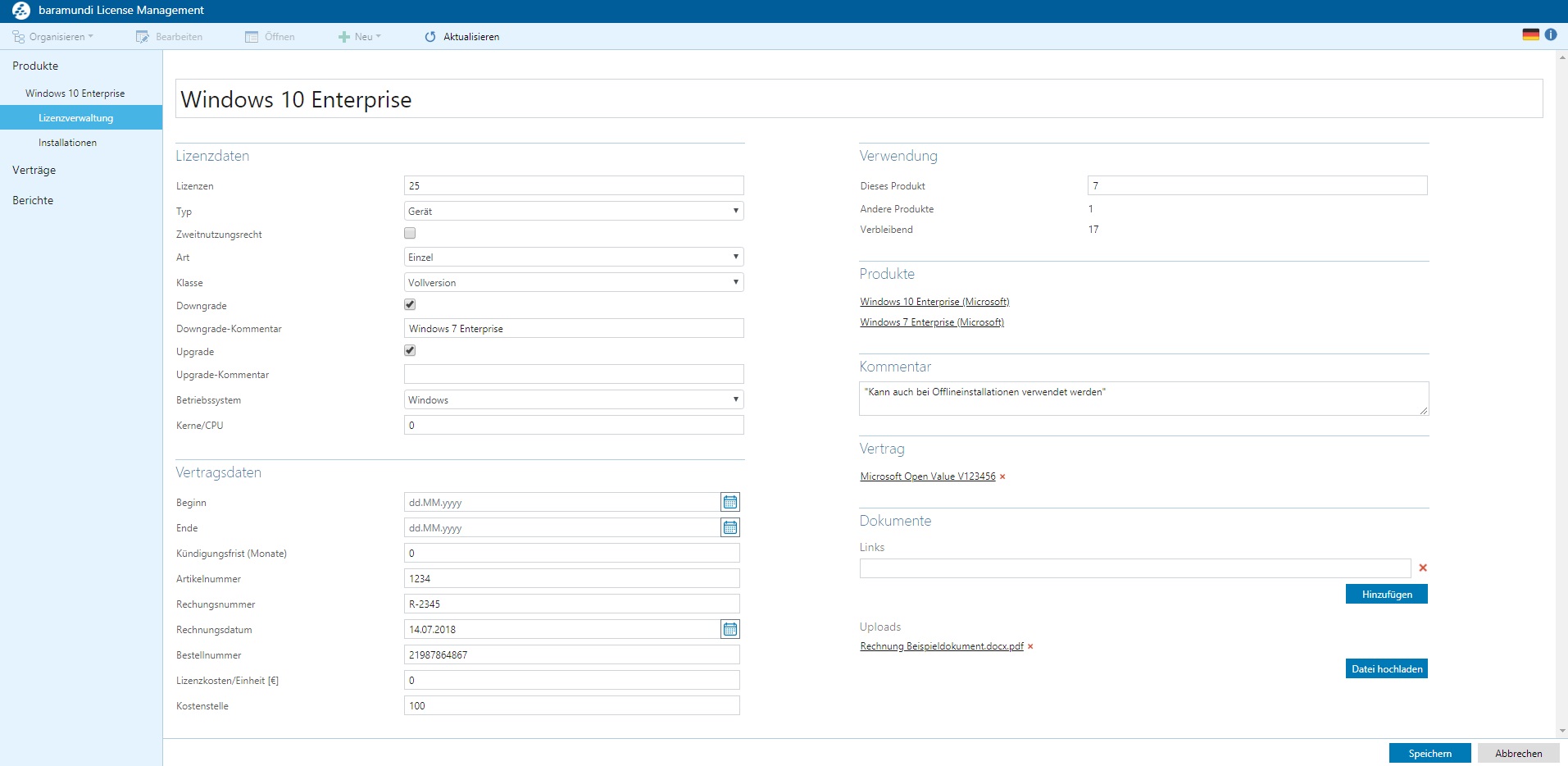 License Management
Overview of installations of individual licensed products

License Management
Multiple use: Who uses which license how often and where?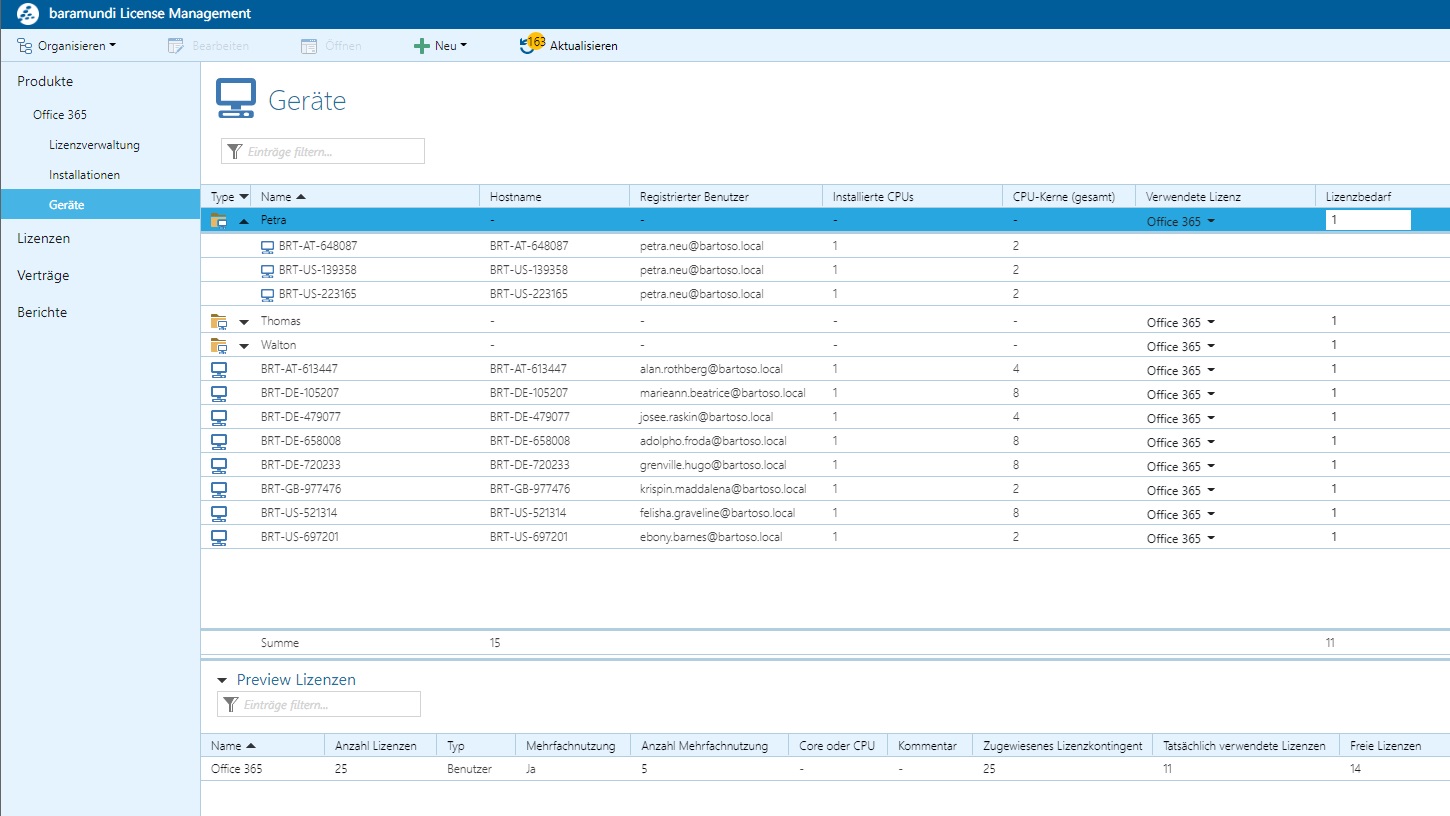 Application Usage Tracking
Full control over the actual use of installed licenses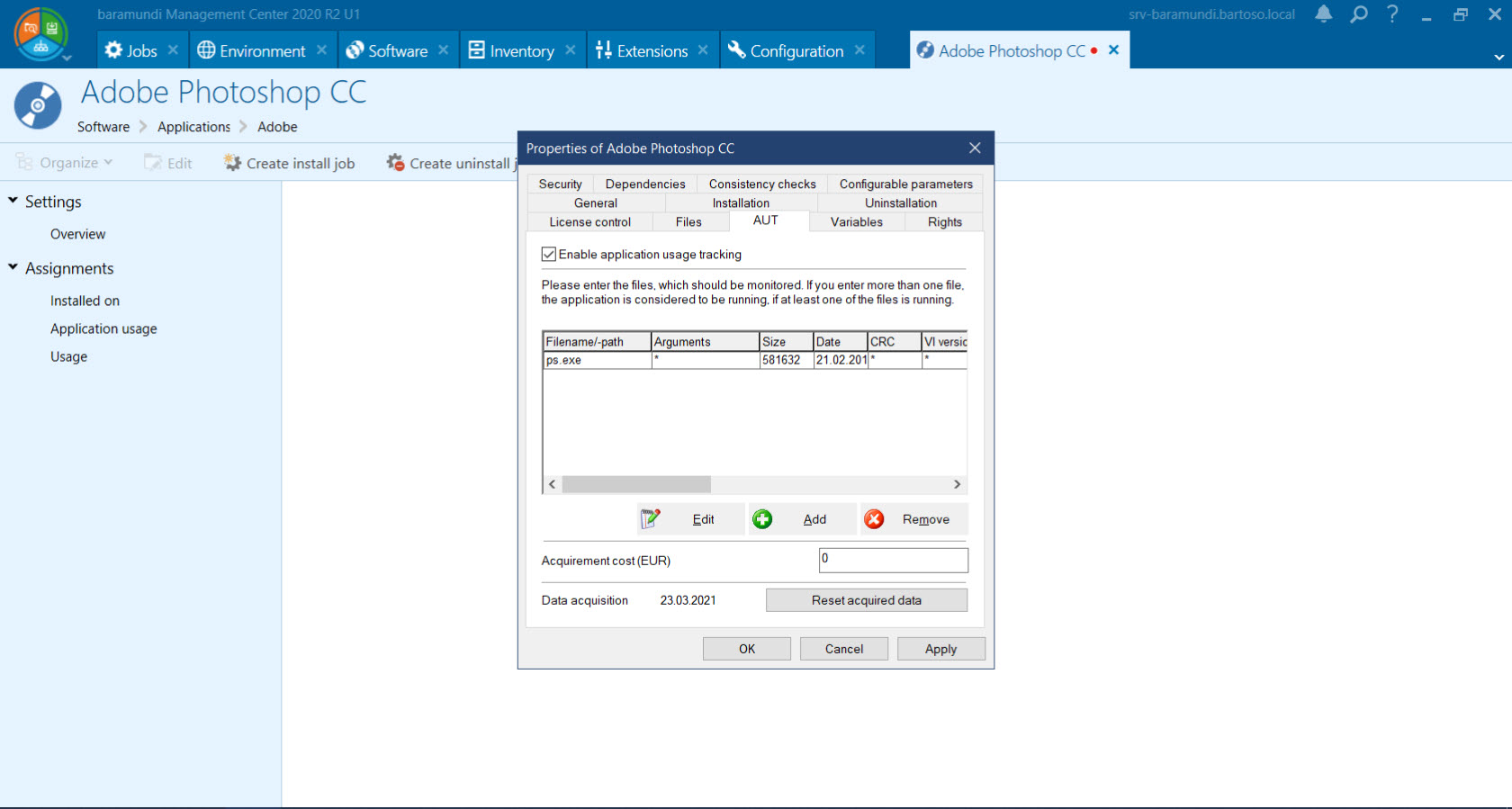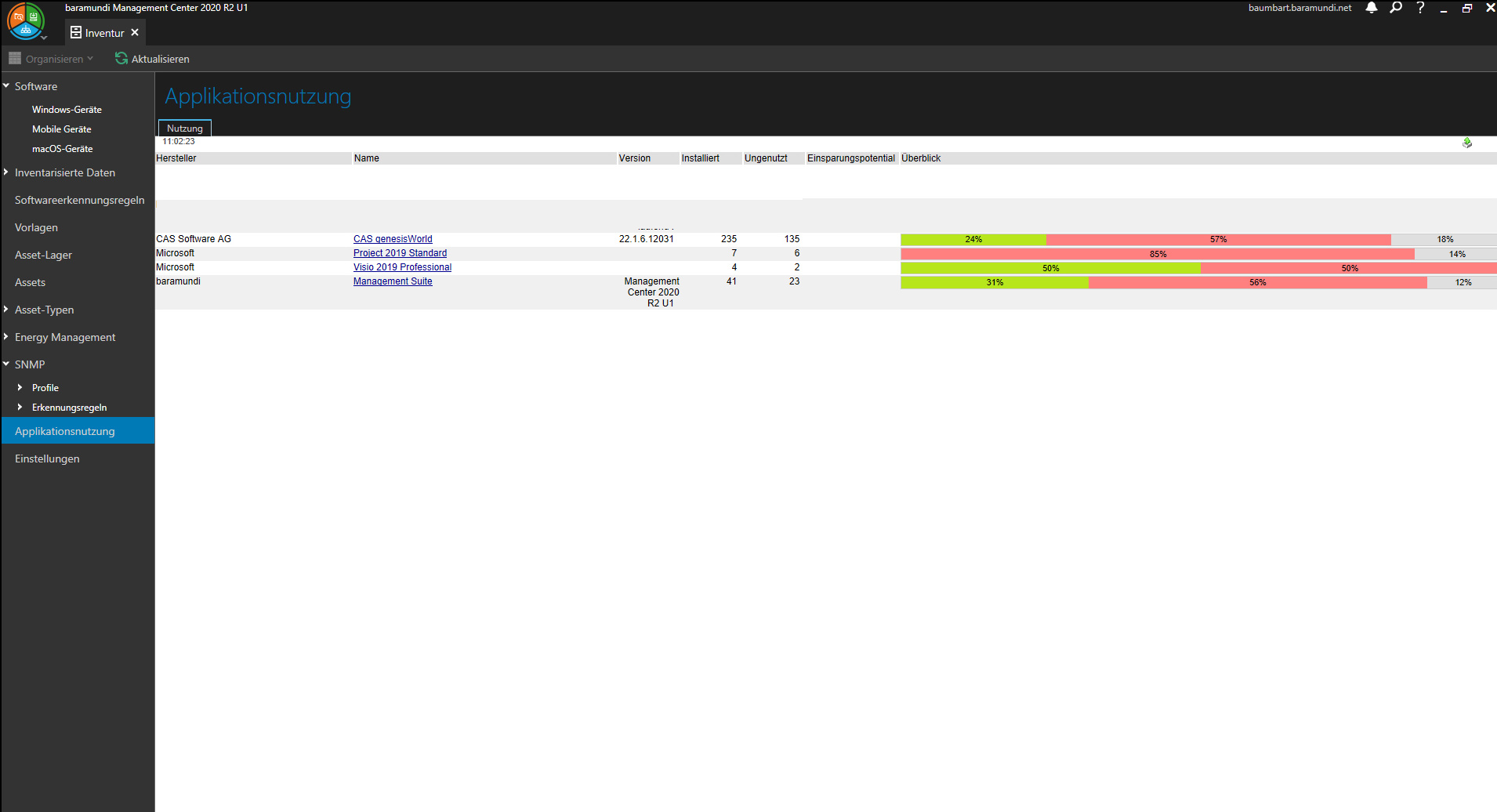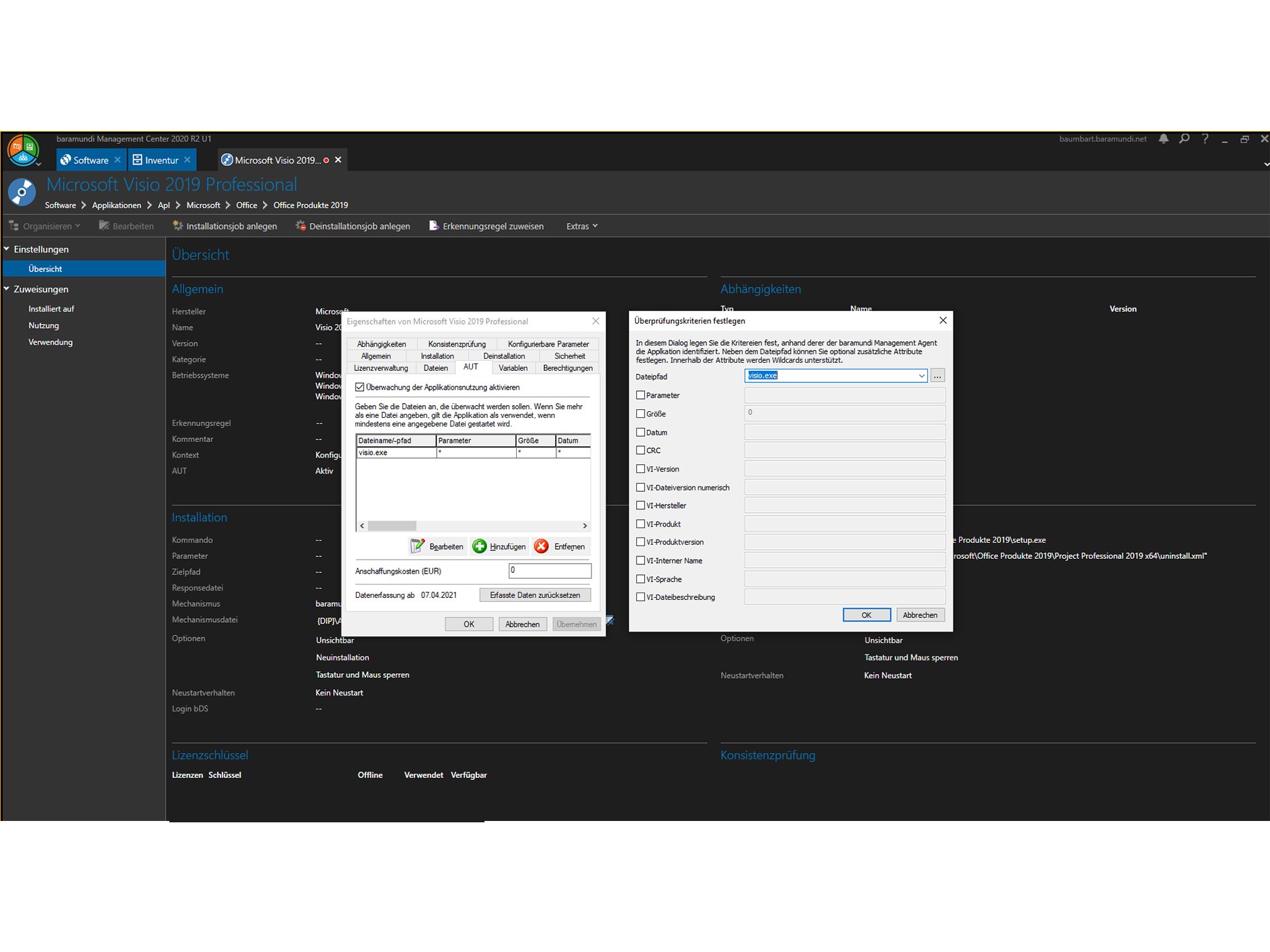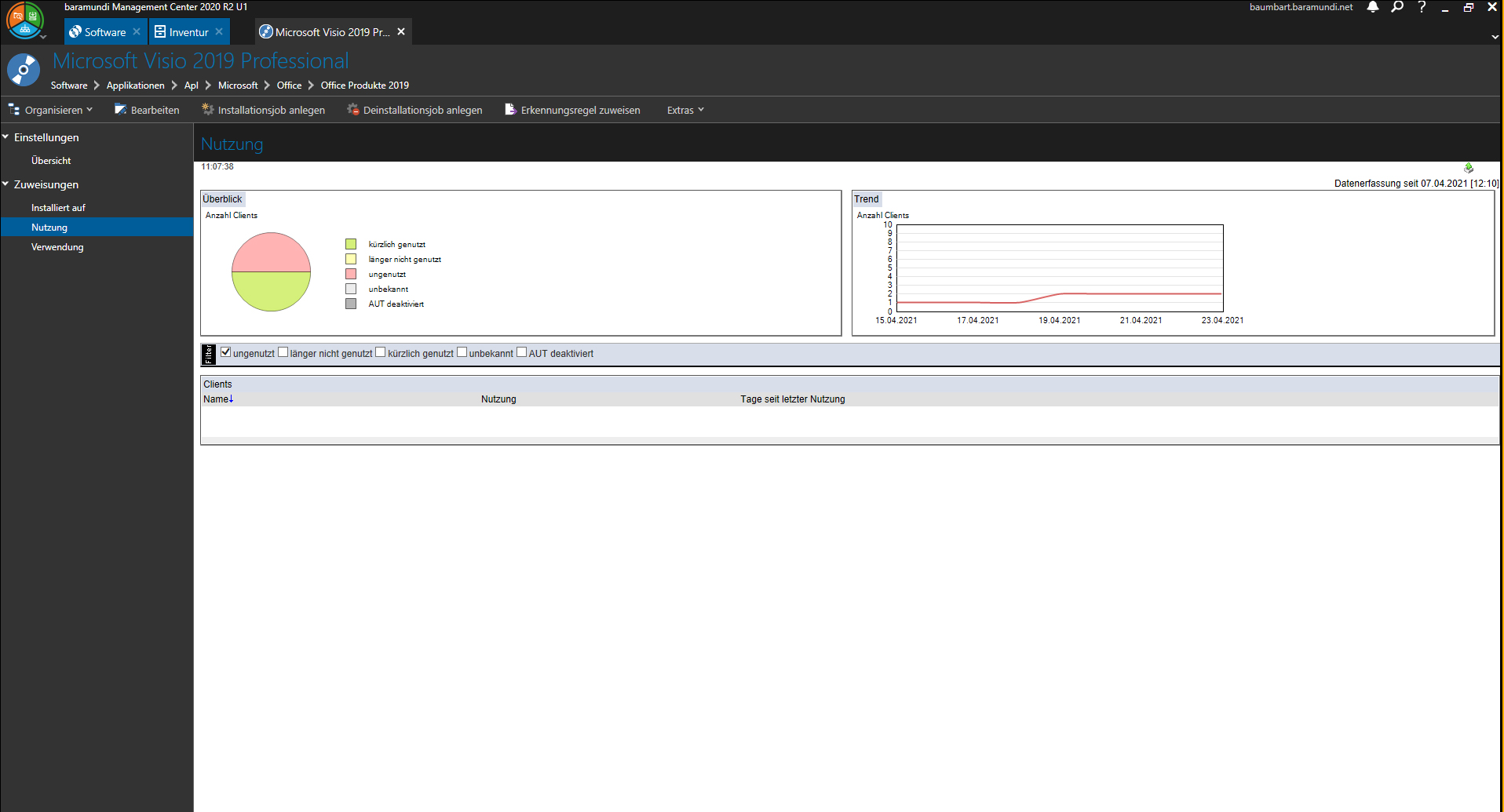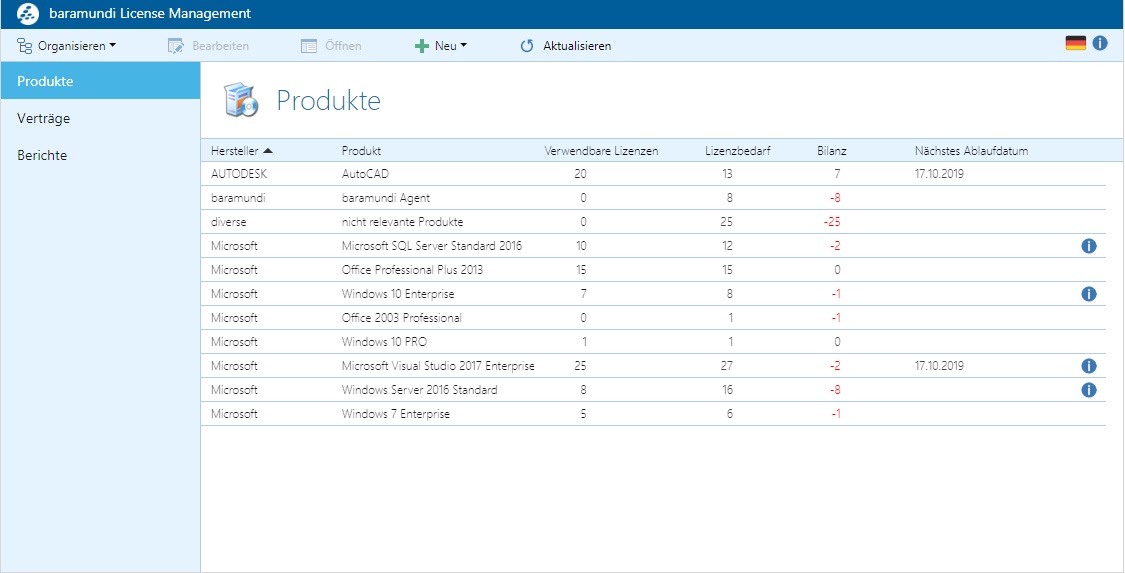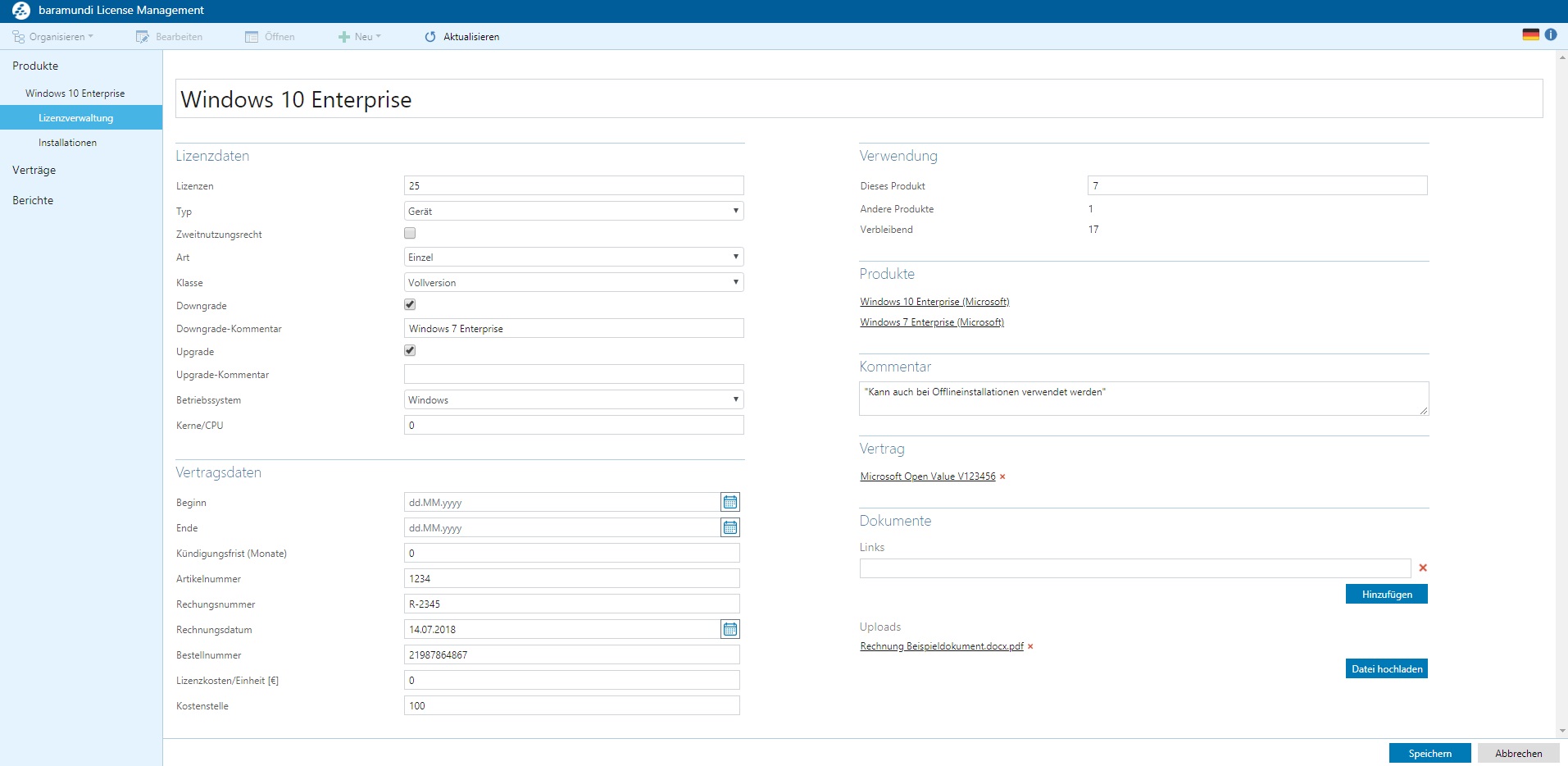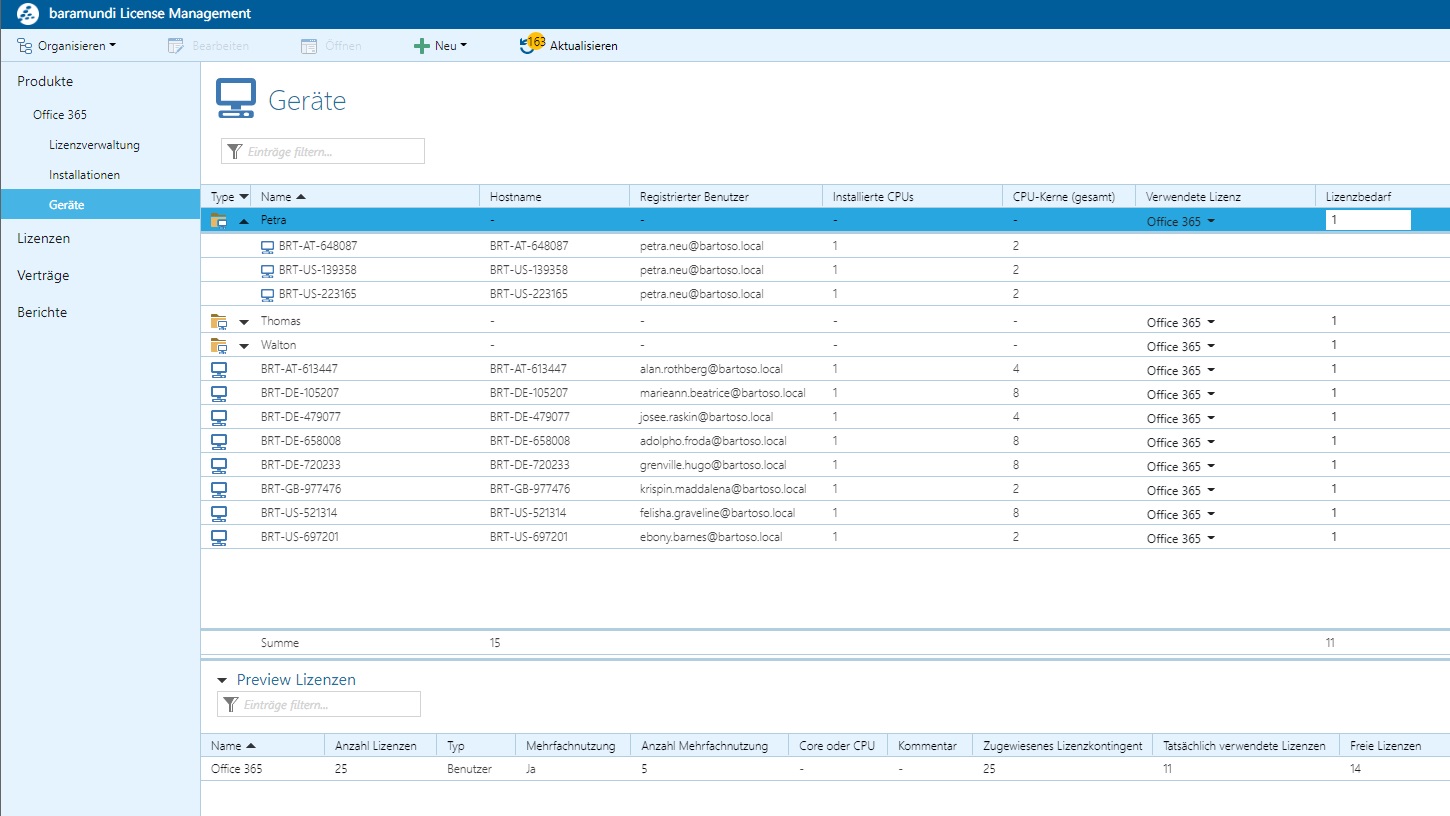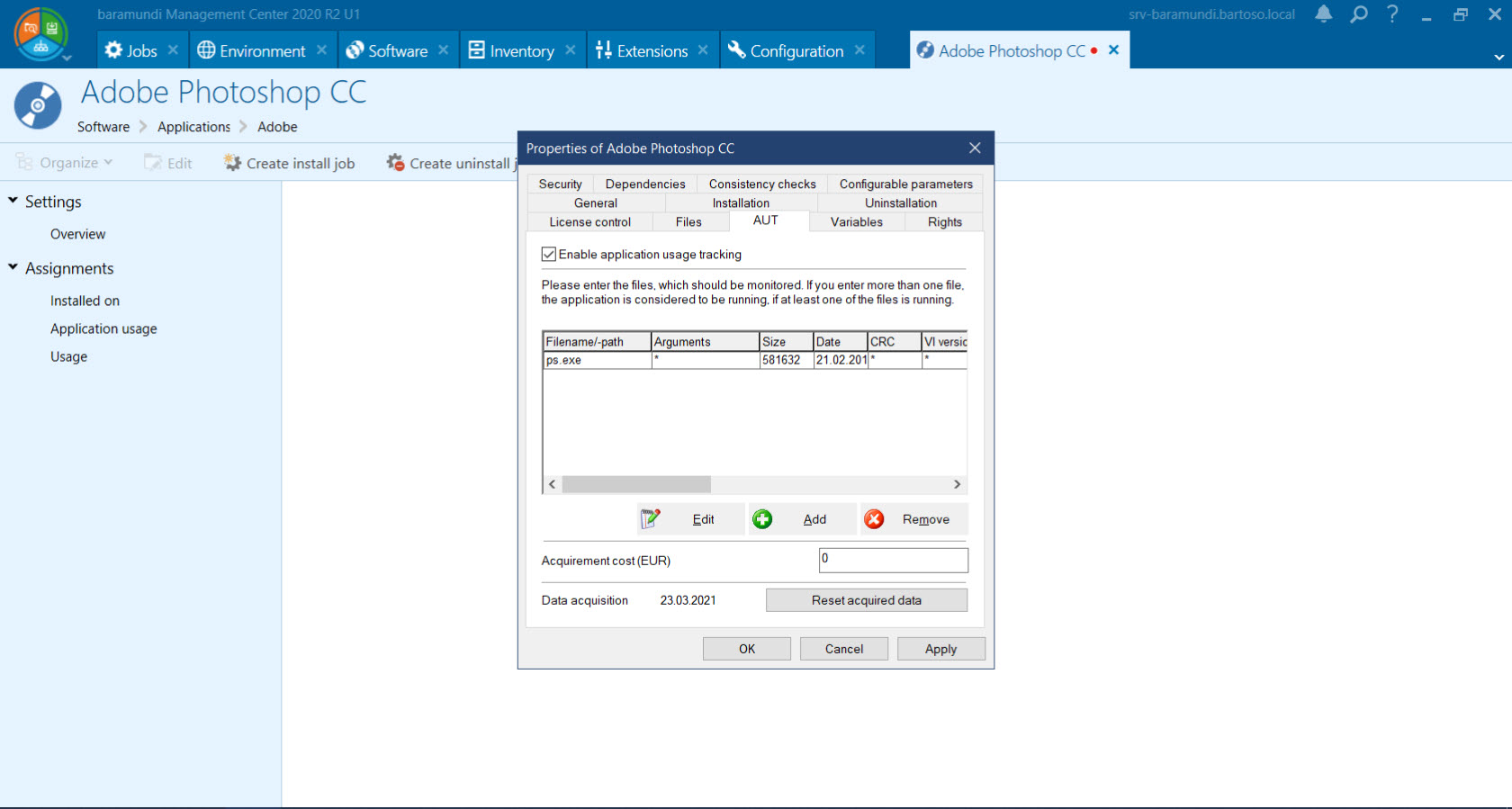 Recommendation for detailed license optimization questions
For specific detailed questions about using baramundi License Management and baramundi AUT for license optimization or software audit needs please contact your independent SAM consultant.