Time-saving tools for OS installations and Windows 10 upgrades
baramundi OS-Install & OS-Cloning
Re-installing and re-configuring Windows over the lifecycle of a computer is a common and time-consuming task for most IT managers. baramundi OS-Install & Cloning gives you powerful features for automating OS installations without the need for complex scripts. It also helps you resolve system problems quickly without lengthy troubleshooting sessions by installing a fresh version of the OS needed on each affected system.
Key features and benefits
OS-Install & Cloning formats and partitions the client, then natively installs and configures the system in a single pass without further intervention by the administrator or user.
Fully automatic and native OS installations
Automatic detection of hardware and assignment of drivers
Saves hours on multiple installations
What's inside?
OS-Install & OS-Cloning
baramundi OS-Install
is ideal for the simultaneous setup and updating of Windows 10 computers across the network.
baramundi OS-Cloning
lets you create and distribute a hardware-independent image of a reference computer to any number of similar systems such as POS or training computers with just a few mouse clicks.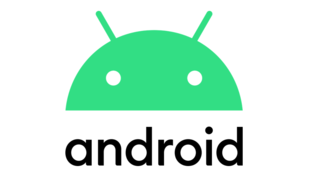 baramundi OS-Install & Cloning in Detail
INSTALL NATIVELY OR CLONE?
That's a key question with strong preferences among some IT managers. baramundi gives you both, with two intelligent ways to get the job done efficiently. It all depends on the goal. Native installation produces a personalized system with all the appropriate drivers and preferred options as if installed by hand. Cloning provides a 1:1 image of a reference OS installation to deploy on multiple machines.
baramundi OS-Install & Cloning takes advantage of the native method for all current Microsoft operating systems to automate installations with the same degree of control as if done manually. You simply use a detailed configuration wizard to create a Windows 10 image that's customized to company specifications. You also can use the baramundi Management Suite to centrally automate and control the entire In-Place Upgrade process recommended by Microsoft when switching to Windows 10.
The module starts with an analysis of a reference source computer. This configuration is then generalized, stored as an image file and automatically applied to any number of similar target computers such a batch of new laptops, training and POS systems, or information kiosks. The system is also personalized and added to the domain. Cloning information is archived and is available for re-use in new installations.
Instead of requiring time-consuming maintenance of hardware profiles, the module automatically detects components in each endpoint, imports needed drivers through an intuitive wizard, then installs them in each client based on its hardware.
The module reads the release status and servicing channels used to give you transparency and control of your deployed Windows versions at all times. Thanks to the elegant integration of in-place upgrades, you can ensure current installations at all times.
Module Insights
INSTALL OVERVIEW
All OS settings, license requirements and source information at a glance.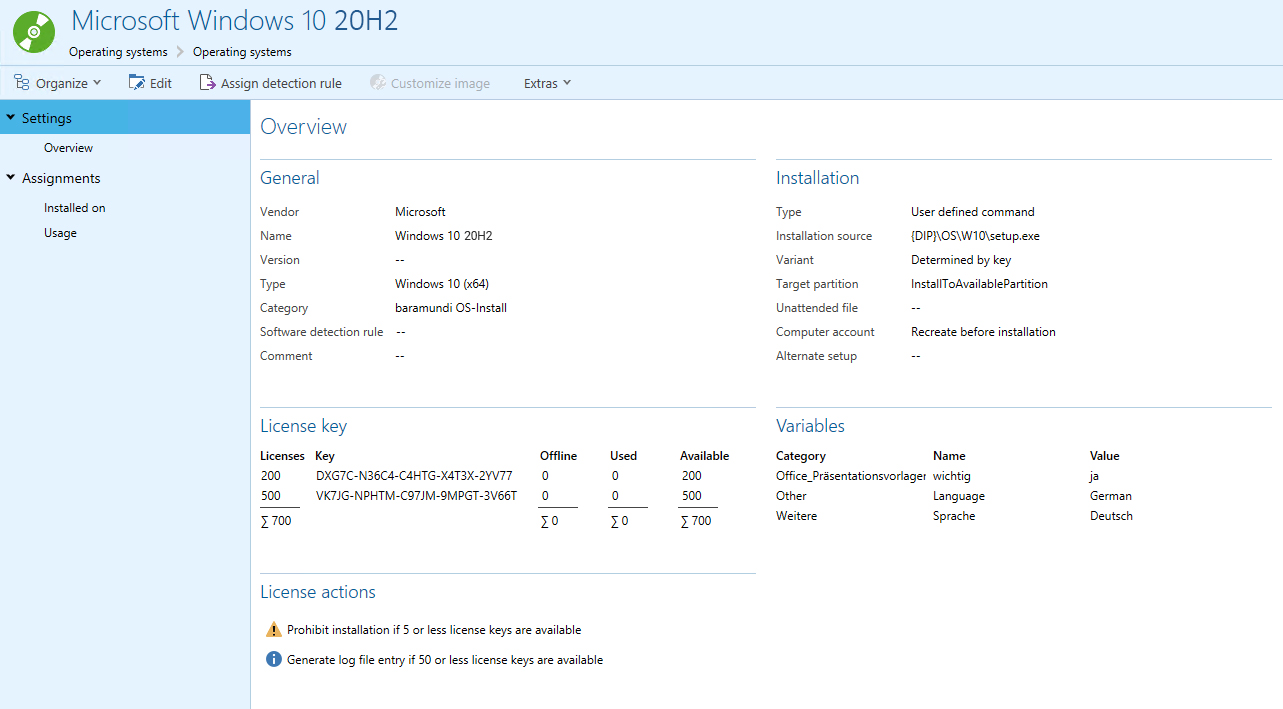 DRIVER ALLOCATION
Automatic driver installation for found hardware of the Windows endpoints.

ONE SINGLE STEP
Roll out in-place upgrades to an existing operating system? Check!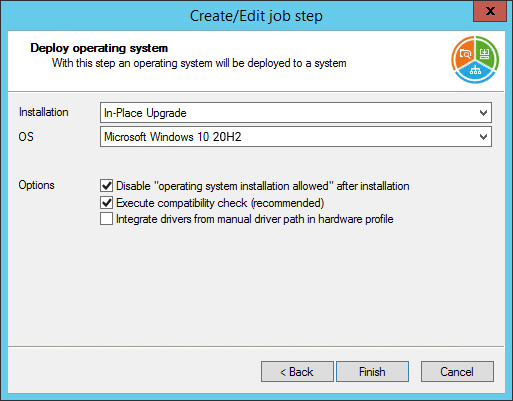 IMAGING INSTEAD OF COMPLICATION
Create master image of existing Windows endpoint, clone, done.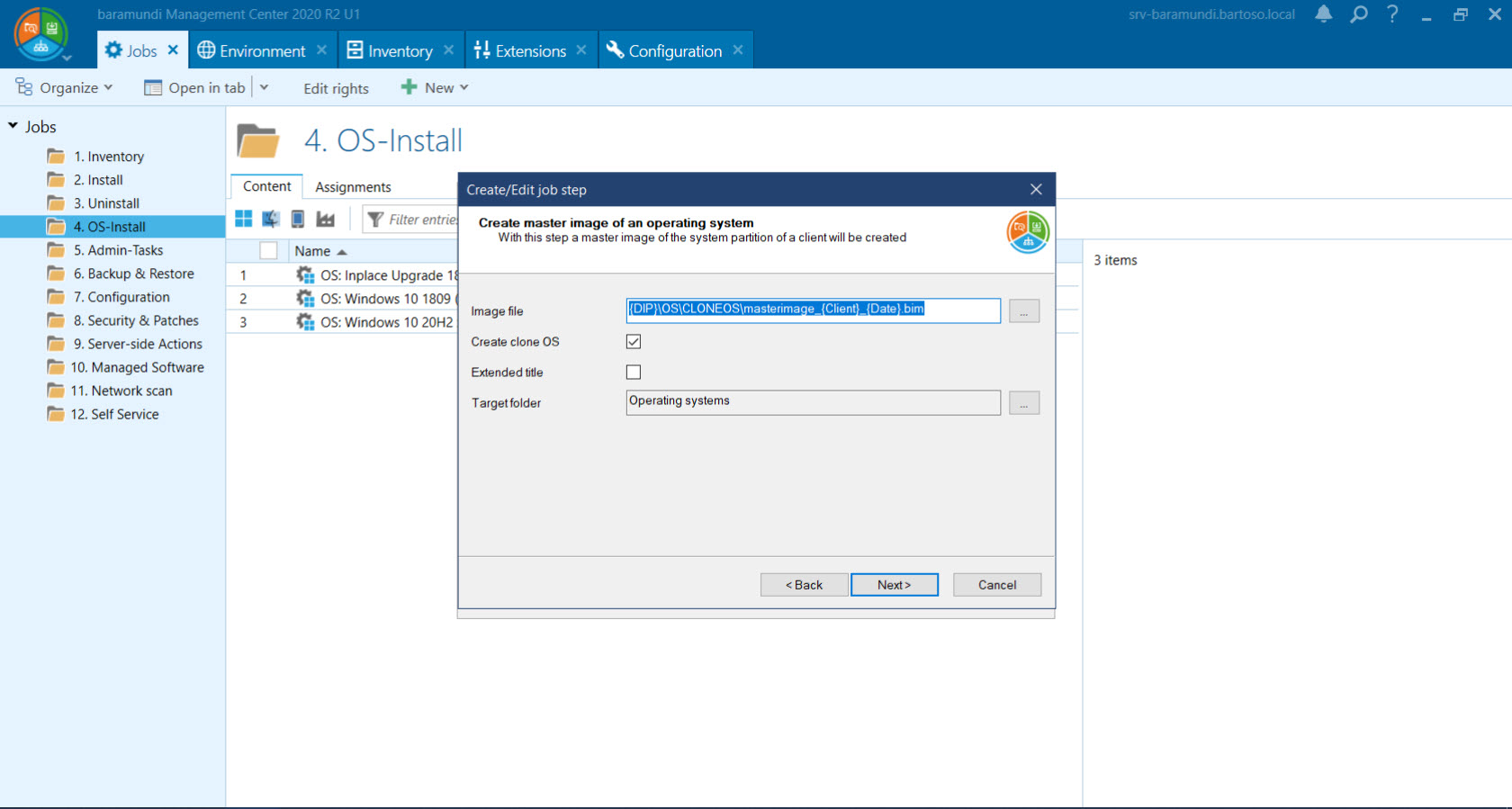 OUT OF THE BOX
Enable and disable Windows features, easily and quickly.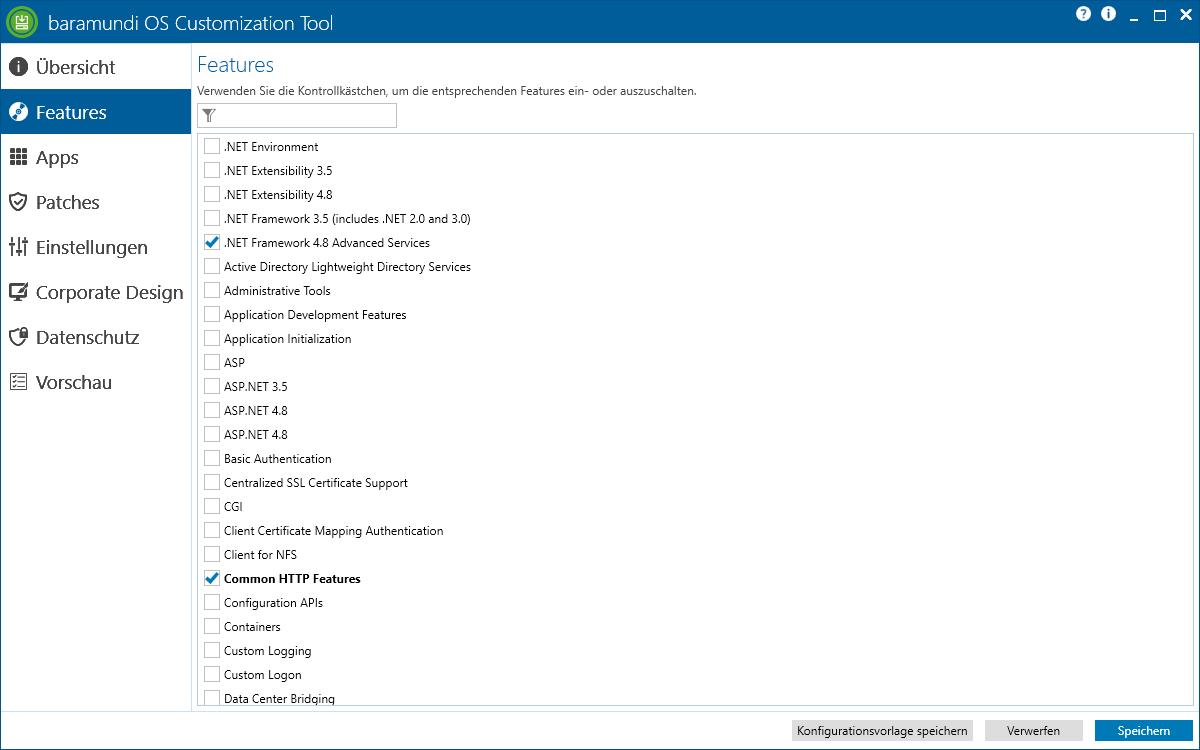 CUSTOMIZE & OPTIMIZE
Preconfigure the operating system to be distributed individually and precisely.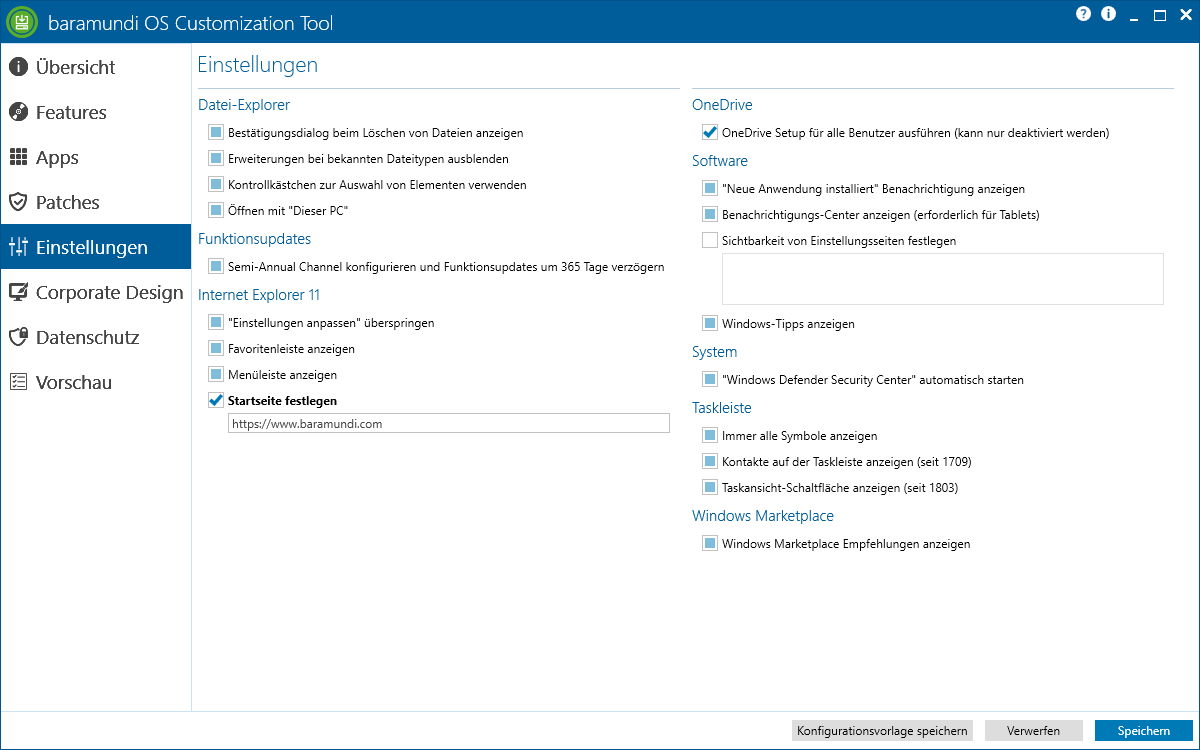 CORPORATE OS-DESIGN
With just a few clicks to the operating system in the company CI.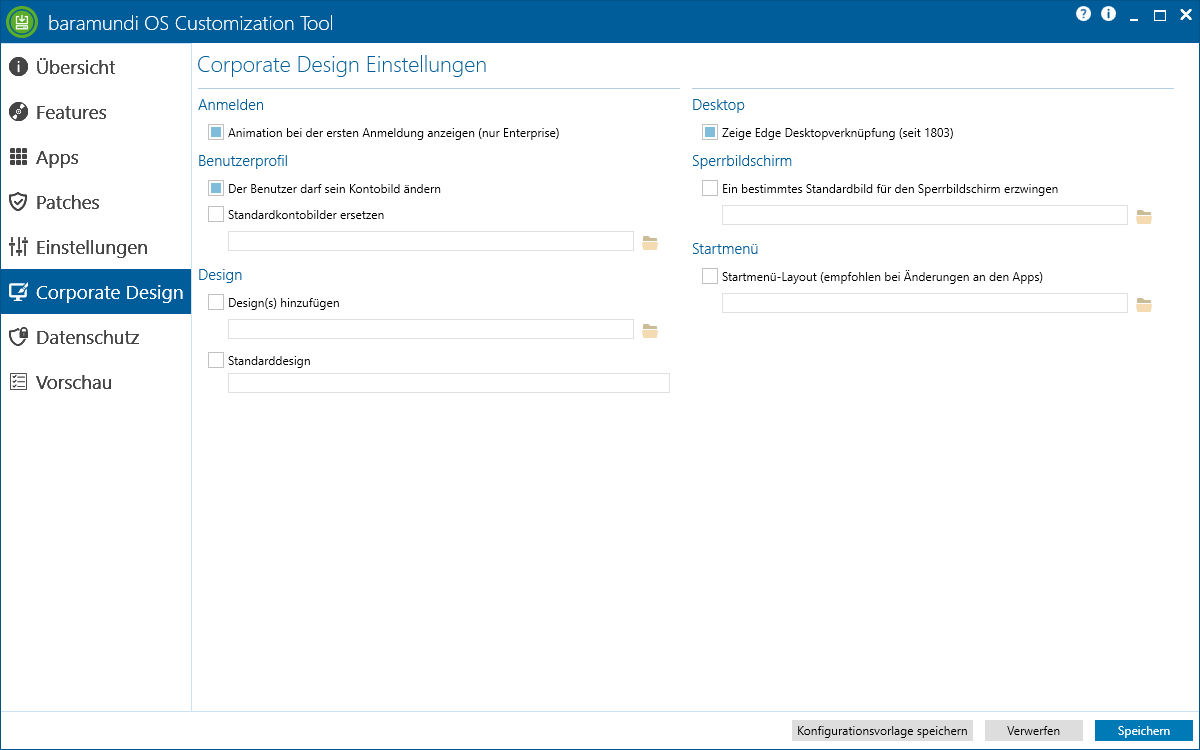 DATA PROTECTION
Privacy settings can be preconfigured and pushed to all endpoints.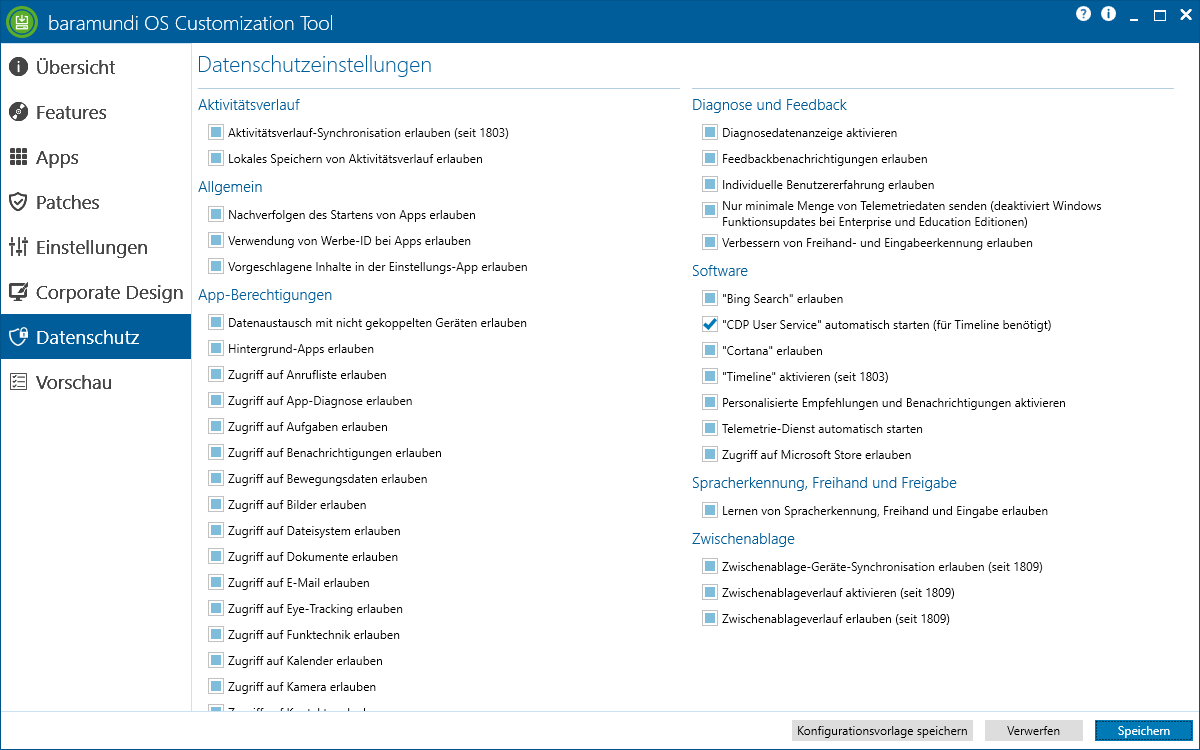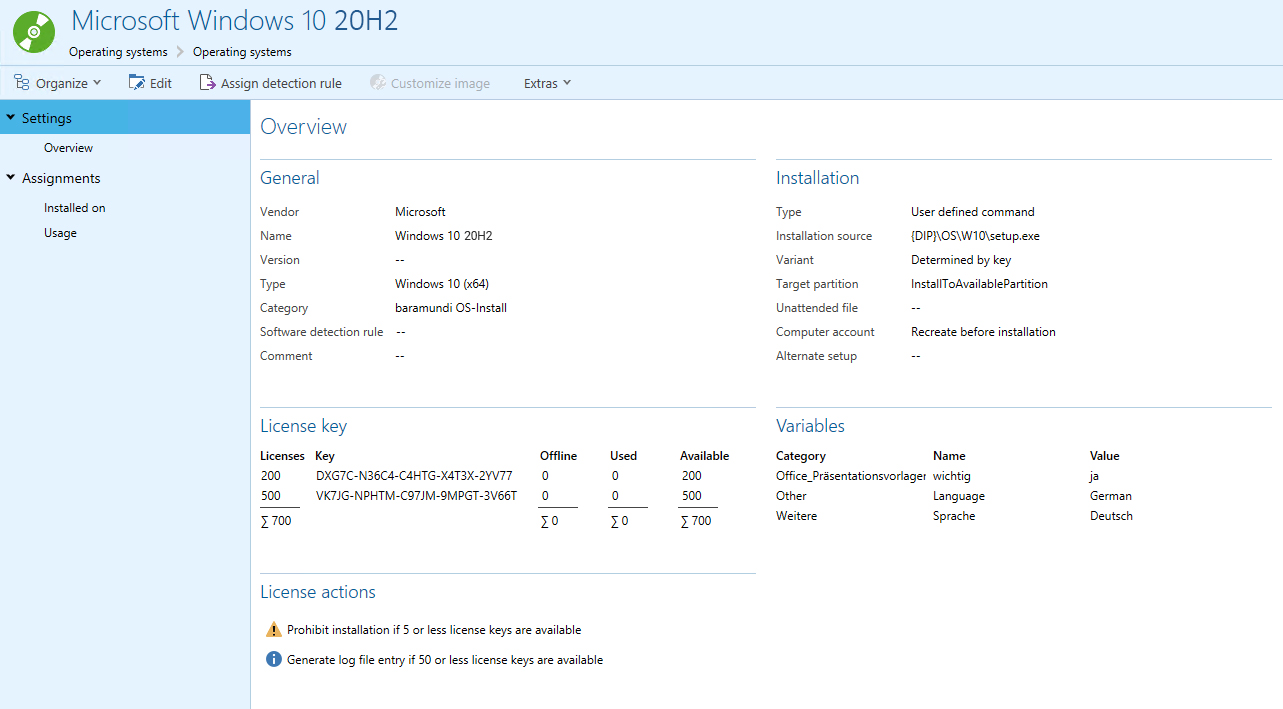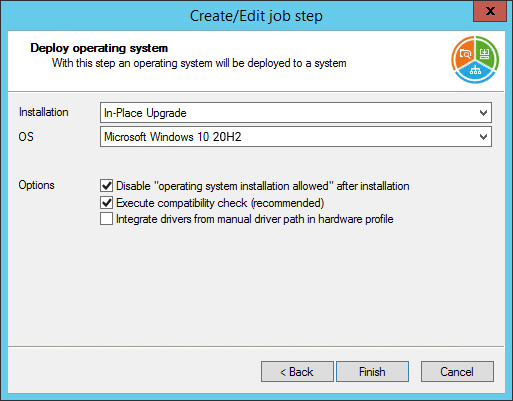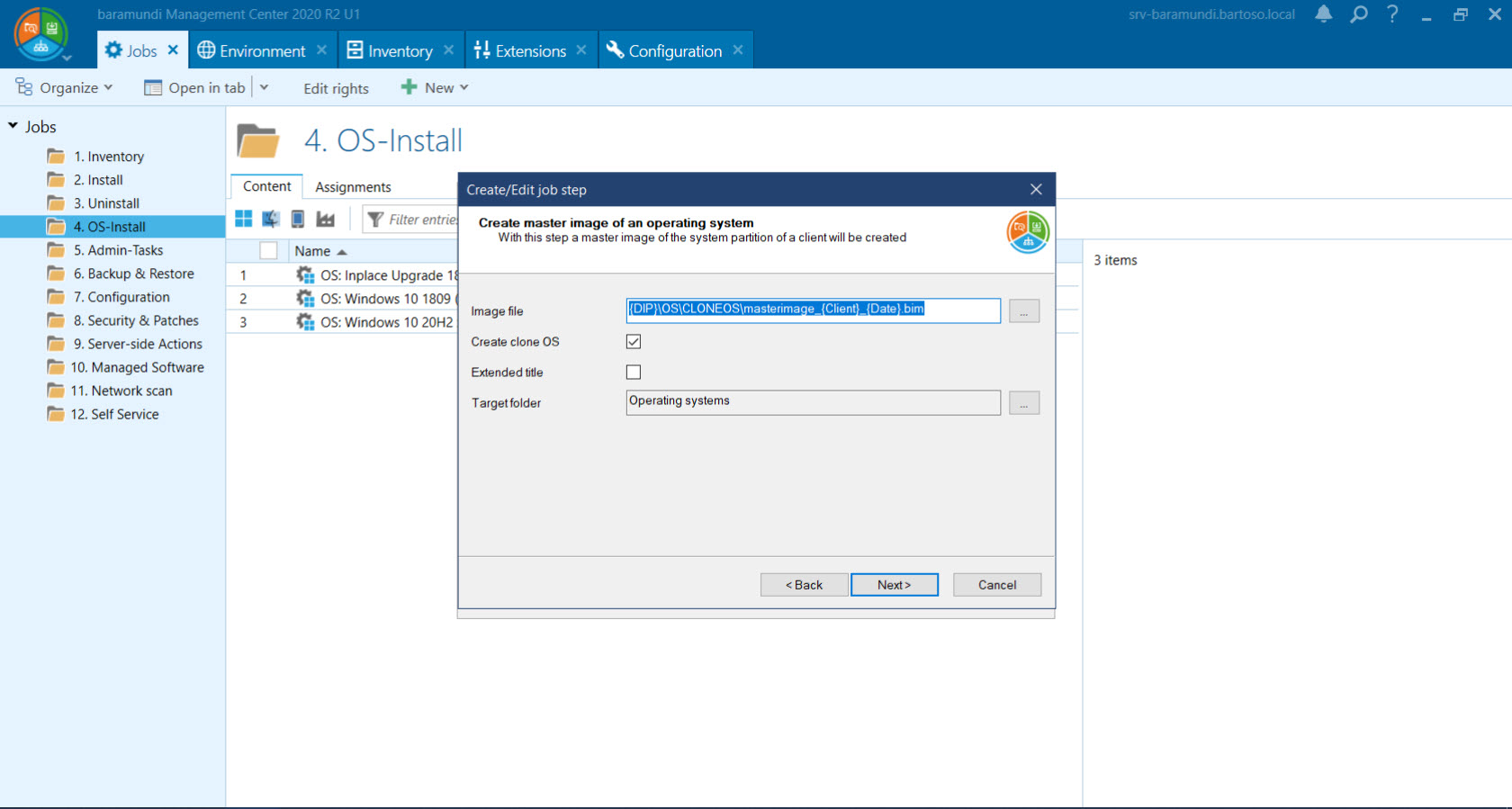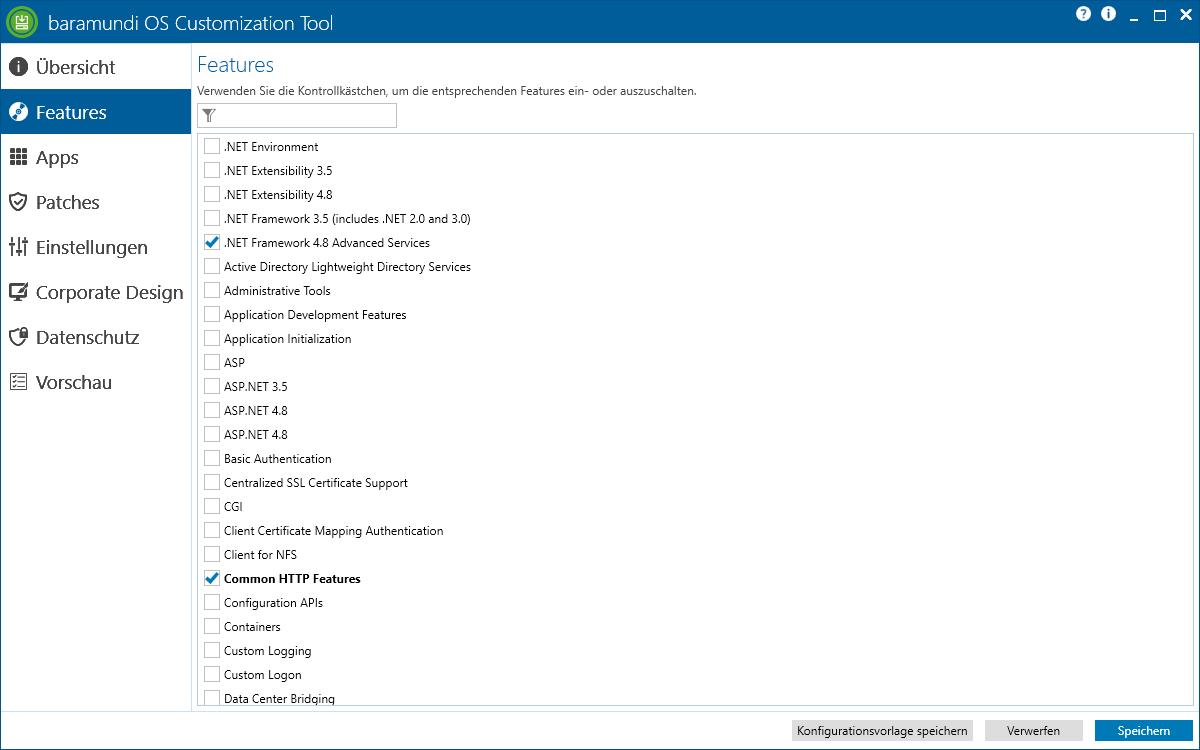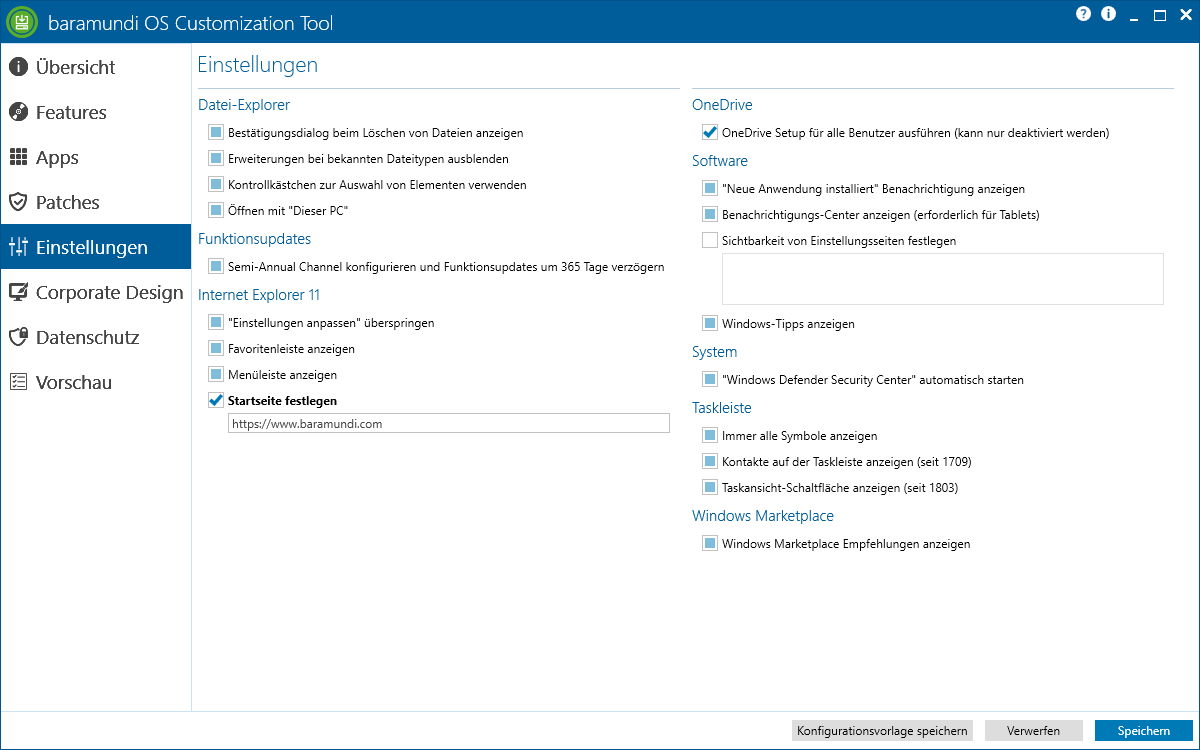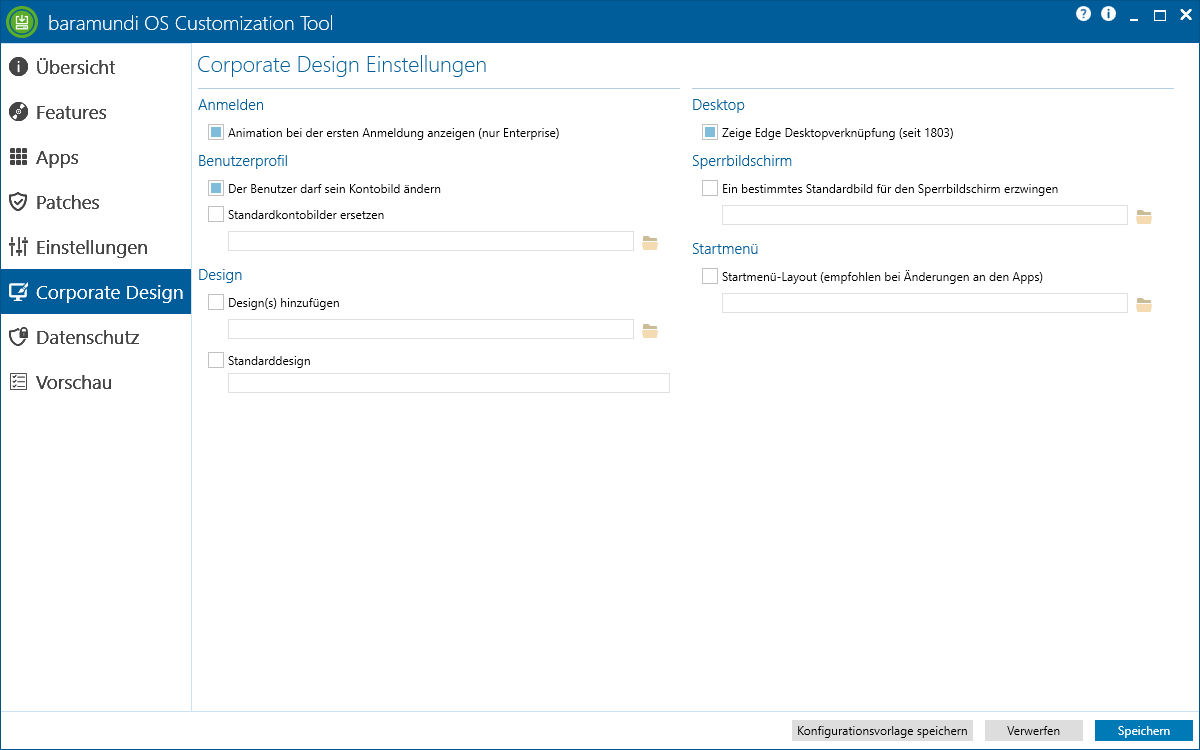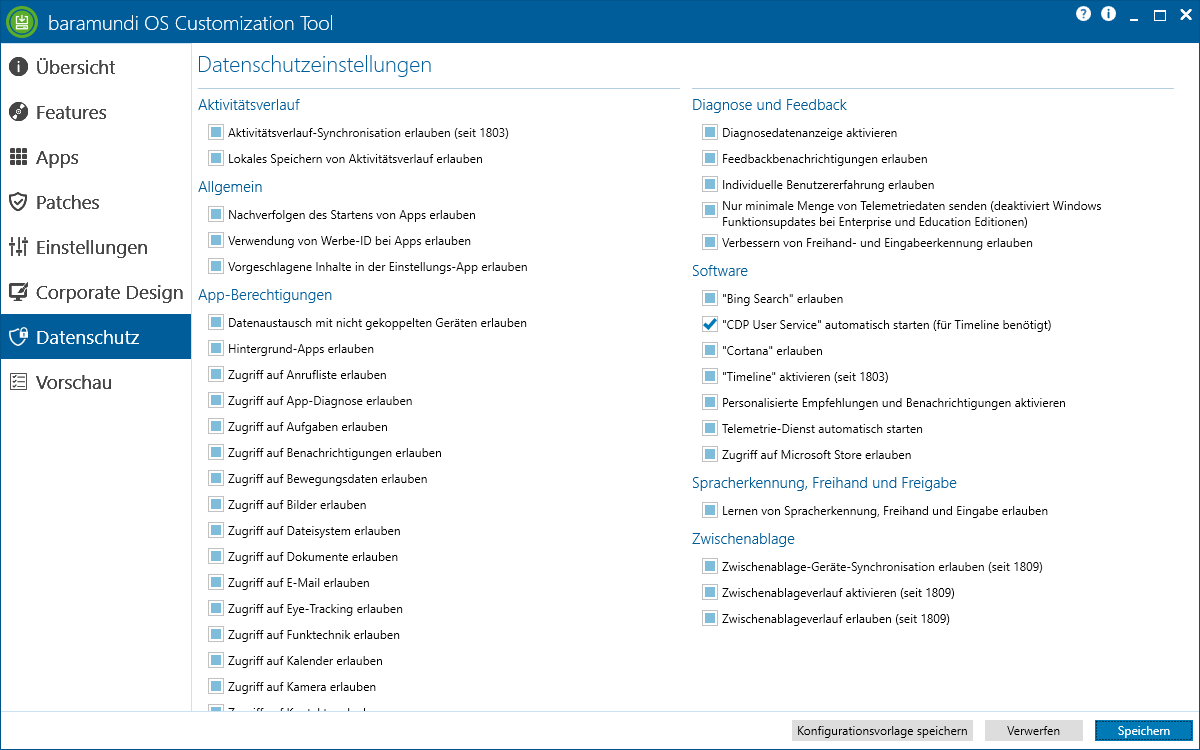 Like all modules of the baramundi Management Suite, this module is licensed per managed workstation. Servers are also licensed like a normal workstation. For more details, please contact our sales staff.