Endpoint Management
The Evolution of Client Lifecycle Management to Unified Endpoint Management
22. September 2020,
Armin Leinfelder
Not so long ago, at the beginning of this millennium, IT administrators were still talking about Client Lifecycle Management (CLM). Even terms like System Management or Desktop Management were used to refer to the IT environment and user devices. The care and feeding of Windows desktops and laptops was the primary - if not the exclusive - focus of administrators and the commercial IT tools available.
Since then, most of those limited programs were replaced by comprehensive, integrated endpoint management suites for controlling the complete lifecycle of Windows devices, i.e. from deployment to maintenance and decommissioning. Originally, automation of simple maintenance tasks was the main function, but gradually the protection of devices against software vulnerabilities and exploits and other cyberattacks became the main focus.
Computing environments continued to change and at an accelerated pace. We've seen the "reinvention" of cell phones in the form of consumer smartphones and tablets. It wasn't long before the so-called consumerization of IT brought these private devices into business networks to replace older mobile devices. This led to the need for new tools to manage smart devices.
In the beginning, however, these were anything but "smart" in terms of manageability. That has changed massively over the past decade: The manufacturers of iOS and Android devices have added a wide range of management interfaces beginning with Mobile Device Management (MDM). Enterprise Mobility Management (EMM) soon followed to enable management of devices as well as the apps and content on them.
At that point there were separate special tools for managing either classic Windows and then Mac endpoints, or Android and iOS mobile devices. Although this specialization provided a wide range of functions, it made life difficult for IT admins responsible for managing all user devices. Not only did they have to familiarize themselves with various (usually complex) tools, they could not get a common, unified list or dashboard showing devices, versions or configurations organized by user or device type. Not exactly practical or efficient!
The next evolutionary step was marked by the convergence of hardware, software and management paradigms. Smartphones became smarter and more powerful, making them increasingly similar to classic Windows devices. Computers became increasingly mobile, i.e. from desktops to portables and laptops. They were followed by notebooks, which are now mutating into hybrid device forms almost indistinguishable from tablets with add-on keyboards. In addition to device capabilities and form factors, management interfaces also continued to develop. That paved the way for the latest generation of management suites for Unified Endpoint Management (UEM).
UEM provides management functions for all of those user endpoint devices and an increasingly uniform view of all devices. That makes it easier (and more attractive) to adopt UEM systems and reduce or eliminate the need for separate management tools. It also provides greater network transparency, enables consistent practices, and adds the ability to automate management tasks across all network endpoints.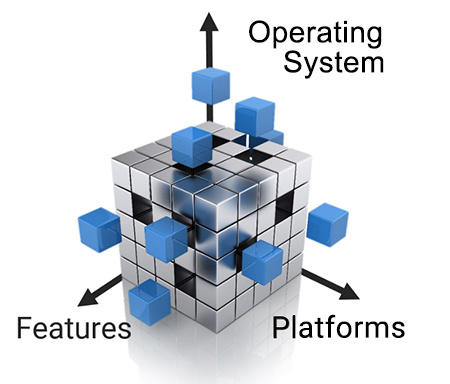 The baramundi Infrastructure Cube demonstrates our vision for Unified Endpoint Management (UEM): The uniform (unified) management solution combines numerous management functions (symbolized by the small cubes) for various end devices (endpoints) in a single suite with regular, repeatable procedures using consistent and intuitive admin interface . This suite grows in three key dimensions:
Platforms: In addition to classic device platforms such as Windows and Macs, and mobile platforms such as Android and iOS, we add support for additional networked device types as customers adopt them.
Features: In addition to the distribution and configuration of operating systems and applications (apps), we continue to expand features for inventory, IT asset management, OS and app updates and upgrades, vulnerability management and protection, remote management and user support.
Operating systems: Some endpoint management tasks that were reserved exclusively for IT admins can be extended in user self-service functions. That's a function of evolving OS design (like app store support) and increasingly sophisticated users familiar and comfortable with consumer IT devices (like home computers and wifi routers). At the same time, on-premises operation is being supplemented by hybrid forms of operation that make new cloud services more widely usable.
All's well that ends (or evolves) well, aka, what happens next?
What we've experienced over the past decade for classic computers and mobile devices serves as an inspiration for today and tomorrow: Currently, a multitude of new networked devices are finding their way into our lives. The Internet of Things (IoT) with a variety of household, fitness, healthcare, home automation and other devices is one example. Or if you look in the direction of Operational Technology (OT) for manufacturing and industrial production, you see Industry 4.0 technology with a growing range of networked IIoT devices (Industrial IoT).
I think we've been here before
Is it just me having déjà-vu now, or do you also see similar, repeating patterns in endpoint evolution? Consider:
increasing numbers and types of networked devices
the need for greater device transparency, management visibility and automation, and
Security! It's critical role in every instance, not only as a reaction to threats but as a key enabling function. You have to have confidence in the integrity of any system to deploy it.
Time will tell how quickly or closely IT and OT management converge. But there are very similar challenges and solutions strategies in both areas, so it's likely that Unified Endpoint Management (UEM) will play a major role. UEM fulfills the central shared requirement for simple and uniform management of a wide variety of devices from different manufacturers with high degree of security and automation.
We're already looking forward to this next evolutionary stage, and to shaping it alongside our customers and partners.