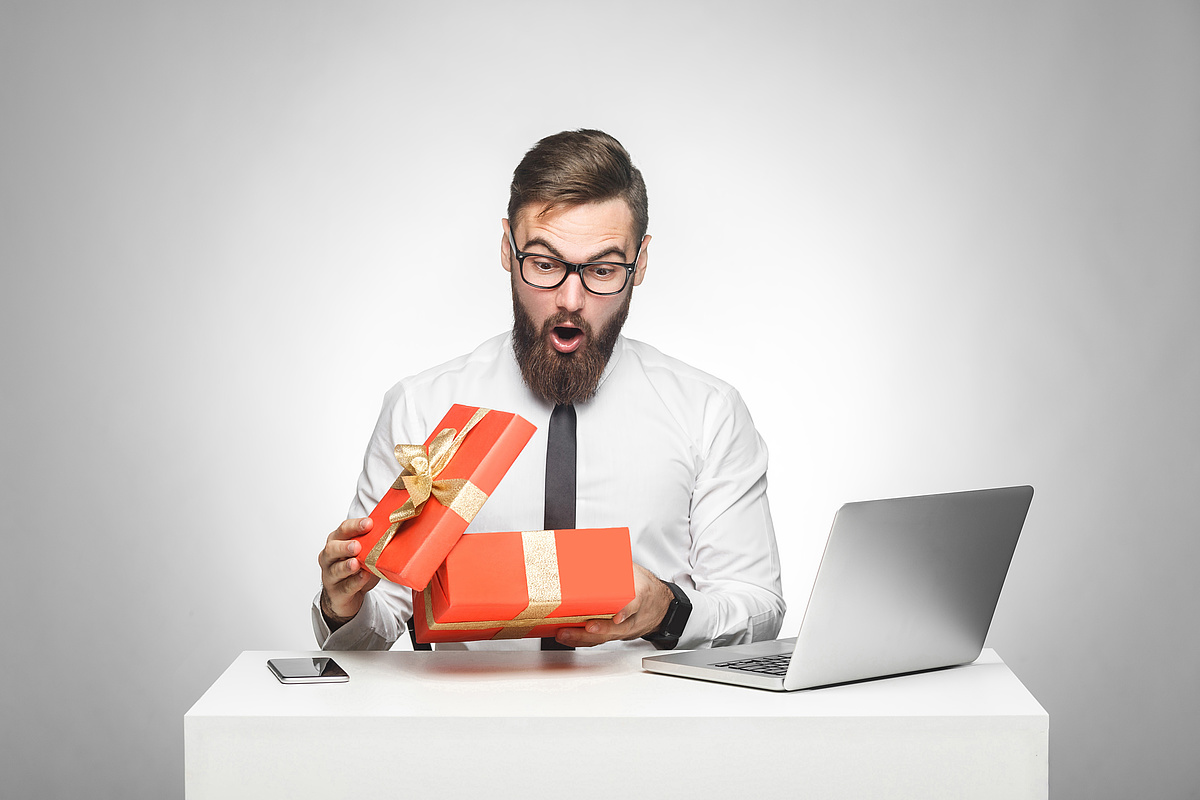 Mobile Device Management
|
System Administration
Out of Box Experience (OOBE)
14. December 2021,
Armin Leinfelder
Unboxing - A feast for consumers, business and IT admins
You can find over 100 million unboxing videos on the Internet these days. The unboxing of new products is a sort-of celebration for young and old. These are often electronic devices that consumers ceremoniously unpack and put into operation in front of a running camera. This celebratory practice has such widespread appeal that you may wonder if it's limited to consumers alone, or, if it can play a role in how IT departments provision devices to business users?
First impressions don't get a second chance
Companies regularly provide employees with new computers and mobile devices. Anyone who has started up a new work device for the first time has a good idea of the typical end user's experience and sense of anticipation:
How long did I have to wait for the device to get to me?
Can I successfully log in to the device with my company account right away?
Is there a connection to the Internet and the company network right from the start?
Are all the applications that I need pre-installed, pre-configured and ready to use?
Is the device secured so I can access and store confidential data on it?
End users usually discover the answers to those questions very quickly. The saying "first impressions don't get a second chance" takes on added meaning in a business context where end-user experiences can have an impact on productivity, retention and many other areas.
So, who in the company can ensure a good first impression? The IT admins, of course.
Provisioning new equipment is a routine task. The more IT departments can automate the process, the better the results. A highly standardized provisioning process using automation not only reduces IT workloads, it increases end-user satisfaction. In other words, it's a true win-win situation.
Logistics in times of remote work
At many companies, the logistics of device provisioning look like this: Device manufacturers or dealers deliver new equipment to the IT department. IT admins unpack and power up devices, then configure settings and install software as needed using a mix of manual and automated steps. Once preparation is complete, the device is ready for the end user.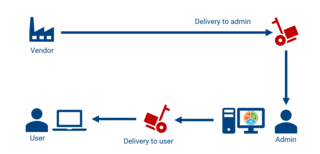 In many cases, getting a device into a user's hands is the same whether they work on-site or remotely. It entails some form of shipping and delivery, which adds time, costs and other logistical coordination.
Wouldn't it be better for everyone involved if much of that process was shortened or even eliminated by sending a user-ready device directly from the manufacturer to the user? It would save effort, time and costs, and users would be able to enjoy the pleasurable, YouTube-like experience of unboxing brand-new, artfully packaged devices, switching them on and using them immediately. What a dream!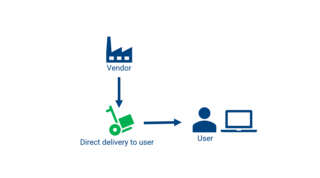 However, this shorter process should not be at the expense of security. Endpoint security would quickly degrade if end-users fired up and connected unmanaged business devices to the internet even briefly. To avoid that possibility, device vendors have established procedures so IT departments can provide their users with secure Out-Of-the-Box Experiences (OOBE) for new laptops, smartphones, etc.
Putting the OOBE process in action with the bMS
Before new devices are delivered to users, administrators register the desired initial configurations with the platform services of major OS manufacturers (e.g. Windows Autopilot, Apple Automated Device Enrollment/formerly DEP, and others). Device manufacturers also register the ordered devices with their platforms. That enables the device to be enrolled in the baramundi Management Suite immediately after being switched on.

Now the device is shipped directly to the user. End users start up the device, enjoy the simplicity of responding to only a few basic setup dialogs, then can start using it immediately. Most of the needed settings have already been stored by their IT team.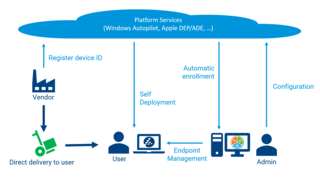 At the same time, the device is securely enrolled in the baramundi Management Suite over an in-house or remote Internet connection using the installed baramundi Management Agent.
That's how endpoint provisioning and management – and the pleasantly productive experience of business device unboxing -- happens in the age of remote work!