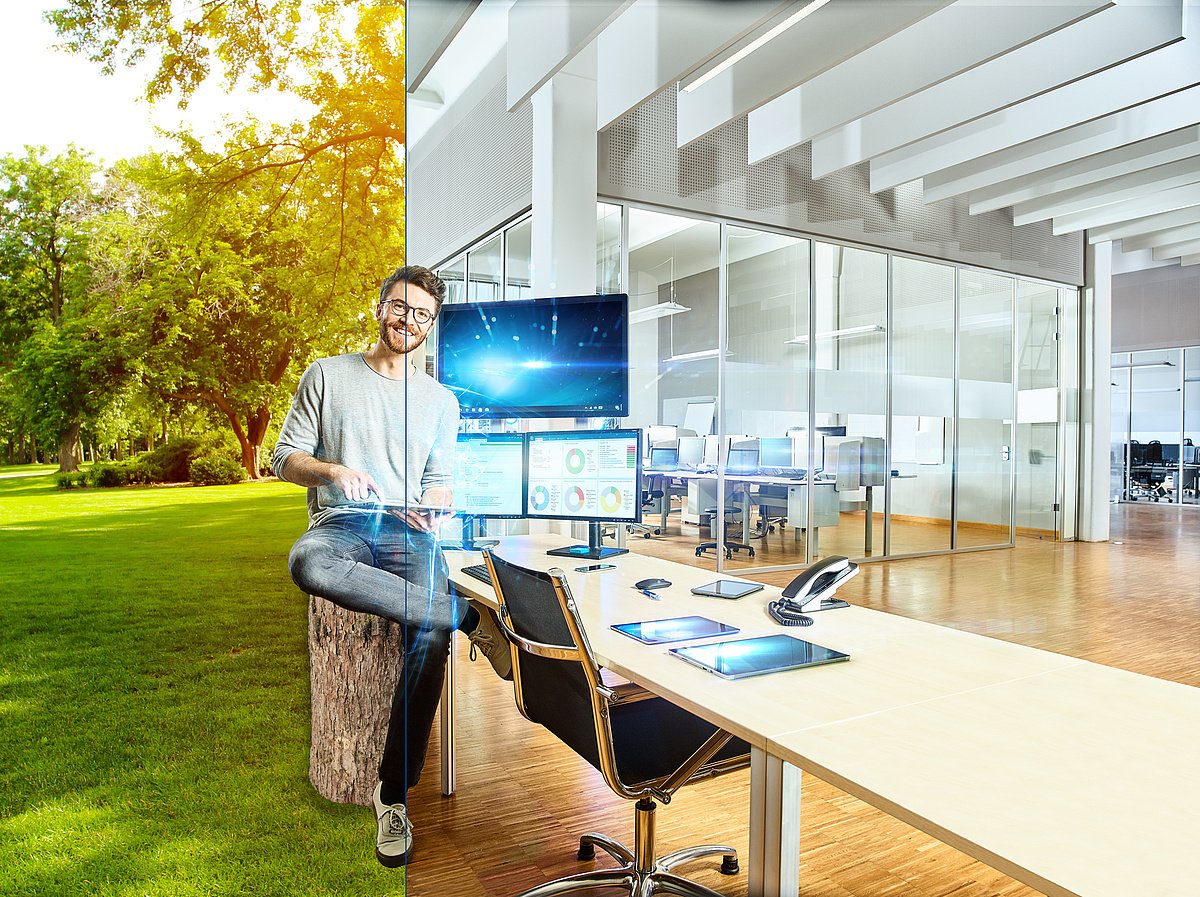 Endpoint Management
|
IT Security
Green IT – much more than a buzzword
09. November 2021,
Felix Zech
Green IT – what's behind this buzzword and what steps can IT teams take to implement practical measures?
A buzzword and its meaning
Green IT is on everyone's lips, but what does this much-used buzzword actually mean? A definition could be something like this:
In Green IT/ITC (Information and Communications Technology), the use of information technologies should be as resource-efficient as possible. The aim is not only to minimize carbon emissions during active use but to consider and address carbon impacts of IT systems over their entire lifecycle. This starts with procurement, continues through manufacturing and operation, and decommissioning and disposal
Green IT is regarded as a holistic concept with goals as diverse as its solutions:
Reduction of energy and resource consumption and associated costs
Selection, use and management of hardware to maximize product lifecycle
Use of IT management practices to optimize energy consumption
Professional reuse, maintenance and recycling of hardware
Digital data storage and control of paper consumption
Environmentally friendly development of software solutions
That can seem like a lot to think about. But the basic guiding principle is that "every little bit helps." Those small steps in aggregate make a big difference.
Don't know where to start? We are well aware of this problem and have compiled some steps to help you make to the move to greener IT.
The Basics
Reducing paper and switching to digital documents is a good start. Digital data storage eliminates mountains of physical files and the costs needed to store and archive them. The resources conserved more than offset the energy consumption of storage media.
Smartphone, laptop and tablet
If you want to be completely digital, you need the appropriate hardware. Accounting for the entire lifecycle of devices is a key aspect of sustainable operations in the long run. We're not only talking about the upfront purchase costs. We're also considering the raw materials used in production and the resources needed for disposal when their useful life is over.
For example, rechargeable batteries and circuit boards contain rare earth elements that require professional handling for recycling, reclamation (e.g., detinning), or final disposal. Recycling and reuse also help reduce the environmental and social impacts of rare earth mining and processing such as deforestation and water contamination. The simple steps you take to maximize the useful life of electronics, and the use of reputable recyclers can have a larger positive impact.
From old to new
In the meantime, there are multiple vendors that accept used serviceable notebooks, tablets and smartphones, and other devices for refurbishment and resale, often at attractive prices. Maintaining, updating and overhauling older devices saves the resources that would otherwise go into the production, packaging and distribution of new products. Refurbishing and reusing functional devices also keeps electronic waste out of incinerators and landfills that can contaminate the air and water sources. Even when you get new devices, trading in older systems for a credit on the purchase can ensure proper recycling.
And what about power consumption?
Network endpoint power consumption during use and stand-by mode is probably one of the easiest and quickest areas that IT pros can address. Reducing power use is good for the climate, the electrical grid and your IT budget.
It's easy to lose track of or even totally forget about network power consumption as the number of endpoint devices increases. The baramundi Energy Managementmoduleis a smart and straightforward way to understand and manage consumption and costs.
The module monitors energy usage of individual endpoint devices and attached peripherals (PCs, monitors, printers, etc.), as well as entire locations. The data it captures makes it easy to identify opportunities to cut unnecessary consumption. You can define energy profiles for specific devices or groups of endpoints based on a variety of conditions. For example, it works with the baramundi Management Agent installed on each managed endpoint to detect when a PC is locked, then activates a power profile that switches the monitor to standby. Printers that are idle after hours also can be put into powered down, then reactivated before users arrive in the morning. The energy and costs savings add up quickly on networks with hundreds or thousands of endpoints.
Personal

Responsibility
Green IT is important from an economic point of view. But when you consider the global, life-changing impacts of the growing climate crisis, each practical step that your organization can take to lower carbon emissions takes on add on added meaning and urgency.
One thing is certain: every step counts. That's why we're providing our Energy Management module at no cost to new baramundi customers and to existing customers when they add licenses or modules.