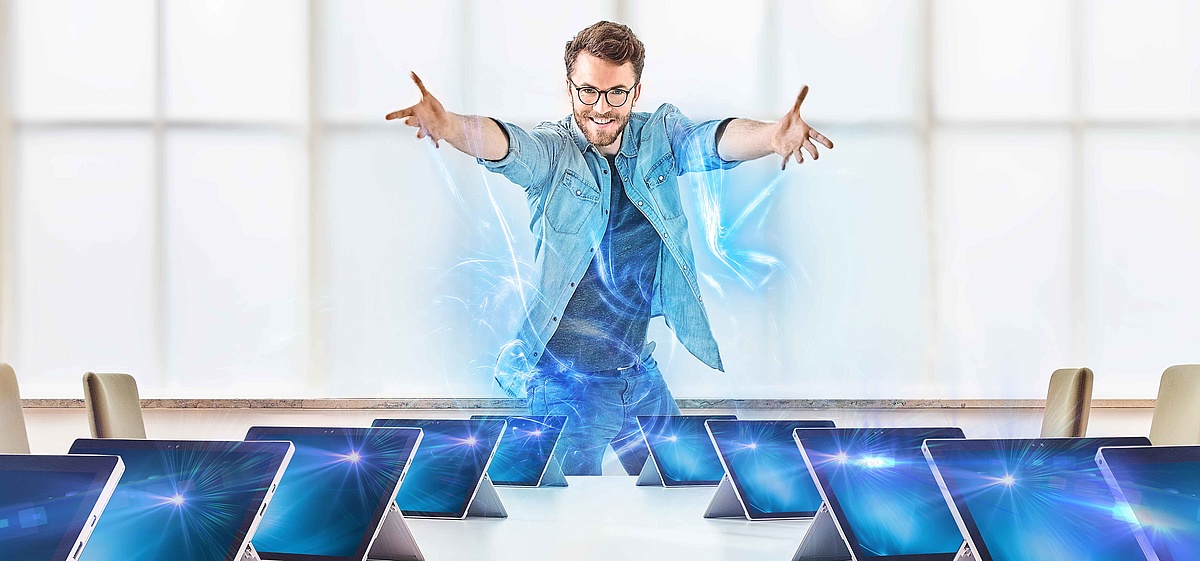 OS/Windows
|
Management Suite
Why planning your Windows 11 migration now is the right approach
19. January 2023,
Matthias Lutz
Even if it seems like there's no pressing need to migrate to Windows 11 today, you should at least begin creating a structured plan to ensure a smooth changeover. The combination of lead time and the tools in a comprehensive UEM solution enables you to identify and address compatibility and security issues early on.
The start of a new year means it's high time to make plans in many areas - including IT. A prime example is the coming transition to Windows 11. The latest OS from Microsoft has been available for several months and is now a real option for most companies. Support for Windows 10 doesn't officially end until 2025, meaning that you can design, plan and begin to implement the migration now in an orderly and unrushed way. You also operate new and old OSes side by side to identify potential problems early and reduce the chances for system downtime.

Another reason not to delay the switch is that support for versions of Windows 10 older than 21H2 ended in December 2022. Finally, consider this: in more than 20 years of helping companies transitions to new OSes, we have found that it can take up to a full year to complete a clean migration. The devil really is in the details.
Since Windows 10 and 11 are relatively similar, compatibility problems are less likely than in previous migrations. Even so, IT teams should conduct careful, well-planned testing to detect and fix potential problems in advance. That's especially true for proprietary software and solutions developed in-house. Databases and their configurations also tend to be sensitive to OS and other IT changes.

Take a step-by-step approach to make the changeover successful:
Step 1: Simulate the migration in a dedicated test environment.
Step 2: Select and migrate key users from different departments to participate in the test.
Step 3: Begin general rollout divided in waves as required.
After each step be sure to check for and resolve problems before continuing to prevent more widespread disruptions. An added benefit to this approach is that IT teams can remove rarely used or obsolete software to save associated licensing costs and maintain overall system consistency and adherence to IT or company standards.
Unified Endpoint Management reduces migration effort
The migration from Windows 10 to 11 is not expected to be quite as demanding as previous transitions. Nevertheless, friction may arise especially from end users. For example, users may simply dislike a new and unfamiliar desktop or menu structure. IT teams can reduce these and other barriers to adoption with a preconfigured user interface and other settings so the OS looks and feels similar to the previous one.

However, not every Windows PC is suitable for migration. Windows 11 makes higher demands on the CPU than previous versions. Older systems may not be upgradeable to Windows 11.

In addition, Microsoft Windows 11 can only be preinstalled if it can boot from an SSD. IT teams can avoid this pitfall by using the Long-Term Servicing Channel (LTSC) available with Windows 11 Enterprise. Microsoft even offers a special service for this: 10 years of support without requiring feature upgrades. This can be a great advantage for critical and other particularly sensitive systems. But one size does not fit all! Each individual case must be examined for the optimal solution.

This brings us back to our opening point: a smooth migration requires good preparation. We have found that a clean migration can take six to twelve months, especially when a company uses multiple devices with different software versions.
Is it worth using UEM tools for the migration?
For all but the smallest companies, baramundi Unified Endpoint Management (UEM) can significantly help you make a smooth migration with very favorable ROI. As a rule of thumb, you should have at least 50 endpoints to use our UEM system to support migration. With more endpoints, your overall ROI gets even more compelling in terms of time and cost savings compared to doing the migration manually. And that doesn't include the automation, patch management, vulnerability scanning and other benefits of our solutions.

For example, automated software installations help ensure correct and consistent system configurations, especially when you consider that the chances of making mistakes are greater when undertaking a detail-dense project like OS migration. Another example is using centralized management of BitLocker in the baramundi Management System (bMS) to define and enforce password standards, maybe in combination with PINs. That way you can make it easier for your users to adopt strong passwords and reduce one of the biggest and most common IT security risks.
As with many IT projects, the success of any Windows 11 migration stands or falls with planning and preparation. Using a holistic, future-oriented endpoint management system like the bMS will also put your company in a better position to meet the future challenges of an increasingly complex IT landscape.

UEM combines client management, mobile device management and endpoint security in an integrated solution with an intuitive admin interface. As mentioned above, UEM not only provides valuable support for Windows 11 migration, it also improves network security and transparency, software licensing and other common IT responsibilities.